[Comic News] AfterShock Comics Expands Global Reach in Exclusive Deal w/ Italian Publisher saldaPress
Exclusive Deal with saldaPress for the Italian Market
Just announced, AfterShock Comics and Italian-based publisher saldaPress signed an exclusive deal to bring their catalog to the Italian market.
AfterShock Comics was founded in 2015 and immediately made a name as an innovative, interesting and creative publisher. Here is a partial list of some of the creators hired by AfterShock Comics: Brian Azzarello, Garth Ennis, Warren Ellis, Justin Jordan, Paul Jenkins, Joe Pruett, Mark Waid, David Hine, Jimmy Palmiotti, Amanda Conner, Tim Seeley and Tony Harris, with Italian artists like Leila Leiz, Alberto Ponticelli and Marco Failla. AfterShock Comics combines the lively creativity of an independent label with the strength and the experience of a traditional publisher with continued growth prospects.
The official Italian debut will be in September 2017 with AMERICAN MONSTER (by Brian Azzarello and Juan Doe). DREAMING EAGLES (by Garth Ennis and Simon Coleby), REPLICA (by Paul Jenkins and Andy Clarke), SECOND SIGHT (by David Hine and Alberto Ponticelli) and ANIMOSITY (by Marguerite Bennett and Rafael De La Torre) will be on the shelves of Italian bookstores later this fall.
"We are really happy to have an exclusive deal for Italy with saldaPress", says Jon Kramer, AfterShock CEO. "SaldaPress recognized the amazing work done by Mike Marts, Joe Pruett and Lee Kramer. Together, in less than 18 months, we've created a very rich catalogue filled by big titles and big authors. Aftershock and saldaPress share the same vision regarding the future of comics".
<Get to Know AfterShock Comics: President/Co-Founder Lee Kramer>
"Both publishing companies are grateful to their authors," says Mike Marts, AfterShock Comics Editor-in-Chief. "The creation of an original idea is almost as important as the publishing company itself. With no original ideas, there wouldn't be stories to publish. SaldaPress shares this idea with AfterShock Comics and that is also why AfterShock Comics full catalog will be available in Italy through saldaPress."
<Get to Know AfterShock Comics: Editor-in-Chief/Co-Founder Mike Marts>
Andrea Ciccarelli says, "We are happy to announce this new adventure and to be partners of AfterShock which represents a dynamic and innovative reality. We will be able to offer a wider variety of content to our readers by bringing them new and extremely high-quality books. We are positive the Italian audience will be very enthusiastic about this."
Founded in 2001, saldaPress has made a name for itself as one of the most active and lively comic books publishing company in Italy. SaldaPress gives a lot of attention to comic books. They also collaborate with Skybound, Image Comics, IDW and Dark Horse and always try to showcase new emerging creative talents. SaldaPress' philosophy revolves around attention to stories' qualities and in creating a trustworthy bound with its readers.
This new agreement with AfterShock consolidates its creative mission and philosophy. AfterShock Comics made its debut in the American market in April 2015. Besides Marts, ASC team includes Joe Pruett (CCO/Publisher), Lee Kramer (President and Development Executive with movie and television experience), Jon Kramer (CEO), Mike Zagari (Senior Vice President, Brand) and Jawad Qureshi (Senior Vice President, Investor Relations).
---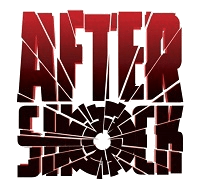 ABOUT AFTERSHOCK COMICS– Launched in April 2015, AfterShock Comics is a comic book company that combines the creative edge of an independent comic book publisher with the strengths and experience of a traditional powerhouse. In addition to Editor-in-Chief Mike Marts, AfterShock's executive team includes: Chief Creative Officer/Publisher Joe Pruett; President Lee Kramer, a film/TV production and development executive who has worked with some of the biggest names in Hollywood; CEO Jon Kramer, an entertainment entrepreneur with extensive worldwide production and distribution experience, Senior VP Digital-Creative, Mike Zagari, oversees the AfterShock innovative and immersive story-driven digital experiences, Senior VP of Investor Relations Jawad Qureshi an experienced Silicon Valley entrepreneur and investor as well as an award-winning filmmaker, Publishing Operations Manager, Stephan Nilson, Retailer/Fan Relations Manager, Lisa Wu, and Publishing Assistant, Ashley Wyatt.
T H E ~ C R E A T I V E ~ R E V O L U T I O N ~ S T A R T S ~ H E R E !
.
.
.
*** info and images courtesy of AfterShock Comics