PopCultHQ Comic Book Review: "A&A: THE ADVENTURES OF ARCHER & ARMSTRONG' #11 by Valiant (Out 1/4)
PopCultHQ received a preview copy of A&A: THE ADVENTURES OF ARCHER & ARMSTRONG #11 from Valiant Entertainment. Hitting retailers this past Wednesday, January 4th, the creative team for this issue features writing from Rafer Roberts, illustrators Mike Norton and Ryan Lee, colorist Allen Passalaqua, and lettering by Dave Sharpe.
Here's PopCultHQ's spoiler-free review of A&A: THE ADVENTURES OF ARCHER & ARMSTRONG #11.
---
A&A: THE ADVENTURES OF ARCHER & ARMSTRONG #11
Writer: Rafer Roberts
Art: Mike Norton, Ryan Lee
Colors: Allen Passalaqua
Letters: Dave Sharpe
Cover: Kano
Add. Covers: Marc Laming w/ Gabe Eltaeb (Cover B), Dean Haspiel (Variant Cover)
Cover Price: $3.99
Freaky fracas! Obadiah Archer: Skilled marksmen, trained fighter, and…deranged circus freak?! Through the unfathomable forces of nature, Archer and Gub Gub – the pint-sized and deranged clone of Armstrong – have swapped minds! When Gub Gub's body is kidnapped by nefarious forces, Armstrong and his long-lost wife, Andromeda, must race to save their friend and undo the horrendous merger of minds before the damage becomes permanent!
<PREVIEW 'A&A: THE ADVENTURES OF ARCHER & ARMSTRONG' #11>
---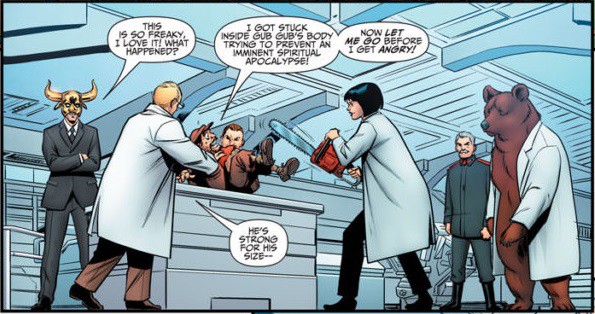 PopCultHQ's Comic Book Review:
A&A: THE ADVENTURES OF ARCHER & ARMSTRONG #11
I can't remember the last time I laughed this much throughout an entire issue, and believe me when I say I laugh out loud many times in EVERY issue. Not a single one has only received a chuckle or smile from me. I grinned from cover-to-cover and had a few bursts out loud when something very funny came out of nowhere. Just one of writer Rafer Roberts' many strong points. He has also done a tremendous job at establishing such a fantastic camaraderie between Obie and Aram in this buddy adventure series and made them even more lovable and such a joy to follow.
His Davey the Mackerel and Oliver Dumpbucket tales are ripe for a spin-off, or at the very least a one-shot. The relationship and banter is almost a 'Pinky & the Brain' dynamic but add Mugatu from the Zoolander films. A fashionista bent on world domination! Rafer Roberts' comedic brilliance is timely, consistent, and a defining component to the Archer & Armstrong franchise. The humor doesn't get stale re-reading it either, which is a credit to the title.
Throughout this series, I've always enjoyed the captions left by Rafer; where he engages with the reader, has a convo with Armstrong, and even EIC Warren Simons chimed in a couple issues ago, which was hilarious! It takes me back to reading comics in the early 80s, where there'd often be references to storylines or events from another issue, miniseries, or title. That's one of the nice things in having a shared universe as Valiant does. Archer can call up Faith in his title, while she talks about what's going on in hers. Plus the creators can have fun with the reader. That "engaging" is yet another gold star for the series.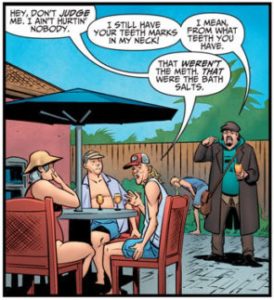 Artist Mike Norton impressed me when he took over for David Lafuente in issue five. Initially, I was a bit hesitant when I heard that Lafuente was no longer attached, as a change in artist can often change the dynamic of the series and I always enjoyed his work. But what Norton proved to me is that a new penciller can pick up where one artist left off, do their work justice, and then define the style as his own. He has made me want to continue to see him as the lead artist in this series, beyond next month's finale. I could see him lending his talent to a couple other current Valiant ongoings, but I just feel that he meshes so well with Roberts. Detailed, well-rounded, and can have fun with his work. From the Soviet Circus to Meth-heads in Florida, and fairgoers with Insane Clown Posse face paint, Norton shows he enjoys what he does and tries to bring that out in his work.
Ryan Lee, who has done some incredible connecting variant covers for Valiant, has been tasked with the side-stories or sequences in the last few issues and has been nothing short of brilliant. To see an exemplary display of Lee's work, just see his art in the last issue (#10) where he illustrates for the Andromeda and Gub Gub sequences. Ryan Lee is a prime example of what a true, overall artist looks like, even beyond comic books. His creativity is expansive, his range knows no bounds, and he's one of the most vividly imaginative artists I've come across (cover and interior). He does a magnificent job at envisioning these interspersed stories, be it Sister Superior Mary-Maria vs.Sisters of Perpetual Darkness, Andromeda's sequence, or the mind-trip in Gub Gub's head. He also does so in a way that still carries the look of each characters done by Norton during the A&A run (plus Lafuente in #1-4) while adding his own style.
Allen Passalaqua has a true gift with his colors that he has carried throughout the series. Working with two different artists is one thing, but you can see that it's as if he tackles them as two separate projects. One would think that one colorist throughout the issue would be consistent in their work. But it's his approach to helping define each illustrator's individual art which shows his range as a colorist. Whereas the main ongoing art from Norton is colored vibrantly, blended well, and is the defining look to the A&A series. But when paired with Lee on his panels, he produces a more gritty and textured look, one which is more subdued and craftily matted, but not so much where they feel like two separate bodies of work mashed together. That, my friends, is a sign of talent.
Lettering has always been top-notch in this volume of A&A. Dave Sharpe shows his prowess every month cover-to-cover. His work compliments, if not accentuates, the story and overall feel to the series in general. From the fonts chosen throughout, the placement, sound effects, emphasis, pretty much everything. If you are a letterer or haven't truly seen what it takes to excel at the job, look no further than Sharpe's work in the A&A series. Many can gain some terrific pointers, while all can appreciate his contribution to the title. Simply put, he is as integral to the overall project as everyone else.
PopCultHQ's overall assessment:
In having read the entire A&A: THE ADVENTURES OF ARCHER & ARMSTRONG series so far, it's fantastic seeing this team of collaborators who are so in sync with one another. Collectively unified in not only delivering a great issue (month-in and month-out) but honoring the near 25-year old franchise and maintaining the integrity of everything that makes this the greatest buddy team-up in all of comics. If anything, they've set the new standard for further adventures of Obadiah Archer and Aram Anni-Padda.
Though next month's release will close out this chapter of Obie and Aram's zany road trip, I was a bit saddened that my favorite duo in comics wouldn't be around to give me my assured comedic fix.  I have faith (pun somewhat intended) that these two won't be absent for long. With X-O Manowar getting a new volume, the Renegades leading up to Harbinger Wars II, and Kevin Porter tapped to star as Armstrong in the digital series NINJAK vs. THE VALIANT UNIVERSE (watch for my in-depth look coming soon to PopCultHQ), I'm confident that Valiant isn't putting them on the shelf.  The rambunctuous pair and the non-stop laughs will be back in no time, truly hoping this creative team follows. Plus, like most fans of the series, I'm anticipating six years from now the debut of IVAN, THE SOVIET SCIENCE BEAR in 2023. Going to be such a terrific origin story, I can just feel it! To quote Oliver Dumpbucket,
"Today, Etsy! Tomorrow, the World!"
~~~~~~~
PopCultHQ's Rating: 5 out of 5 Stars
A&A: THE ADVENTURES OF ARCHER & ARMSTRONG #11
can be ordered now on ComiXology
or at your local comic shop and various online retailers now!

---
Be sure to follow the creative team!
Facebook: https://www.facebook.com/rafer.roberts/
Twitter: https://twitter.com/plasticfarm
Website: http://plasticfarm.com/
Facebook: https://www.facebook.com/mike.norton.773
Twitter: https://twitter.com/themikenorton
Website: http://www.ihatemike.com/
Facebook: https://www.facebook.com/ryryleeart
Twitter: https://twitter.com/RyLeeart
DeviantArt: http://ryryleeart.deviantart.com/
Facebook: https://www.facebook.com/angryf
Twitter: https://twitter.com/angryf
Website: http://www.angryf.com/
Facebook: https://www.facebook.com/demonrock
Twitter: https://twitter.com/daveLsharpe
Lettering Course: http://www.comicsexperience.com/course/comic-book-lettering-production/
Publisher – Valiant Comics
Website: http://www.valiantentertainment.com/
Facebook: https://www.facebook.com/ValiantComics
Twitter: https://twitter.com/ValiantComics
Instagram: https://www.instagram.com/valiantentertainment/
Tumblr: http://valiantentertainment.tumblr.com/
YouTube: https://www.youtube.com/user/ValiantComics