Shazbot!
PopCultHQ received an advance review copy of SUICIDE JOCKEYS #3 from Source Point Press. Available Wednesday, October 27th, the creative team for this issue features writing from Rylend Grant, art from Davi Leon Dias, colors by Iwan Joko Triyono, and lettering from HdE.
Related: [Video Interview] Rylend Grant of SUICIDE JOCKEYS
Here's PopCultHQ's spoiler-free review of…
COVERS
---
SUICIDE JOCKEYS #3
Writer: Rylend Grant
Artist: Davi Leon Dias
Colorist: Iwan Joko Triyono
Letterer: HdE
Producer: RJ Hendricks
Story Consultant: Brad Warner
Cover Artists:
Cover A: Davi Leon Dias w/ Iwan Joko Triyono
Cover B (Top Gun Variant): Fábio Alves w/ Edson Ferreira
In Shops: October 27th, 2021
SRP: $3.99
CHAPTER 3: A MATTER OF TIME

Dire circumstance force the Suicide Jockeys – a poor, usually drunken, almost certainly mentally ill crew of monster-fighting, tank-and-aircraft-piloting suckers – to partner with an old nemesis – a robot-wielding whack-job billionaire criminal. Oh, yeah… and Eihei Dogen makes an appearance?
RELATED: PopCultHQ's Spoiler-Free Review of SUICIDE JOCKEYS #1
RELATED: PopCultHQ's Spoiler-Free Review of SUICIDE JOCKEYS #2
---
PopCultHQ's Comic Book Review:
SUICIDE JOCKEYS #3
There is a lot I would love to talk about from issue three of SUICIDE JOCKEYS. Unfortunately, one of the drawbacks to a spoiler-free review is that it has to be spoiler-free. Crazy, right? I will say this…the Jockeys are a fun group to watch as they interact, their differing viewpoints, each individual's mannerisms, and drama which it brings. Each character continues to show more of their personalities. Denver, especially, is taking a real inward look at himself and what he is meant to be (stubborn as he is).
Halfway through, I was slapped upside the head with words (and an idea) I did not expect to hear; my eyes widened, my jaw dropped, and I had a "YO!" moment (I actually said that aloud, ask my cat). A little twisty-twist that builds through the second half. The story had been progressing perfectly fine, but what occurs has leveled-up the series. I also felt there was a moment reminiscent of 'Avengers: Endgame.' And there's an ending with an "oh, so sweet" cliffhanger to keep you itchin' for more! Oh and major snaps for the Mork from Ork suspenders (worn by the late Robin Williams in 'Mork and Mindy')! Nanu nanu!
Writing:
One of the, dare I say, "guarantees" you I've come to expect from Grant is every issue will be hearty, filled with surprises, unexpected situations, brilliant pacing, off-the-charts delivery, and things you did not see coming. And that's not just in SUICIDE JOCKEYS, but every title the writer has created. My only hope is that I am not setting Rylend's bar too high, expecting such a level of excellence with every issue which I read. But yet he continues to deliver and I'm here for it (actually been here for quite a while, recognize). I'm not sure exactly how he manages his script and ensures enough action, drama, comedic quips, character development, and world-building to stuff between two covers. But I'm thankful for it, to say the least. 
Once again, Grant's style of storytelling has the main narrative moving forward in strong fashion, but we are also witness to a little bit of spirituality. Being a story that includes time travel, Rylend is able to bring in Eihei Dogen. Dogen, who lived in the first half of the 13th century,  was the founder of the Soto Zen school in Japan. If you're familiar with the writer's personal background, Grant is an ordained Soto Zen Buddhist monk. It makes for a very believable interaction between Dogen and Denver Wallace. You get that Eastern philosophy and religion feeling and the words from Dogen feel authentic, as if Grant himself has had similar conversations. I enjoyed these panels probably the most, as I appreciated the value Rylend's experience can lend itself to the story.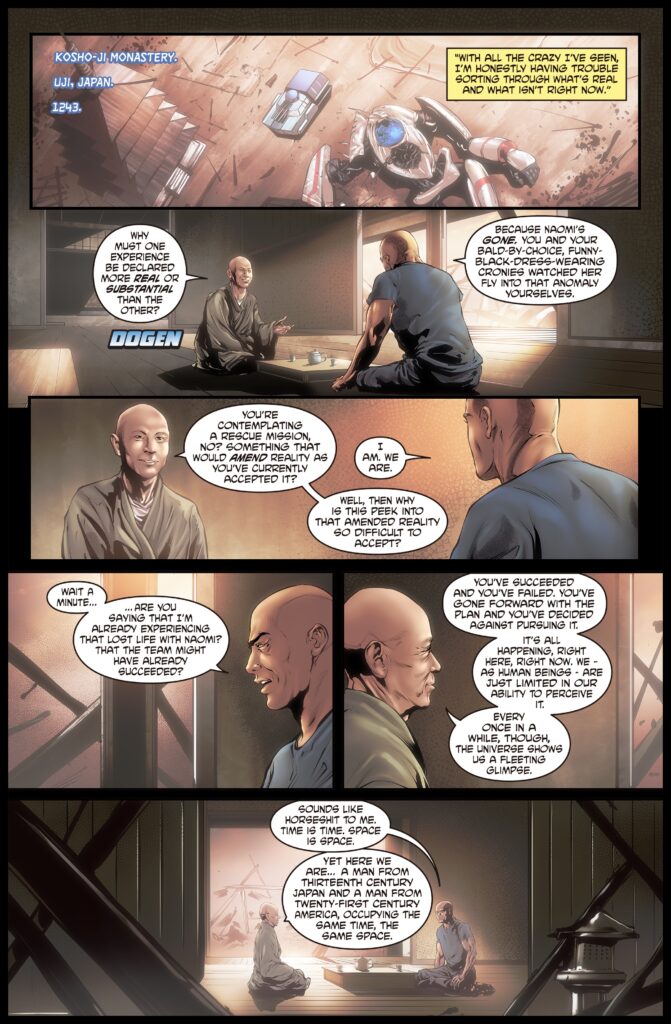 Art: Davi continues to deliver his high-level of illustrations for SUICIDE JOCKEYS. The artist seems to always be looking to make minor improvements with each subsequent issue, attempting not only to capture this world Rylend has envisioned, but to grow as an artist himself. Terrific detail, vivid scenery, fantastic backgrounds throughout; Davi really puts each panel to good use and gives the reader plenty of eye candy of which to marvel. 
The layout and design of the flashback sequence is sick! One of the coolest spreads I've seen this year. And that cliffhanger ending I mentioned? Dias crushes the imagery with a stunningly beautiful closing scene. Couple the look of the final page to Grant's story and any reader is going to feel that rush of excitement, the thrill of the unknown, and a joy of reading comics…to be increasingly excited about what's next. It's a badass sci-fi moment captured magnificently and you cannot help but love it.
Colors: Iwan marries his colors to Davi's artwork so well. The blended hues, the soft tones adding some oomph to this new reality's backdrop, and smart choices by the colorist truly make the visuals in SUICIDE JOCKEYS. I felt this was really Iwan's "Fades & Shades" issue, as the color blends, foreshadowing, highlights, and shading took on a larger role in issue three. Triyono pairs so well with Dias and the two of them together have a gift for creating imagery you want to look over again, spending more time per panel to take in what they accomplish. While reading SUICIDE JOCKEYS #3 (and prior issues), I have never found myself jumping from one panel to the next to keep the story going. I always catch myself lingering more, taking in all the details, the surroundings, the environment, and the ambience, because this dynamic duo wants to give you more each and every time. More to take in, more to lend credibility and potentiality to any aspect of the book. You will find that both Iwan and Davi make each other better – that's a win for everyone.
Letters: HdE done did it again! If you're crazy for the Grantverse as am I (then you need help!), regardless of whom the publisher (or self-published) was on each series, through it all HdE has been there the entire time with Grant. If you're really paying attention while reading, you'll find the letterer has been (this time I dare say it) perfect with his contributions to each story. Layout, styles, placement, even the subtle nuances that a keen, trained eye for letter art would only catch, and the know-how to deliver top-notch lettering makes HdE a gem in his field. You can really learn a lot about the art of lettering by honing in on his trade. To be quite honest, I think HdE could quite easily put on a MasterClass or teach a course in professional lettering. Just like every other contributor, HdE's work is one of art. Another "gaurantee of excellence" from the creator.
Overall Assessment:
The suspense keeps building and the stakes are even higher! One of the things that makes SUICIDE JOCKEYS an enjoyable experience is the cohesiveness of the creative team. This being the third produced title for the fabulous foursome, they have proven time and again their synergy is unparalleled. As they have with all of their previous works, they collectively team in harmony to deliver intelligent storytelling, stunning visuals, and an immersive experience for the reader. The rate at which this story is building and the quality of the overall work, this latest offering again gives you double, even triple, the value of what one might expect from any comic book issue. This is truly a unique sci-fi series, unlike anything currently available except at Source Point Press. SUICDE JOCKEYS – it's all that you want…and more!
Rating:
---
And be sure to check out Rylend Grant's podcast THE WRITER'S BLOCK with writer David Avallone!
---
Writer – Rylend Grant
`
`
`
`
`
Artist – Davi Leon Dias
`
`
`
`
Colorist – Iwan Joko Triyono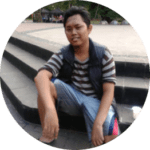 `
`
`
`
`
Publisher – Source Point Press