[Comic Book News] Zenescope Entertainment Announces Brand New January Releases
Zenescope Entertainment has announced the release of three new mini-series this month. The company plans to publish several brand new titles throughout 2018 with Van Helsing vs. Robyn Hood, Robyn Hood: The Curse, and Belle: Beast Hunter being the first to hit shelves. These three new series are also part of Zenescope's popular and continually growing shared universe of characters.

Van Helsing Vs. Robyn Hood is the sixth installment of the company's hit Van Helsing franchise. Written by Zenescope co-founder, Ralph Tedesco (The Courier, Grimm Tales of Terror), this spinoff series pits two best friends against one another after they discover a criminal's plan to create a loyal vampire army using a synthetic drug. Van Helsing Vs. Robyn Hood is a four issue mini-series with artwork by Allan Otero and colors by Leonardo Paciarotti.
Van Helsing vs. Robyn Hood #1
Written by Ralph Tedesco
Art by Allan Otero
Colored by Leonardo Paciarotti
Lettered by Taylor Esposito
Available on January 17, 2018
ZENESCOPE CO-FOUNDER & WRITER RALPH TEDESCO SETS VAN HELSING AND ROBYN HOOD
ON A COLLISION COURSE THAT WILL SHAKE THE UNIVERSE TO ITS CORE!
Robyn and Liesel learn that they're each separately on the trail of a seedy crime boss who's experimenting on humans while developing an extremely dangerous designer drug. But neither Robyn nor Liesel is prepared for what they'll uncover as the two long-time friends find themselves face to face in an epic battle to the death!
VARIANT COVERS
http://www.popculthq.com/2018/01/02/interview-writer-ralph-tedesco-van-helsing-vs-robyn-hood-zenescope-entertainment/
http://www.popculthq.com/2017/12/31/comic-book-review-zenescopes-van-helsing-vs-robyn-hood-1-ralph-tedesco-allan-otero-leonardo-paciarotti-taylor-esposito/
---


Robyn Locksley takes on new adventures in her latest Series, Robyn Hood: The Curse. This six issue mini-series is being written by comic book industry veteran Chuck Dixon (Van Helsing vs. The Werewolf, Batman, The Punisher) with artwork provided by Julius Abrera and colors by Robby Bevard. Robyn Hood: The Curse follows Robyn Locksley as she finds herself face to face with a terrifying new evil that threatens the lives of her closest friends, Marian and Sam.
ROBYN HOOD: THE CURSE #1
After a daring and dangerous escape from a sadistic super-max prison, Robyn is finally back home where she belongs. But as she re-acclimates to her "normal" life in New York City, Robyn gets a long distance call from her best friend, Marian Quin. A new evil has been released and Marian needs Robyn's help to send it back from where it came… But this battle is about to get more personal than either of these friends could have imagined, and nothing will ever be the same!
VARIANT COVERS
http://www.popculthq.com/2017/12/02/interview-writer-chuck-dixon-robyn-hood-curse-zenescope-entertainment/
---

Belle: Beast Hunter is penned by Zenescope writer & editor, Dave Franchini (Cinderella: Serial Killer Princess, Spirit Hunters). Belle is a regular girl whose unique heritage forces her to live two very separate lives. Her normal life is that of a grade school teacher in Philadelphia, but the other is that of a well-trained mythical beast hunter. Belle: Beast Hunter is limited to six issues with Bong Dazo and Juan Manuel Rodriguez providing artwork for the series.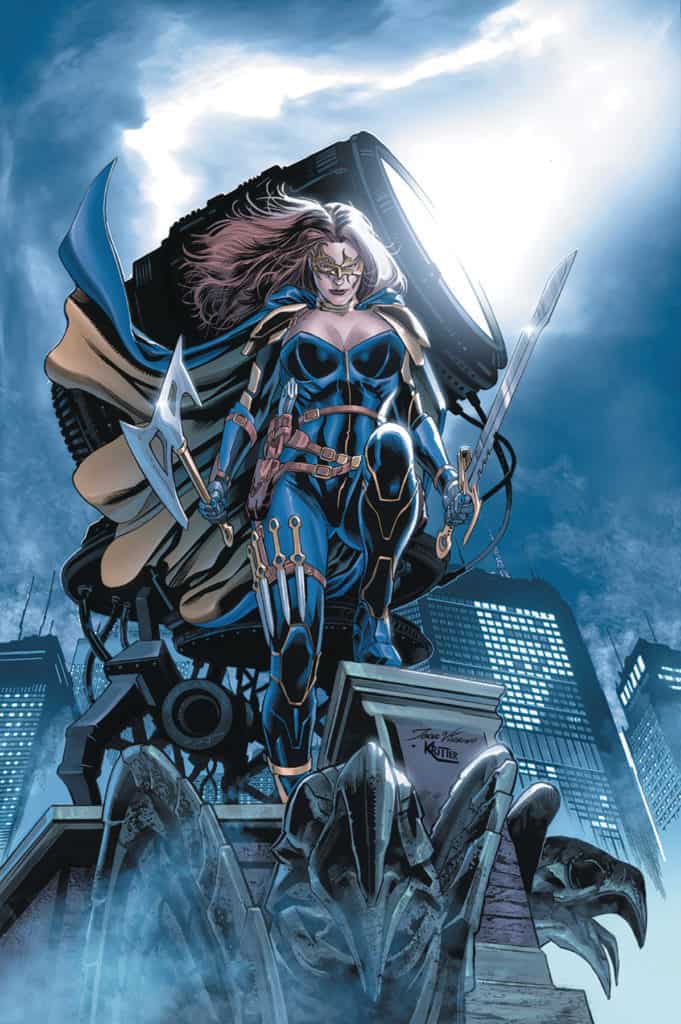 BELLE: BEAST HUNTER
In Shops: Jan 17, 2018
SRP: $3.99
~~~~~
NEW SERIES! NEW HERO!
The Grimm Universe is filled with heroes far and wide dealing with threats from vampires, werewolves, corrupt governmental organizations, to ancient orders battling for control of the realms of power.
But what lies in the deepest corners of our world could give the evilest creature nightmares. A threat since the beginning of time is rising and only one person will be there to stop it from destroying everything!
Working from the shadows a long lineage of warriors have been defending life from the darkness that exists and from that family of soldiers comes the newest ally in the war of monsters, Belle the Beast Hunter! Don't miss this new series as a new hero is introduced into the Grimm Universe!
VARIANT COVERS
http://www.popculthq.com/2017/11/23/interview-writer-dave-franchini-belle-beast-hunter-zenescope-entertainment/
Look for all three series this month on shelves at comic book retail stores, digitally at Comixology.com, or for direct order through Zenescope's website www.zenescope.com.