This Wednesday, October 28th, IDW Publishing is releasing the highly-anticipated debut issue of TMNT: The Last Ronin #1! Oversized in both format and page count, this is a perennial TMNT tale that can't be missed!
Here's a look at the covers, the storyline, and preview pages for this week's new release from IDW Publishing on New Comic Book Day! #NCBD
IDW PUBLISHING COMICS
New Release for the week of October 28th, 2020
~~~~~~~
COVERS
TMNT: The Last Ronin #1
Story: Kevin Eastman, Peter Laird, Tom Waltz
Script: Tom Waltz & Kevin Eastman
Layouts: Kevin Eastman
Pencil/Inks: Esau Escorza & Isaac Escorza
Page 39 Art: Ben Bishop
Colors: Luis Antonio Delgado
Color Assists: Samuel Plata
Letters: Shawn Lee
Cover Artists:
Cover A: Esau Escorza & Isaac Escorza w/ Luis Antonio Delgado
Retailer Incentive Variant (A): Kevin Eastman w/ Brittany Pezzillo
Retailer Incentive Variant (B): Mateus Santolouco

It's the TMNT event of 2020! Springing from the minds of TMNT co-creators Kevin Eastman and Peter Laird comes an epic like you've never seen before! In a future NYC far different than the one we know today, a lone surviving Turtle goes on a seemingly hopeless mission to obtain justice for his fallen family and friends. Kinetic layouts from Eastman, inks from Esau and Isaac Escorza and a thrilling script full of surprises from longtime TMNT scribe Tom Waltz all combine to make this one of the most memorable TMNT stories you will ever read!
~
PREVIEW PAGES
---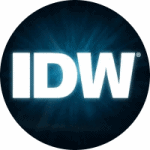 `
`
`
`