[Interview] Writer Ralph Tedesco of VAN HELSING VS. ROBYN HOOD from Zenescope Entertainment
Liesel Van Helsing. Noted vampire hunter in Zenescope's Grimm Universe for years. The Van Helsing television series, which sees its second season finale premiere this Thursday on the SyFy channel, has been picked up for a third as fans can't get enough of the series which drew its inspiration from Zenescope's Grimm Fairy Tales graphic novel Helsing. In the comics, Van Helsing has appeared nearly 100 times in solo titles, Grimm features such as Vampires and Werewolves and Realm Knights, as well as has her own "Versus" line where she's been pitted against Dracula, The Werewolf, Frankenstein, The Mummy of Amun-Ra, and now…Robyn Hood? How could Van Helsing be in a miniseries against her friend Robyn Locksley? Fortunately I had the privilege in chatting with the new title's writer Ralph Tedesco to find out more.
Tedesco, known by many as a co-founder of Zenescope Entertainment (along with Joe Brusha), has written a slew of titles for the publisher and is back with a new story for these two leading ladies of the Grimm Universe. His new miniseries, Van Helsing vs. Robyn Hood, has the storyteller teamed with artist Allan Otero, colorist Leonardo Paciarotti, and letterer Taylor Esposito and from our advance review, they've got a sure-fire hit on their hands.
So sit back and hear from the writer himself as he goes in-depth on his new miniseries, Van Helsing vs. Robyn Hood!
Van Helsing vs. Robyn Hood #1
Written by Ralph Tedesco
Art by Allan Otero
Colored by Leonardo Paciarotti
Lettered by Taylor Esposito
Available on January 10, 2018
ZENESCOPE CO-FOUNDER & WRITER RALPH TEDESCO SETS VAN HELSING AND ROBYN HOOD
ON A COLLISION COURSE THAT WILL SHAKE THE UNIVERSE TO ITS CORE!
Robyn and Liesel learn that they're each separately on the trail of a seedy crime boss who's experimenting on humans while developing an extremely dangerous designer drug. But neither Robyn nor Liesel is prepared for what they'll uncover as the two long-time friends find themselves face to face in an epic battle to the death!
VARIANT COVERS
---
PopCultHQ Creator Spotlight:
Ralph Tedesco of Zenescope's VAN HELSING VS. ROBYN HOOD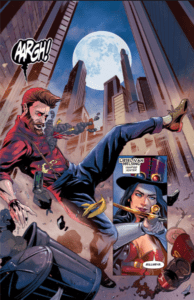 PopCultHQ: Zenescope is kicking off the New Year in a big way by dropping new series such as ROBYN HOOD: THE CURSE from Chuck Dixon, BELLE: BEAST HUNTER by Dave Franchini and Bong Dazo, and your new title in the "Van Helsing Vs." line with VAN HELSING VS ROBYN HOOD. What do you have planned for this meeting with two of Zenescope's popular leads?
Ralph Tedesco: I'm writing this series with the idea that this will be a fun ride for long time fans of our books as well as for new readers who may be picking up their very first Zenescope series.
Listen, this series isn't meant to be heavy or take itself overly serious so there's plenty of action and horror with some really fun moments of levity mixed in throughout. I've had a great time writing these two characters again. It's really like visiting old friends.
PopCultHQ: The villain (if you will) for the series has been described as a "seedy crime boss who's experimenting on humans." What can you share with us about the antagonist and his plans in VAN HELSING VS ROBYN HOOD?
Tedesco: Von is a new "Big Bad" that we created for this series. Our lead editor and one of our writers, Dave Franchini, had the original idea of this drug that creates vampires and I loved that. I figured a seedy crime boss would make a good antagonist, but I wanted him to be more of an "up and coming" criminal that his rivals didn't respect. Now with this newfound power at his fingertips he's becoming a major threat not only to his rivals but potentially to millions of people.
PopCultHQ: What are you most excited about creating/exploring for this team-up title?
Tedesco: I loved the idea of creating vampires with a synthetic drug. I also really liked the idea of someone being able to "control" them for his or her own personal gain. Imagine having complete control and power over supernatural beings? I felt it was a pretty cool and original premise we don't usually see in vampire stories.
PopCultHQ: For the series, you've teamed with artist Allan Otero, who has illustrated a number of Zenescope titles. What made Otero the choice for VAN HELSING VS ROBYN HOOD?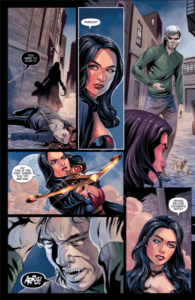 Tedesco: That's all Dave Franchini and Terry Kavanagh. Dave's our Lead Editor and Terry is editing this particular series. They got Allan on board which I was thrilled about because Allan's always been one of my favorite artists to work with. He also illustrated one of my Salem's Daughter series years back and has been getting better and better ever since. He's going to do very well in this industry.
PopCultHQ: What is the most challenging aspect for you as a creator on VAN HELSING VS ROBYN HOOD?
Tedesco: I think it's always tough when you have multiple writers penning a character's voice. Although we created the characters in house together, Pat Shand had taken on the task of writing both Robyn and Van Helsing for a long time. Then more recently LaToya [Morgan] and Chuck [Dixon] took the reins on a few of their series. I think the hard part when switching writers is staying true to the character's voice and personality. But the thing with great writers like LaToya and Chuck – and many of our other writers – is that they know how to let a character speak through them as opposed to forcing a character to fit their writing style. That's not always easy to do.
PopCultHQ: We'll be seeing Liesel and Robyn go head-to-head in the series. Will the end result have lasting or impactful implications to the Zenescope universe?
Tedesco: We'll definitely introduce some new characters into the universe that will pop up in other series. It's always nice to be able to expand your universe. But we have a couple new characters to add to the future mix.
PopCultHQ: The artwork on all four covers are simply breathtaking. The Billy Tucci and Meguro variants even give us a glimpse at a bloodthirsty Robyn Locksley. How important was it in choosing the artists to help translate your narrative on the covers?
Tedesco: Very important. Our covers have a certain style that is rather recognizable in the industry and we use some incredible artists that we're so lucky to be able to work with. Billy and Meguro are awesome and I can easily rattle off another forty names of illustrators and colorists off the top of my head we use that bring these covers to life. There is so much talent in this industry and those who succeed work very hard at it.
~~~~~
Big thanks to Ralph Tedesco for taking time to be interviewed by PopCultHQ. 
Be sure to follow Ralph and Zenescope Entertainment online to stay updated on all the latest Van Helsing vs. Robyn Hood news and make sure to pick up the first issue on Wednesday, January 10th at your local comic shop and online retailers!
---
Writer – Ralph Tedesco
`
`
Zenescope Entertainment