By now, we are all sick of staying home. There were things we wanted to do, people we wanted to see. For some of us, we had things planned months in advance that have fallen down the drain.
Today, we are going to remind you of what you have missed this weekend in the convention world.
---
Furry Weekend is held at the Marriott Marquis om Atlanta. It is a welcoming event for everyone interested in their furry side. With or without fursuits.
If you are interested, they are having a virtual event this weekend that can be found here.
---
Dark Sky Awakens is a celebration of every galactic adventure in that "galaxy far, far away" under the Dark Skies of Coonabarabran, NSW!
---
They have gone to a virtual format, more information can be found on their website.
---
MarCon (Multiple Alternative Realities Convention) describes themselves as a Pan-Genre Geek Culture Convention because it has everything and is the most fun you can have in a year, packed into a single weekend.
They will return May 7-9, 2021.
---
Originally scheduled for this weekend, they rescheduled for July 3-5. Unfortunatly, they have had to cancel even that date and we will now see them again next year.
---
They describe themselves as, "Yellow City Comic Con is the largest community annual fandom convention in the Texas Panhandle region. It is our mission to provide the best convention experience, build Amarillo tourism, and give back to the Community. Come out and enjoy Cosplay, Artist, Authors, Vendors, Celebrity Guest, panels, gaming, and so much more." They have rescheduled for September 18-20.
---
A UK event held by Starfury Conventions for fans of "Once Upon A Time" that had to cancel.
---
An event that claims to be an international Steampunk and alternative musical artists with all profits from the weekend going to New Futures Nepal, who support disabled and disadvantaged youngsters and adults in Nepal.
No cancellation notice was made on any of their pages, I finally got an answer on Facebook, after attempting to contact them repeatedly. Since then they have set up a separate 'virtual' event.
---
Originally known as Grape City Con, this event has been moved to November 15.
---
They have moved this Tampa event to June 20.
---
A smaller convention held in Hickory, NC that focuses on their dealers.
---
Held in Medford, Oregon, this one-day event comic books, celebrity guests, toys, video games, cosplay, and more to the local community. 
---
"The Oddities & Curiosities Expo showcases hand selected vendors, dealers, artists and small businesses from all over the country with all things weird. You'll find items such as: taxidermy, preserved specimens, original artwork, horror/halloween inspired pieces, antiques, handcrafted oddities, quack medical devices, clothing, jewelry, skulls/bones, funeral collectibles & much more. We truly have something weird for everyone at our events. "
The Columbus even has been rescheduled for December 12.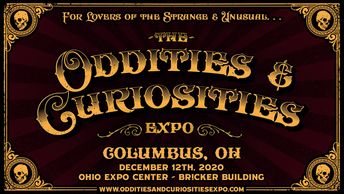 ---
This small trading card and comic convention is a regular in Virginia, they hope to hold their next event in June.
---
A celebrity guest & pop culture convention in Pittsburgh that has been rescheduled to May 8-9, 2021.
---
Hudson Valley Comic Con in Poughkeepsie, NY has been postponed indefinitely.
---
This annual New Brighton, UK even has been cancelled.
---
A quarterly even held in Victoria, British Columbia that will reappear on August 30.
---
To see what conventions are coming to your area, be sure to check out our Cosplay Convention List or to see what other cancellations are out there, go to our List of Events changed due to COVID-19.