EISNER AWARD-WINNING CREATORS
BRIAN MICHAEL BENDIS & ALEX MALEEV
PRESENT A NEW CRIMINAL MASTERMIND TEAM IN
"MASTERPIECE"
Dark Horse Comics and Jinxworld present Masterpiece, a new action/adventure comic series from Eisner Award-winning creators Brian Michael Bendis (The Ones, Scarlet) and Alex Maleev (Scarlet, Daredevil). Bendis will write the new series with Maleev illustrating. Ian Herring joins the team as colorist with Josh Reed as letterer.
Emma, aka "Masterpiece," is a brilliant and driven 16-year-old. She has paid for school with her next level inventions and is well-known for her funny and honest webcomics. Then, one day, Zero Preston, one of the most famous billionaires on the planet, confronts her with the truth about her world. Emma discovers she is the only daughter of two of the greatest, most charismatic master criminals of all time. Her parents were the authors of the greatest casino robbery of all time, the greatest museum heist of all time, AND they took Preston for a cool billion… before they disappeared never to be seen or heard from again.

Zero Preston has been looking for payback for years since then and now he finds Emma… who clearly does not have his money. Instead, Zero threatens Masterpiece into pulling a grand, impossible job against his corporate enemy and, in order to pull off one of the greatest heists of all time, Masterpiece fashions a crew of her peers and her parents' old associates.
Joining the team for the first issue are variant cover artists Tula Lotay (Barnstormers) and Peach Momoko (Demon Wars, The Immortal Thor, Marvel Zombies), with Momoko's cover as a 1:10 incentive variant for comics retailers.
Praise for Brian Michael Bendis and Alex Maleev:
"Both chaotic and beautiful, Scarlet #5 is, hands-down,
Maleev's best work on the series to date."
—IGN
"Bendis' easy read, well thought out story, along with clean
amazing artwork from Edgar and colors from Diaz gives you
a complete first issue and leaves you excited for
the future of the series [The Ones]."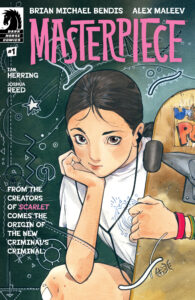 –Capes & Tights
"Scarlet remains as relevant as ever in today's America,
as well as a standout title in the Bendis/Maleev collaboration."
—AIPT Comics
Masterpiece #1 (of 6), breaks into comic shops on December 13, 2023. It is now available to pre-order for $3.99 at your local comic shop.
---
Follow Dark Horse Comics:
Founded in 1986 by Mike Richardson, Dark Horse Comics is an excellent example of how integrity and innovation can help broaden a unique storytelling medium and transform a company with humble beginnings into an industry giant. Under a new partnership with Vanguard Visionary Associates, Dark Horse is positioned to further expand its reach globally with publishing, products, and filmed entertainment. Over the years, Dark Horse has published the work of creative legends such as Yoshitaka Amano, Margaret Atwood, Paul Chadwick, Geof Darrow, Will Eisner, Neil Gaiman, Dave Gibbons, Faith Erin Hicks, Kazuo Koike, Matt Kindt, Jeff Lemire, Mike Mignola, Frank Miller, Moebius, Chuck Palahniuk, Wendy Pini, and Gerard Way. In addition, Dark Horse has a long tradition of establishing exciting new creative talent throughout all of its divisions. The company has also set the industry standard for quality licensed comics, graphic novels, collectibles, and art books, including Aliens, Stranger Things, Avatar: The Last Airbender, The Legend of Korra, Predator, Minecraft, The Legend of Zelda, Super Mario, Dragon Age, James Cameron's Avatar, Game of Thrones, Mass Effect, StarCraft, The Witcher, and Halo. Today, Dark Horse Comics is one of the world's leading entertainment publishers.