[Comic Book Review] Zenescope's 'Van Helsing vs. Robyn Hood' #1 by Ralph Tedesco, Allan Otero, Leonardo Paciarotti & Taylor Esposito
PopCultHQ received an advance review copy of Van Helsing vs. Robyn Hood #1 from Zenescope Entertainment. Available January 10th, the creative team for this series features writing from Ralph Tedesco, with art from Allan Otero, colors by Leonardo Paciarotti, and lettering by Taylor Esposito of Ghost Glyph Studios.
*** Note: Zenescope & ComiXology has listed a release date of January 10th, though a number of online retailers list as January 3rd. I'm going with the 10th 😉
Here's PopCultHQ's spoiler-free review of…
Van Helsing vs. Robyn Hood #1
Written by Ralph Tedesco
Art by Allan Otero
Colored by Leonardo Paciarotti
Lettered by Taylor Esposito
Available on January 10, 2018
ZENESCOPE CO-FOUNDER & WRITER RALPH TEDESCO SETS VAN HELSING AND ROBYN HOOD
ON A COLLISION COURSE THAT WILL SHAKE THE UNIVERSE TO ITS CORE!
Robyn and Liesel learn that they're each separately on the trail of a seedy crime boss who's experimenting on humans while developing an extremely dangerous designer drug. But neither Robyn nor Liesel is prepared for what they'll uncover as the two long-time friends find themselves face to face in an epic battle to the death!
VARIANT COVERS
---

 PopCultHQ's Comic Book Review:
Van Helsing vs. Robyn Hood #1
Liesel Van Helsing. Vampire Hunter. British Badass.
Robyn Locksley. Otherworldly Fixer-for-Hire. New York's Archer Extraordinaire.
Both Liesel and Robyn find themselves seeking the same mysterious drug dealer, but for very different reasons. The two team-up on their quest, but what they uncover is something neither expected to find. The issue hits you with an ending that not only makes you Eek!, but will have you excited for the potential with the upcoming issues in the miniseries.
Writing:
Writer Ralph Tedesco knocks it out of the park with Van Helsing vs. Robyn Hood #1. He delivers an intriguing premise and a fun approach as to how the titular characters came to cross paths.
Though part of the "Van Helsing Versus" line, Tedesco gives both lead characters equal starring time, not favoring one or the other. His portrayal of Liesel shines as she exudes the classic style she's been known for over the years, with her mannerisms and certain air about her. For Robyn, he's brought out some of her best characteristics that I, as a collector of Robyn Hood titles, appreciate (Robyn burning muffins was hilarious to me).
The joining of these two Zenescope stars, and the layout for issue one, has set the stage for an incredible team-up title. Look for Tedesco to level up even more in subsequent issues, for it feels like we're in for a wild ride!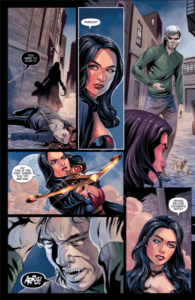 Art:
Illustrator Allan Otero makes Tedesco's story spectacular with the look and feel in issue one, Beautiful layouts, captures the essence of both Van Helsing and Locksley splendidly, and great use of panel work. When needed, Otero's detail to the characters is on-point. His action sequences are quite enjoyable to watch and Allan magnificently shows off what these two heroines can do. Otero will certainly continue to create a beautiful visual of Ralph's story in issues to come.
Colorist Leonardo Paciarotti is a fantastic choice for this series. Not only does he enhance Paciarotti's beautiful work, but he captures the feel, energy, and environment of every scene and every panel. In doing so, he increased the realness and plausibility of the comic in its entirety (if that makes sense). Never overpowering, very complimentary, and a wide array of techniques employed make Leonardo a highlight of this series.
Lettering is delivered by the Fontmaster (is that a word?) himself, Taylor Esposito. Always known to bring his A-game, Van Helsing vs. Robyn Hood #1 delivered once again. Though this Versus comic does not require the lettering to be as prevalent or varied as some of Taylor's other current work, the Fontmaster (apparently, I'm running with that title) still contributes with his standard of excellence.
PopCultHQ's overall assessment:
When you have two popular Zenescope characters each with a long history, a true storyteller's writer at the helm, an artist that delivers great depth to Liesel and Robyn, a colorist delivering mind-blowing work, and quite possibly the best letterer in the industry, you have all the makings for a fantastic miniseries. And that's exactly what Van Helsing vs. Robyn Hood #1 kicks off…a fantastic miniseries to start off 2018.
(And by the way, the more you read it, the more you'll love it. After my third time through, I fell in love with the prospect of this series)
PopCultHQ's Rating:
5 Out of 5 Stars
Van Helsing vs. Robyn Hood #1 can be preordered now on ComiXology
and available at your local comic shop and online retailers Wednesday, January 10th, 2018!
---
Be sure to follow the creative team!
Writer – Ralph Tedesco
`
`
Artist – Allan Otero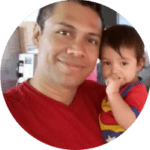 `
`
Colorist – Leonardo Paciarotti
`
`
Letterer – Taylor Esposito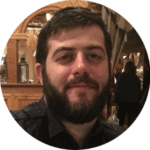 `
`
ZENESCOPE ENTERTAINMENT