[Comic Book Review] Titan Comics' BLADE RUNNER 2019 Vol. 1: Los Angeles – Artist's Edition
Winner of the 2020 SCRIBE AWARD for best Graphic Novel!
PopCultHQ received advance review copy of BLADE RUNNER 2019 Vol. 1: Los Angeles – Artist's Edition from Titan Comics. Available early 2021, the creative team for this hardcover features writing from Michael Green & Mike Johnson, art from Andres Guinaldo, and letters from Jim Campbell.
Here is PopCultHQ's Spoiler-Free Review of…
BLADE RUNNER 2019 Vol. 1: Los Angeles – Artist's Edition
Story: Michael Green, Mike Johnson
Art: Andres Guinaldo
Letters: Jim Campbell
Cover Artist: Andres Guinaldo
Hardcover, $29.99, £26.99
On sale January 2021
ISBN: 9781787735309
A 128-page collection of the black and white artwork from the smash-hit, critically acclaimed Blade Runner 2019 comic series drawn by Andres Guinaldo, collecting together issues #1-4 of the Los Angeles arc.
This collection of Andres Guinaldo's artwork, previously unpublished in this form, includes never-before-seen layouts, roughs, thumbnails, sketches and cover roughs, giving a unique glimpse into the process of the artist.

The collection also includes an interview between Andres and the writers Michael Green (co-screenplay writer of Blade Runner 2049, Logan and Murder on the Orient Express) and Mike Johnson (New York Times-bestselling writer of Star Trek, Transformers, Superman/ Batman and Picard).
---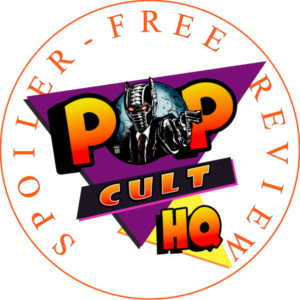 PopCultHQ's Comic Book Review:
BLADE RUNNER 2019 Vol. 1: Los Angeles – Artist's Edition

What first sprang from the mind of beloved author Philip K. Dick, now comes to life once more in the form of a comic series put together by a dynamic creative team. Welcome once more to the grim and gritty world of future Los Angeles. A place of crime, culture and chaos. A place were Replicants run amok throughout society and the all-mighty corporations loom down on the citizens of this proud city. Yet one thing stands against the Replicants and all they stand for. They are the few, they are the proud. They are…Blade Runners.
Writing: When a comic book writer and Hollywood screen writer come together on a project, usually something amazing happens. This is certainly the case with Mike Johnson and Michael Green's foray into the world of Blade Runner. Their story has all the components that are well-known to fans of the films and the original book. With added twists that are borne from the brilliance of their collaboration. The characters these two created and inserted into this chaotic and crime-infested world are more then mere window-dressing. They add to the overall narrative and present a compelling and intense story that will have fans begging for more.
Art: A neo-noir dystopian world like this calls for artwork that reflects it savage beauty and heightens the drama and suspense put forth by whomever takes up the pen to put their own mark on it. Enter Andrés Guinaldo, an excellent artist whose work on projects for the Big Two, brings a dash of grim and grit into this already serious setting. His layouts and grid choices mean that there is more room for greater detail artistically. With people, buildings, and the sort of intense action-packed moments one excepts from such a comic. The splash pages he employs are gorgeous to look at and deliver all the punch of a blockbuster motion picture in one go.
Letters: Jim Campbell is one of those letterer's who takes the craft seriously but also pours a lot of passion and energy into it. In the realm of Blade Runner, Jim's style of lettering serves the story, helps keep the readers attention focused on what is in front of them. There is a savage intensity to it this reviewer noticed, like the crescendo from a large kettle drum at a concert. That intensity plays right into the wheelhouse of what this comic is, the world it is a part of. A driven, suspense-filled tale of crime, corrupt humanity and broken heroes. Jim brought all of that to life with the letters.
PopCultHQ's overall assessment:
Blade Runner is a world that is beloved by science-fiction fans and movie fanatics all over. One needs only look to the staying power and impact of the original book and films, to know that this comic doesn't take away from what has already been established. It adds to, builds upon what has come before and presents a new anti-hero for fans and readers to enjoy, appreciate and cheer on. The extra goodies that come in this Artists Edition are a treat as well. Something of a "behind the scenes" look at how Andrés went about bringing the vision of this world to life. Certainly the sort of book any dedicated comics reader, sci-fi lover or Blade Runner fan must have in their shelves.
PopCultHQ's Rating:
5 Out of 5 Stars
---
Publisher: Titan Comics
Titan Comics offers astounding creator-owned comics and graphic novels from new and world-renowned talent, alongside the world's greatest licensed properties and classic graphic novels remastered for brand-new audiences.  Titan is one of the most successful independent publishing operations in the US, with a recent six-week run at #1 in the New York Times bestseller list. 




`
`
`