PopCultHQ has had a very productive 2017. Even though the year isn't (officially) over, we are looking at our Top 10 Comic Book Coverage Articles in 2017 (based on views)…
In "The Merging of Multiple Earths," SAVAGE DRAGON boasts a giant-sized 25th anniversary special. The Dragon is restored to his former glory as he bulks up to take on Darklord in a final battle! Mr. Glum's devious plot to merge the multiverse comes to its cataclysmic conclusion! Savage Dragon and Malcolm Dragon join forces to save Angel Murphy and the very Earth itself!
Comics legend and Image Comics partner Erik Larsen will pushed the envelope in celebration of the company's 25th anniversary with a sexy, sultry XXX cover by Rafael Krás not for the faint of heart (and certainly NSFW…*wink*) in SAVAGE DRAGON #225.
---
A one-shot special of ZOMBIE TRAMP. With the Easter approaching, there's always events and themed get-togethers. This year, Zombie Tramp is getting in on the fun at the annual Bunnyland event. But what appears like harmless, good fun quickly turns into something much more sinister. Thankfully our fave girl is on hand and welcomes the challenge. But seriously…how could a holiday go by without Janey? This is going to be one wild Easter eggs-travaganza!
---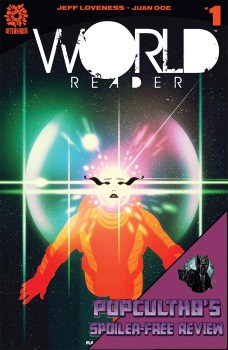 "Meet Sarah, an astronaut traveling from dead planet to dead planet, talking to the ghosts of the dead worlds… as she fights to discover the secret that's killing the universe.  But Death doesn't give up its secrets so easily, and as Death hunts her from planet to planet, Sarah struggles to maintain the trust of her crew and her own sanity in the endless ocean of lives. Every world has a story, and if she can find the secret tying them all together, she can save Earth from being the next world to die."
Worlds are dying throughout the universe, but there is someone who may be able to find the cause. Maybe they can prevent it from occurring on Earth. Her name is Sarah, a psychic astronaut gifted with the ability to commune with the dead from these lifeless planets. A sort of planet whisperer, if you will, her gift lays in her capacity to immerse herself into the realm of the dead.  Spiritually/psychically embodying one of the deceased inhabitants to witness for herself whatever catastrophic events brought their undoing. But as determined as Sarah is in finding the cause of the obliteration of so many species and worlds, she'll soon find Death is seeking her as well.
---
He is rapped in an immortality without explanation. THE OLD GUARD follows Andromache of Scythia—"Andy"—and her comrades as they ply their trade for those who can find—and afford—their services. Set in the 21st century where immortality is a hard secret to keep, this action-packed new series explores what happens when you live just long enough to learn that there are many fates worse than death.
---
This full color, 80-page original graphic novel is a dystopian urban style drama that asks the question, "when your world is a memory, does what you do still matter?"
This is creator Wayne Young's debut graphic novel and he will be on hand at San Diego Comic Con booth # 2515 for signings. The seeds for his first graphic novel, "Children of the Fall," were sown while working in Taiwan on the massive KRTC Public Art Project (which showcased the talents of Ron Wood, Lutz Haufschild and Narcissus Quagliata).  Inspired by a foreign landscape that shifts radically between developed and near apocalyptic, "Children of the Fall" reflects an aesthetic that bridges East and West, and follows in the narrative tradition of Mad Max, Road to Perdition and Once Upon a Time in the West. Digger Mesch, founder of Art Asylum and creator of The Other Dead, Agent 88 and Minimates toys, served as a creative consultant on the title, which also features gallery art from Dave Dorman (Star Wars), Liam Sharp (Wonder Woman) and David Mack (Kabuki.)
---
The series follows two of the greatest superheroes of Paris, Ladybug and Cat Noir, as they attempt to thwart the villainous Hawk Moth. Fans of the Miraculous television show and newcomers alike can enjoy the new stories in Miraculous Adventures of Ladybug and Cat Noir that you can't see on TV! Readers will get action-packed scenes and learn valuable lessons.
---
The first hardcover collection of this charmingly disarming BDSM romance series SUNSTONE. Two women deal with modern themes of sex, relationships, and fetishism in this erotic romantic comedy. So beware all who enter, because, to quote a few hundred thousand readers on DeviantArt: "I'm not into BDSM…but this story? I get it."
---

Celebrating the 25th anniversary of Image Comics and the 20th anniversary of THE DARKNESS, this special volume collects THE DARKNESS ORIGINS (Issues one through six and Preview), THE DARKNESS/BATMAN, and THE DARKNESS/SUPERMAN! This is a one-time printing in honor of the anniversaries.
---
The Bowmans are vampires who have quietly run the local barbecue joint in their small town for years, living off cow's blood. Their peaceful coexistence ends as generations of hate, fear, and bad blood bubble to the surface—making it impossible to separate man from monster!
"Redneck is truly a dream come true for me as a storyteller, and to be able to tell this story on a stage as nice as Skybound and Image have given us? I don't think it gets better than that," said Cates. "Redneck is deeply personal for me, and I think will be for a lot of people out there as well. It's a story about a family's quest to turn themselves into more than the monsters they've always been. To find a little peace in a world that hates them. It ain't gonna be easy, and it's sure as hell gonna be bloody. But it might just be the best time you've ever had reading a book about vampires!"
---
Retired serial killer Edwyn Stoffgruppen is in love with Virginia, a girl he "met online." Her affection quiets his vile urges. Together, they tour the back roads of America in their LTD, eating doughnuts and enjoying their healthy appetites for each other. Life is good… until a Louisiana billionaire kidnaps Virginia, forcing Edwyn to kill again in exchange for her freedom. The twist? Virginia is a sex doll.