PopCultHQ received a review copy of BLUE BOOK Vol. 1 – "1961" TPB from Dark Horse Comics. Available September 19th (bookstores) & September 20th (comic book shops & online retailers), the creators in this trade paperback features writing by James Tynion IV, art by Michael Avon Oeming, and letters by Aditya Bidikar.
Here's PopCultHQ's spoiler-free review of…
---
BLUE BOOK Vol. 1 – "1961" TPB
Written by James Tynion IV
Art by Michael Avon Oeming
Letters by Aditya Bidikar
Cover Art by Michael Avon Oeming

~~~~~
Format: FC, 136 pages;
TPB; 6 5/8″ x 10 3/16″
Genres: Science-Fiction, Non-Fiction
ISBN-13: 978-1-50673-669-3
ISBN-10: 1-50673-669-6
Ages: 12+
SRP: $24.99
Bookstore release date: 9/19/23
Comic shop release date: 9/20/23
Collects the Dark Horse series 'Blue Book' #1-#5, originally published on Substack.
An ambitious, non-fiction comic book experience depicting true stories of UFO abductions with an eye to capturing the strange essence of those encounters.

From the New York Times bestselling and multi-Eisner award-winning co-creators of Something is Killing the Children, The Nice House on the Lake, The Department of Truth, and Powers.

In Blue Book, teaming with artist Michael Avon Oeming and letterer Aditya Bidikar, Tynion presents what he calls his "True Weird" stories. Tales of ordinary people encountering the strange and the impossible.

Volume 1 retells the infamous case of the abduction of Betty and Barney Hill of New Hampshire in 1961–the very first widely-publicized UFO abduction that went on to shape and influence all future encounter stories.
---
PopCultHQ's Comic Book Review:
BLUE BOOK Vol. 1 – "1961" TPB

The possibility of life existing on other planets is a pop culture touchstone. Some of the most famous films, TV shows, and, yes, even comic books have dealt with this question and explored the far-reaching implications it yields. But what about the stories of those who have stepped into the light, communed with alien beings, and returned to share their experiences with the rest of the population? Dive into a tale of yesteryear with Blue Book Vol. 1. Everyone will note that the whole book stands tall, from the script to the art to the lettering, all of which gives a portion of strength to the success of this book. 
Writing: James Tynion IV is a household name in comics. Over the years, his output as a writer has seen him put a fertile imagination to work on various books for various publishers. His latest venture is not unlike the podcasts and TV shows that dip a toe into the waters of reality while highlighting events and people that have, at times, flown under the radar of history. While it is possible that anyone who picks up Blue Book may not walk away a believer, you may undoubtedly be more intrigued by the prospect of Earth being visited by aliens. There is a lot of material crammed into all 136 pages. James does a skillful job of condensing it into a story that is easy to follow and will leave people wanting to know more about the Baker abduction. 
Art: Michael Oeming is another well-known name in the comic book world. Whether it is his work on Powers or The Mice Templar, Oeming has had his work splashed all over the comics scene. The artwork at play here is typical for an artist of his caliber and yet is a stark departure from previous comics. It is a book rooted in history and fact (if alien visitation can be described as factual), meaning there are no glorious explosions or gratuitous violence. Instead, we are treated to an adventure like something out of the 'Twilight Zone' and Michael's art will hold readers in place every step of the way, not unlike an episode of the classic show. Top marks to Mike for another excellent artistic achievement.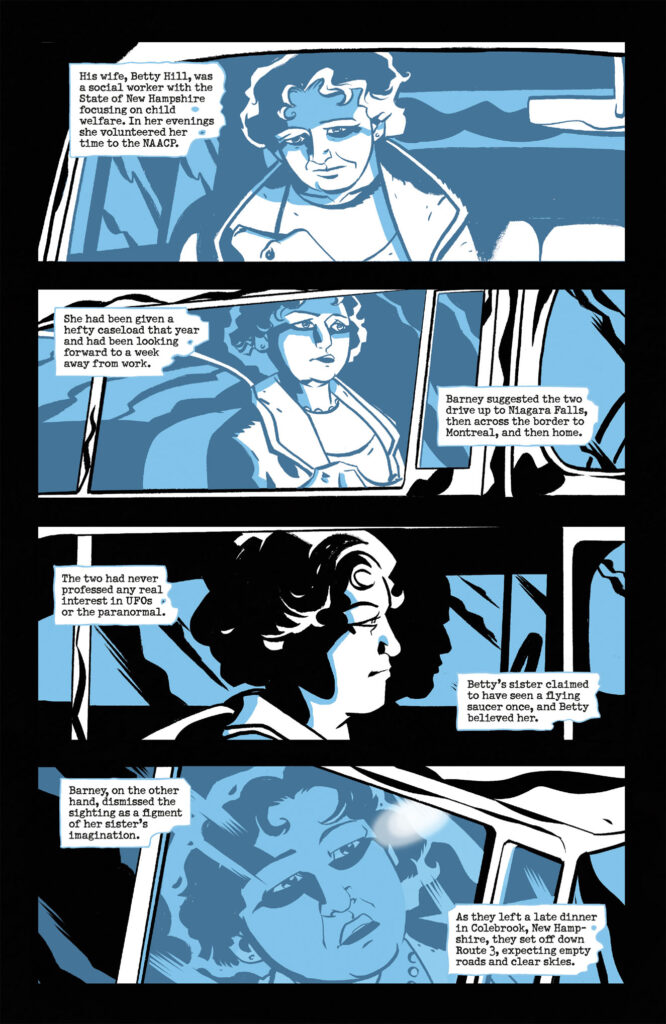 Letters: Rounding out the terrific trio attached to this project is letterer Aditya Bidikar. His name will be known to all who walk the four-color road of comics, particularly for his award-winning efforts at publishers ranging from DC to Dark Horse, Image, and other funny book groups. One thing that readers need to understand about Aditya's work here is that it acts as a translation point for James's script, and that script reads more like something for film/television. So, as a letterer, Aditya is like a sound technician, ensuring clarity and quality come forth when someone opens the book. The whole undertaking seems daunting to someone like me who doesn't know a thing about lettering a graphic novel. Still, for an experienced pro like Bidikar, it is just another walk in the park.
---
Overall Assessment:
Since time immemorial, humanity has constantly looked to the stars for wisdom, guidance, and inspiration. Over the last century, from both positive and negative viewpoints, encountering and interacting with extraterrestrial beings has become a significant part of the culture of this planet. But what if there truly is life out there beyond the grasp of our understanding? And what would happen if anyone encountered alien beings and returned to tell the tale? Comic book lovers and sci-fi fans will thrill at this first volume of Blue Book and walk away asking the same question we have for years…is there life on other planets? Take a look when you pick up a copy of Blue Book Vol. 1.
PopCultHQ's Rating:
5 out of 5 Stars
*** PopCultHQ does not receive compensation for any purchases made from the links above. We include options to pick up the book being reviewed in print and/or digital format to assist readers by directing them to sites which we trust and to show support for the book, the creators involved, and the publisher.
---
About Dark Horse Comics:
Founded in 1986 by Mike Richardson, Dark Horse Comics is an excellent example of how integrity and innovation can help broaden a unique storytelling medium and transform a company with humble beginnings into an industry giant. Over the years, Dark Horse has published the work of creative legends such as Yoshitaka Amano, Margaret Atwood, Paul Chadwick, Geof Darrow, Will Eisner, Neil Gaiman, Dave Gibbons, Faith Erin Hicks, Kazuo Koike, Matt Kindt, Jeff Lemire, Mike Mignola, Frank Miller, Kentaro Miura, Moebius, Chuck Palahniuk, Wendy Pini, Richard Pini, and Gerard Way. In addition, Dark Horse has a long tradition of establishing exciting new creative talent throughout all of its divisions. The company has also set the industry standard for quality licensed comics, graphic novels, collectibles, and art books, including Stranger Things, Avatar: The Last Airbender, The Legend of Korra, Minecraft, The Legend of Zelda, Super Mario, Dragon Age, James Cameron's Avatar, Game of Thrones, Mass Effect, StarCraft, The Witcher, and Halo. Today, Dark Horse Comics is one of the world's leading entertainment publishers.