SPOTLIGHT: OKTOBER GUARD
---
This Wednesday, March 23rd, IDW Publishing is releasing another issue of G.I. Joe: A Real American Hero!
This month, Living Legend Larry Hama and upcoming superstar artist Heather Vaughan are going to open the top-secret dossier, remove those pesky redactions, and fill everyone in on long-awaited answers in… SPOTLIGHT: OKTOBER GUARD! Also includes the fifth of five interconnected covers (issues #286-#290) by fan-favorite artist Freddie E Williams II (Batman/TMNT)!
Here's a look at the covers, the storyline, and preview pages for this week's new release from IDW Publishing on New Comic Book Day! #NCBD
IDW PUBLISHING COMICS

New Release for the week of March 23rd, 2022
~~~~~~~
COVERS
---
G.I. Joe: A Real American Hero #290
Written by Larry Hama
Art by Heather Vaughan
Colors by J. Brown
Letters by Neil Uyetake
Cover Artists:
Cover A: Freddie E Williams II w/ Andrew Dalhouse
Cover B: Heather Vaughan
Retailer Incentive: John Royle w/ Jagdish Kumar & James Offredi
They are an Eastern Bloc legend. They've gone toe-to-toe with G.I. Joe and Cobra more than once. They've even stood side-by-side with their American counterparts on occasion. They bring serious heat to the Cold War… in more ways than one. They've celebrated victories and they've suffered losses, but somehow have remained intact. But wait—HOW, after said losses, have they remained intact?
PREVIEW PAGES
---
Publisher – IDW Publishing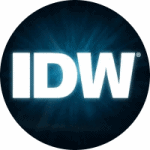 `
`
`
`