[Preview] IDW Publishing's 9/4 Release: MARVEL ACTION: SPIDER-MAN #8
This Wednesday, September 4th, IDW Publishing is releasing the eighth issue of MARVEL ACTION: SPIDER-MAN, as an exciting arc continues, featuring the Marvel Action debut of Black Cat!
Here's a look at the covers, the storyline, and preview pages for this week's new release from IDW Publishing on New Comic Book Day! #NCBD
IDW PUBLISHING COMICS

New Release for the week of September 4th, 2019
~~~~~~~
Marvel Action: Spider-Man #8
Writer: Delilah S. Dawson
Artist: Fico Ossio
Colorist: Ronda Pattison
Letterer: Shawn Lee
Cover Artists:
Fico Ossio w/ Ronda Pattison (Cover A)
Nicoletta Baldari (Cover B)
FC • 32 pages • $3.99
When Peter, Miles, and Gwen nab a famous cat burglar, they inadvertently make a new enemy in the Black Cat! And she'll stop at nothing to make them wish they had never crossed paths!
PREVIEW PAGES
---
Publisher – IDW Publishing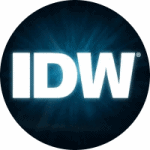 `
`
`
`