[Preview] IDW Publishing's 9/11 Release: CANTO #4 (of 6)
This Wednesday, September 11th, IDW Publishing has the fourth issue of CANTO, an all-ages fable inspired by Wizard of Oz and Dante's Inferno. Part fantasy. Part adventure. All heart.
RELATED: [Video Interview] SDCC 2019: David M. Booher & Drew Zucker of IDW Publishing's CANTO
Here's a look at the covers, the storyline, and preview pages for this week's new release from IDW Publishing on New Comic Book Day! #NCBD
IDW PUBLISHING COMICS

New Release for the week of September 11th, 2019
~~~~~~~
Canto #4
Writer: David M. Booher
Artist: Drew Zucker
Colorist: Vittorio Astone
Letterer: Deron Bennett
Cover Artists:
Main Cover: Drew Zucker & Vittorio Astone
Retailer Incentive: Phillip Sevy
FC • 32 pages • $3.99
Here there be giants! Canto must enter the dangerous City of Dis and climb to the top of the looming Emerald Tower. But can he find a way past the giants guarding the city gates?
PREVIEW PAGES
---
Publisher – IDW Publishing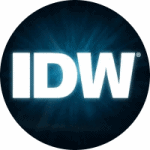 `
`
`
`