[Preview] IDW Publishing's 8/14 Release: TMNT: Urban Legends Vol. 1 TPB
This Wednesday, August 14th, IDW Publishing is releasing the first collected volume trade paperback of TEENAGE MUTANT NINJA TURTLES: Urban Legends!
Here's a look at the cover, the storyline, and preview pages for this week's new release from IDW Publishing on New Comic Book Day! #NCBD
IDW PUBLISHING COMICS

New Release for the week of August 14th, 2019
~~~~~~~
Teenage Mutant Ninja Turtles: Urban Legends Vol. 1 TPB
Writer: Gary Carlson
Artist: Frank Fosco
Inkers: Erik Larsen, Chance Wolf, Andrew Pepoy, Mark Heike
Colorist: Adam Guzowski
Letterers: Chris Eliopoulos, Pat Brosseau
Cover Artist: Frank Fosco
TPB • FC • $29.99 • 320 pages
ISBN: 978-1-68405-019-2
This is it, fans! You demanded it—the entire Image Comics TMNT run (a.k.a. TMNT Volume 3) reproduced for the first time ever in full, four-color glory! Join creators Gary Carlson and Frank Fosco as they take the Heroes in a Half-Shell on some of their most amazing, dangerous, and bizarre adventures ever… culminating in three brand-new issues by Carlson and Fosco to properly close out this long-beloved storyline at last! Long out of print and incomplete, Teenage Mutant Ninja Turtles Volume 3 is one of comics' lost treasures, now uncovered at last and completed by the original creators.
Collects issues #1–13 of the 26-issue series.
"IDW comes to the rescue by reprinting the original run (in color) and even allowing for an
all new story to be created to give the series the ending it never saw almost 19 years ago."
–Biff Bam Pop
PREVIEW PAGES
---
Publisher – IDW Publishing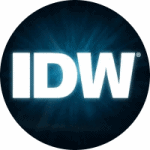 `
`
`
`