[Preview] IDW Publishing's 7/31 Release: CANTO #2
This Wednesday, July 31st, IDW Publishing has the second issue of CANTO, an all-ages fable inspired by Wizard of Oz and Dante's Inferno. Part fantasy. Part adventure. All heart.
Here's a look at the covers, the storyline, and preview pages for this week's new release from IDW Publishing on New Comic Book Day! #NCBD
IDW PUBLISHING COMICS

New Release for the week of July 31st, 2019
~~~~~~~
Canto #2 (of 6)
Writer: David M. Booher
Artist: Drew Zucker
Colorist: Vittorio Astone
Letterer: Deron Bennett
Cover Artist:
Cover A: Drew Zucker & Vittorio Astone
Retailer Incentive Variant A: Morgan Beem
FC • 32 pages • $3.99
Lions and tigers and… Malorex, oh my! Canto slips out of captivity only to find a herd of vicious Malorex ready to eat him. Can an unlikely friend help Canto survive long enough to see what lies beyond Arcana's borders?
PREVIEW PAGES
---
Publisher – IDW Publishing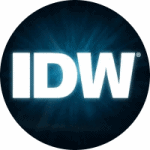 `
`
`
`