[Preview] IDW Publishing's 6/19 Release: TEENAGE MUTANT NINJA TURTLES: Urban Legends #14
This Wednesday, June 19th, IDW Publishing is releasing another thrilling issue of TEENAGE MUTANT NINJA TURTLES: Urban Legends! The entire TMNT Volume 3 run—all 23 issues—reprinted in full color for the first time!
Here's a look at the covers, the storyline, and preview pages for this week's new release from IDW Publishing on New Comic Book Day! #NCBD
IDW PUBLISHING COMICS

New Release for the week of June 19th, 2019
~~~~~~~
Teenage Mutant Ninja Turtles: Urban Legends #14
Writer: Gary Carlson
Artist: Frank Fosco
Inker: Mark Heike
Colorist: Adam Guzowski
Letterer: Pat Brosseau
Cover Artists:
Cover A: Frank Fosco w/ Courtland Brugger
Cover B: Frank Fosco & Erik Larsen w/ Reuben Rude & I.H.O.C.
Retailer Incentive Cover: Kevin Eastman w/ Tomi Varga

FC • 32 pages • $3.99
The search for Deathwatch continues! As Leo, Mikey, and Donatello face new hardships in Arkansas, Raph attempts to scare some sense into the criminal underbelly of the city with a very familiar—and unsettling—disguise. What happens when the long-lost Master Splinter comes face-to-face with the Shredder?!
VARIANT COVERS
PREVIEW PAGES
---
Publisher – IDW Publishing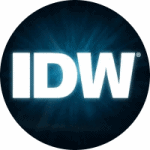 `
`
`
`