[Preview] IDW Publishing's 5/1 Release: MARVEL ACTION: AVENGERS #4
This Wednesday, May 1st, IDW Publishing is releasing the fourth issue of MARVEL ACTION: AVENGERS! All your favorite heroes are here: team up with Captain America, Black Panther, Black Widow, and more! Jump in to Marvel action as you've never seen it before!
Here's a look at the covers, the storyline, and preview pages for this week's new release from IDW Publishing on New Comic Book Day! #NCBD
IDW PUBLISHING COMICS

New Release for the week of May 1st, 2019
~~~~~~~
Marvel Action: Avengers #4
Writer: Matthew K. Manning
Artist: Jon Sommariva
Inker: Sean Parsons
Colorist: Protobunker
Letterer: Christa Miesner
Cover Artists:
Cover A: Jon Sommariva
Retailer Incentive: Chad Thomas & Nick Filardi
FC • 32 pages • $3.99
Magic and mayhem collide for more mighty Marvel action in this new adventure featuring Earth's Mightiest Heroes! Thor, Captain Marvel, and Doctor Strange have gone missing! Forced to face fiendish foes without their teammates, can the rest of the Avengers find their friends before it's too late? And what's this about a ruby?! It's an adventure you'll need to see, True Believers!
PREVIEW PAGES
---
Publisher – IDW Publishing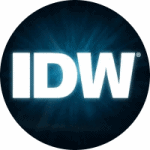 `
`
`
`