Get to Know AfterShock Comics: President/Co-Founder Lee Kramer
While covering Emerald City Comicon 2017 (ECCC), PopCultHQ had the fortunate opportunity to meet up with Team AfterShock. Representing the two-year old publishing company at this year's event was Lee Kramer, Joe Pruett, Mike Marts, Lisa Wu, and Stephan Nilson. One thing I mentioned to everyone on hand was my desire to give readers, fans, and future AfterShock Army members, a look at the people behind the scenes of indie publishers. You already know the comic books which they release. You likely know some, many, or even all of the creators who've signed on with the label. But what about the people responsible for finding new talent, who shares the company's news and review copies with media sites, that is responsible for AfterShock's social media activity, who are out there many weekends each year attending the cons to share each series they've released as well as meet with everyone: the fans, the readers, the collectors. These are the people we want to spotlight and share with you these often unsung heroes keeping the company moving all while remaining grounded. The crew at AfterShock Comics was more than willing and happy to oblige, so that's pretty sweet in itself. 😉
Our "Get to Know AfterShock Comics" Spotlight continues as we share with you the people behind the publisher. Next up is President Lee Kramer. The AfterShock website describes Lee as follows,
Lee Kramer

Lee Kramer, President and Co-Founder of AfterShock Comics, is a film production and development executive who has worked with some of the biggest names in Hollywood. Lee was the head Story Analyst at Endeavor, and worked with producer Cathy Schulman, who produced the Academy Award winning film Crash and The Illusionist.. Lee has also served as a development and production executive at Mandalay Pictures, and has produced several television shows for HBO.
Had a fantastic phone interview with Lee and am excited to share with you our conversation about the co-founder and his role with the company. Hear the humble president as he talks about his fellow co-workers,  the company's pursuit of original and unique ideas, and the relationships built with the creators at AfterShock Comics.
*** Sincere apology to Lee and AfterShock Comics for not getting this interview out earlier.
Better late than never, maybe?
PopCultHQ Interview:
Lee Kramer
PopCultHQ: Lee, you're the President at AfterShock Comics. What exactly is your role and what does that job entail? What are your day-to-day operations? Basically, what is it that you do?
Lee Kramer: I don't know if many people know but the way it works as president, I was the one who introduced everybody. I knew Joe for years, we tried to build a company before and came very close two different times. I come from film and television and somebody not from film/tv but with money was interested in coming up with an idea on how to on develop ideas. So I said, "Great! You want to lose a lot of money?" Developing ideas in film and tv, maybe 3-5 get made, so I said, "Why don't we create comics?" because it's a good intellectual property and comics are how I actually learned to read as a child. I was like, "If the stories are good, they'll transfer effortlessly to different mediums like film, television, or video games. but it's a great incubator for comics and I know the right people to actually create a comic book company.
What I do on the day-to-day is there are three of us on the creative side: me, Mike Marts (Editor-in-Chief) and Joe Pruett (Chief Creative Officer). The three of us go through all the pitches, decide which ones we're doing, then we talk with the creators and give them notes on the pitches, ask for outlines, do [story] arcs with them, we develop entirely with them. Then Mike is the editor for all the books. For other IP rights, I sell them for film and television and so forth.
But most of it is doing notes and reading. And finding new writers. We bring in writers from all walks of life. A current book, PESTILENCE which Frank Tieri wrote for us…that was an interesting thing. That came from an idea of a colleague of mine in film/tv and we do some things called "reverse engineering," so that was an idea, and Frank liked the idea enough that we got him to develop it for a comic book. It's slightly different then what we have typically done. I also have option properties, which we'll develop into a comic book first, be it short stories or articles. So I basically talk to writers all day, do notes, and read a lot. So that's most of the day-to-day. And then I have to sell our ideas.
PopCultHQ: And you're very active in appearing at conventions and showing up at different events, aren't you?
Lee: Yeah, well look…we don't really talk about film and television. There'll be stuff announced soon because to be honest, it's all about telling good stories. Nobody cares who I am in the comic book world.
PopCultHQ: Oh, come on now, Lee. I highly doubt that.
Lee: The fans, they care about Joe and Mike and Zagari and Lisa. And they should. They're the face…I'm in the background. I may be the President. I may be attached to everything but those are the people comic fans can relate to.
I actually don't like talking much about film and television. When things get made, that's fine. Options and stuff are very easy to do, but they're not real. You need something to get made because we're creators and where we would make money is when something gets made and there's a purchase price and a producer fee…Something gets optioned, that's great! That's fantastic! But to be honest, unless it's getting made, it doesn't really matter. It's great for publicity, but we won't publicize something unless it's bigger.
PopCultHQ: So do you find you like being that person behind-the-scenes, don't really need your face on everything, just making moves and things happen?
Lee: Yeah. You know, I'm not on any social media whatsoever. AfterShock is, and I believe in social media. I think it's a great way to get information quickly. Me, personally, I'm not that kind of person. I kinda talk to who I want to talk to. I have my friends…Everybody doesn't need to see your life. So for me, I'm more than happy to [work in the background]. I like that people know I'm a part of the creative process. That's great. But the most important thing is the stories. As long as people are happy, and I think people have been, once they read the book and take the chance and buy the book…That makes me proud. That we're putting our good art. That would putting out good stories overall. Look, I'm President of the company, it's a great title, but they need to know who Mike Marts and Joe Pruett, Mike Zagari and Lisa Wu are…
PopCultHQ: Well, we're working on it. I'm definitely making the rounds. So speaking about all those people, and the people that you work with…you guys have such a great chemistry. There's this great atmosphere around you all, especially at live events…It was almost contagious how it got fans excited and was a fun experience. Would you say that atmosphere is important to who AfterShock is?
Lee: We have a great crew of people and that usually happens when the people hiring people are pretty well-spoken, and polite, and like each other. But the thing is, creatively, marketing, and all things, we really are all comic fans. And we kinda like similar things and so forth. By the way, it's good and it will happen in the future where we have different ideas coming around and so forth. But right now we seem to be really dark except SUPERZERO which is our most playful title, by Amanda [Conner] and Jimmy [Palmiotti]…We're actually open to any kind of great story. We're actually going to do like a teen romance series. But so far, from the pitches and ideas we've received, they have bit darker. I think we have a little bit of inclination of the more adult stuff, but we're definitely open.
Getting back to your question. You know, me and Jon [Kramer] may be the film and television guys, but we really are comic fans. I really did learn to read from Spider-Man. I went to my same comic book store every Wednesday for years…So we may not come from the comic business rather film and tv, but we're fans just like everybody else. And I think all of us understand the fans and the retailers are everything. They're the ones. We all need to support each other. It's kind of like a comic family. Until recently, I think reading comic books was kinda looked at as nerdy, which is not a problem. I'm more than happy to be a nerd. With other mediums, it's made it cooler for new readers, new people exploring new ideas, and join in. I think it's great that AfterShock came in and joined at that time. But I think that we're able to relate to everybody because, I know that I've gotten books obsessively month after month for years.
PopCultHQ: But you and I came from a time when you could go to the local mini-mart and they'd have spinner racks, where they just don't have those now.
Lee: Yeah. And you remember even 7-11's used to have them. Newsstands, yeah!
PopCultHQ: Even some of the larger grocery stores would have them with their magazines.
Lee: With Mad Magazine and everything. Yeah. Everything was in there. The publishing world, unfortunately, has died quite a bit. The thing that's strong is that people want to collect and to hold. Look, digital is fantastic. I love digital. But to be honest, I like to have a nice book on my coffee table. Storage is a different thing.
PopCultHQ: I'm right there with you. I love digital, but I still buy them in print. There's something about holding it, experiencing the page-turning, the art on the pages.
Lee: You know what I like digital for? When somebody says, "Oh there's a cool writer…" There are two things I like about it: One, it's instant access for me to read. And two, I get to give back. I'm buying from somebody else. I really believe that's necessary. I think it's exciting when there's more companies, more books out. Obviously it's competition but that's how this business will grow. People have to remember that. You can't have fewer and fewer companies. Everybody should be supportive. Everyone's doing something different, that's the other cool thing, I think.
PopCultHQ: Yeah a lot of publishers have carved out their own niche. But with AfterShock, it's not so easily defined. 
Lee: Jason, I can define something for you…we're about original ideas. Right now it's currently all creator-owned, it's original ideas. And it's ideas we think others will enjoy that we enjoy. But you're totally right, There are some niches. Our niche is finding unique stories that should be told.
PopCultHQ: And showcasing talent.
Lee: Yeah, of course. That's part of it, but we're hoping we will start showcasing up-and-coming and newer talent, or talent-known but never having doing much creator-owned before.
PopCultHQ: You guys have had a lot of success in not only attracting great creators but getting them to come back and returning, like Adam Glass with the second arc in ROUGH RIDERS…
Lee: And THE NORMALS.
PopCultHQ: Yes! THE NORMALS, right. And Phil Hester has a couple of titles, Marguerite Bennett with INSEXTS, ANIMOSITY, and ANIMOSITY: THE RISE upping to a three-issue. Do you have any plans of revisiting or bringing back any series that has ended? Could we see another story arc from REPLICA or THE REVISIONIST, of course I'd love to see JACKPOT! continue, though I don't know if Ray Fawkes is up for it.
Lee: Yeah, well first, all of those stories are open to be revisited…There's definitely possibilities in the future. Some of this was we needed to figure out what the retailers wanted and what the fans wanted. We love all those books, like JACKPOT! for example. There are several arcs planned out. I don't know when that will happen but Ray definitely loves the book. And REPLICA, the original idea was for Paul [Jenkins], he could do up to fifty books for each clone. And SUPERZERO, luckily Amanda and Jimmy are still so wanted, I believe Amanda signed an exclusive with DC Comics, but we're allowed to revisit in the future. Those are books we really love.
PopCultHQ: Do you have any current, or soon-to-be, plans to partner with anyone in the comic book industry like you have with CBCS?
Lee: Well CBCS, they're our grading choice for as far as I can see. Stephan Nilson, he's a great, great contributor. I've known Stephan and Joe the longest, I'd say going on about eight years now, maybe almost ten years now that I think about it. Stephan has a really great relationship with CBCS, that's why AfterShock has a relationship with them. They've been nothing but fantastic with us. It's just really nice to work with reliable people. I'm sure the other grading companies are great. We've dealt with them for years. But I know every book we've sold, the way they handle the books and place it in there, there's no additional damage. And they're very high quality. They've just been great.
I'm sure we'll find other partnerships, but it has to be…I know this is going to sound cliché but we really believe in putting out quality product for the retailers and fans. With CBCS, we know for sure that's happening….
PopCultHQ: And you guys have killer prices on your eStore on your website for these slabs! I mean some 9.8s for $40 or $50 (even signed!) is a drop in the hat, really. 
Lee: Jason, you should tell everybody that we're a new company and we're too low so they should buy now! (laughs)
PopCultHQ: Oh I definitely will. I've looked at the eStore a few times, but I really noticed it at ECCC when you had the slabs for sale at your booth. I was just shocked by the prices on them all.
Lee: Yeah, and the PESTILENCE and WORLD READER variants are blowing up so it'll be interesting to see what happens. It's kind of been shocking with that stuff . The speculation market has definitely started to creep in. The company that's really known for that is Image.
PopCultHQ: Uh yeah. I mean, how many of their number ones were big sellers but issue two numbers dropped off? Which actually is sad to hear.
Lee: We're definitely starting to see that and feel that, be it WORLD READER or PESTILENCE. ANIMOSITY was probably the first book where we felt that. And JIMMY'S BASTARDS are getting in that. When you have two weeks left of FOC (Final Order Cutoff), you just know that people want to collect them. There's a lot of great variants that we're doing with multiple retailers. It's tons of fun!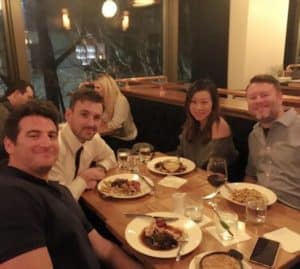 PopCultHQ: Oh sure, I know of some I've really enjoyed like the variants with Blindbox.
Lee: Yeah, now those are cool! Blindbox is a cool company.
PopCultHQ: Loved the Charlotte's Web variant.
Lee: And an Animal Farm-looking one. Blindbox has done some cool variants with us.
PopCultHQ: If there's one thing that you hope that any new reader, new fan, or collector/soon-to-be collector of AfterShock Comics titles take away from the overall product you present, what would that be?
Lee: That whenever they pick up a book…there's something for everybody. Universally, the quality of the stories and the quality of the art is top-notch. There's really something for everybody. When you look at our line, you'd be hard-pressed to say there isn't at least one book…for a new company, we kind of have every genre or melding of genres. When you look at one of our earliest books, INSEXTS by Marguerite Bennett, which is one of our favorite books…
PopCultHQ: And longest running, isn't it?
Lee: Yeah, I think it's about to do issue twelve. Speaking of genres, it's a supernatural, erotic horror set in the Victorian period. I'd be hard-pressed to find another one [like it]. And it's a love story. That's what's great is there's something for everybody and the art is beautiful. It's really about the unique stories and the quality of the books. If you're looking for something new to read, I bet there's at least one, if not multiple books of our current line that people would enjoy. People just have to take the risk , and luckily it's a risk with a lot of comic creators that everybody's read before. We do have plenty of up-and-comings. Like when we got Donny [Cates]…
PopCultHQ: The timing of his launch with you couldn't be any better. He's a hot writer right now.
Lee: It's so funny with Donny. Donny had been pitching us for about a year. There were three or four ideas we liked. We were reading some of his Dark Horse books to see what his scripts are like and so forth. We were like, "These are almost there. You need to keep going." And then he found us at New York (NYCC) and we sat down with him in New York…
PopCultHQ: So just this last year? Last October's NYCC?
Lee: Yeah, last October. Just before GOD COUNTRY came out. He was telling us about GOD COUNTRY. I pitched him an idea and he really dug the idea. He then sent Mike and I, I think it was the first three issues in December, before it came out. We read them and we said, "If you want to do this one we're talking about, we'd love for you to come on." The day he was signing that contract, he sent us a one-page pitch for BABYTEETH and we bought it on-the-spot because we thought it was so good. You have to remember that no numbers were out, nothing was going on, it was just based off his passion, his writing ability to be honest. We were shocked at how unique his ideas were. In reading these scripts, it was evident to us. We had no idea what was going to happen. But when GOD COUNTRY came out, it blew up and we were like, "Well, we thought it was amazing." We thought a lot of these ideas were beyond unique. It was really lucky timing. Hopefully that happens again, but there aren't many writers like Donny or Marguerite.
PopCultHQ: From what I've seen with writers like Donny or Marguerite is that they come onto AfterShock and have that freedom of creator-owned, they can get a little wild with their ideas that perhaps with other publishers they're a little more restrictive with what they can put out.
Lee: We bought ANIMOSITY at the dinner table. ANIMOSITY is much deeper, I believe, than most people give it credit for, in turns of the ethical, social, cultural, inter-species implications. It's very, very deep on multiple levels. It's just the concept is so high-concept, people latch onto it quickly. So you have to be able to execute, and with Donny he's proven just that.  In his own way, but kind of in a Garth Ennis way. I mean, they're totally different writers, but I think that sometimes Garth gets away with things. With JIMMY'S BASTARDS, he's going to get away with a lot because he's Garth. Donny is going to be able to do that as well. They are totally different writers in some ways, besides they're willing to tell a story and show gore and mayhem and so forth, but that's not really what they're talking about. There are greater implications…It's interesting to find these writers and they kind of found us too.
~~~~~
A very special thanks to Lee Kramer for taking the time out to speak with us.
Great conversationalist and a great guy overall!
If you would like to keep up on what Lee and AfterShock are up to,
be sure to follow online and social media. Links can be found below…
And be sure to check out our previous "Get to Know AfterShock Comics" interviews:
<Get to Know AfterShock Comics: Retailer/Fan Relations Manager Lisa Y. Wu>
<Get to Know AfterShock Comics: Editor-in-Chief/Co-Founder Mike Marts>
~~~~~
T H E ~ C R E A T I V E ~ R E V O L U T I O N ~ S T A R T S ~ H E R E !