PopCultHQ received an advance review copy of THE JUMP #2 from Half Evil Comics. Currently LIVE on Kickstarter, the creative team for this issue features writing from Rylend Grant, art from Fábio Alves, colors by Edson Ferreira, and lettering from HdE.
THE JUMP #2
Writer: Rylend Grant
Artist: Fábio Alves
Colorist: Edson Ferreira
Letterer: HdE

Cover Artists (Main & Variants):
Fábio Alves (Artist)
Edson Ferreira (Colorist)
After a series of crippling personal tragedies, Thomas Northrope retreats from his everyday life and finds comfort in an online community dedicated to the art of astral projection. When he demonstrates a unique aptitude for the practice, Thomas becomes the target of a mysterious corporate/political machine – known as AJAX – bent on using promising young practitioners to win a centuries-old war on the astral plane.
VARIANT COVERS
---
PopCultHQ's Comic Book Review:
THE JUMP – Chapter Two: Trauma Purge
As Thomas looks to explore and expand his capabilities while projecting, AJAX continues to covertly manipulate his training for their endgame. Prepare to be fascinated, intrigued, and clamoring for more as THE JUMP #2 explores the possibilities in the astral realm.
Writing: I don't think I have ever pointed this out, but it's never been more appropriate to state as it is now… writer Rylend Grant has a true gift of taking traditional comic book writing and transcending it to some next-level storytelling. His screenwriting background and Hollywood experience translate remarkably well in all the stories he tells, and THE JUMP #2 is further proof. His delivery is methodically laid out, surgically inserted with precision, offering a unique dynamic for a format such as comic books. Grant's forte is creating a gripping drama that snags your attention, inducing a sense of awe in readers, as you become sucked into the world he's envisioned. The excitement experienced, the morsels of possibilities to explore, and the fantastic nature of his storytelling, will leave new fans amazed and long-time followers in awe at his gifted prowess. THE JUMP #2 will leave you as enraptured, if not more, than THE JUMP #1. 
Art: Illustrator Fábio Alves continues to grow, improve, and shine brighter with each new issue he draws. It's always impressive looking at a new cover or interior work by the artist to see him strive to grow in his craft. There's more detail throughout, the characters are well-defined, the backgrounds are given proper attention, and many of his viewpoint angles are refreshing and a sight to behold. Fábio also has fun cleverly inserting Rylend's penchant for 80s nods (and BANJAX reference!) as background Easter eggs. It's an appealing aspect having an artist so in-tune with the writer, where you are not sure where one ends and the other begins. There's an almost symbiotic relationship between Grant and Alves that adds a level of authenticity to the quality of the content. They've kind of created a modern age noir comic. Definitely fun to behold!
Colors: Edson's soft, matted tones of the characters in astral form provide a delightful nuance to the panels. Ferreira also brings some striking and intense colors which add to the scenery, allowing the colorist to showcase his range of talent. He has always contributed in an oftentimes subtle manner, allowing the narrative and Alves's illustrations to accentuate the pages of THE JUMP. By doing so, Edson has established an understated value to his contributions to the series – not an over-the-top boldness, but a harmonious compliment throughout. Impressive work all-around from Ferreira.
Letters: HdE is the consummate professional and his lettering is always spot-on. From placements of dialogue to vivid sound effects to transitioning, the letterer knows what works to deliver Grant's story and direct the reader's attention as it should. With the back-and-forth of real life and the astral plane, between Thomas's exploration and Raney's training, HdE helps the reader distinguish who is controlling each scene by giving each character distinct voices and captions. A huge asset to this creative team.

In many issues two of a comic book series, the world-building begins to help shape the future plans for the title. And while THE JUMP #2 certainly builds upon the world seen in the debut issue, there is a greater sensation felt by the reader as you are witness to an esoteric look at the possibilities in the astral realm – its limits, your abilities, the potential. This alone can be quite captivating. When you add an adverse dynamic of a group knowing all the possibilities while projecting and using it to manipulate an individual for their own nefarious plans, this creates a healthy dose of intrigue and gets your mind excited for the potentiality of their nefarious plans and future for the series. Another win for Grant and his team in this can't-miss series.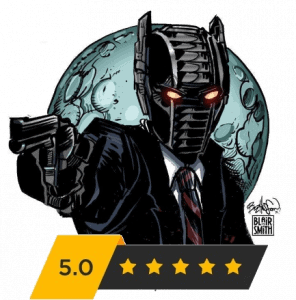 5 out of 5 Stars
THE JUMP #2 is currently LIVE on Kickstarter, so now's your chance to pick up the exciting second issue, as well as the first if you missed it!
PLUS! On Tuesday, March 23rd, you can catch Rylend Grant as he takes part in GlobalComix's CROWDFUNDING YOUR COMIC: Deep Dive with Rylend Grant seminar. Grant will discuss THE JUMP #2 on Kickstarter and answer your questions! RSVP for the event NOW! It's FREE!
---
Writer – Rylend Grant
`
`
`
`
`
Artist – Fábio Alves
`
`
`
`
`
Colorist – Edson Ferreira
`
`
`
`
`
Letterer – HdE
`
`
`
`
`
Publisher – Half Evil Comics
`
`
`
`