[Comic Book Review] ROBYN HOOD: THE HUNT #6 from Zenescope Entertainment
PopCultHQ received an advance review copy of ROBYN HOOD: THE HUNT #6 from Zenescope Entertainment. Available December 27th, the creative team for this series features writing from LaToya Morgan, with art from Daniel Mainé, colors by Leonardo Paciarotti, and lettering by Taylor Esposito of Ghost Glyph Studios.
Here's PopCultHQ's spoiler-free review of…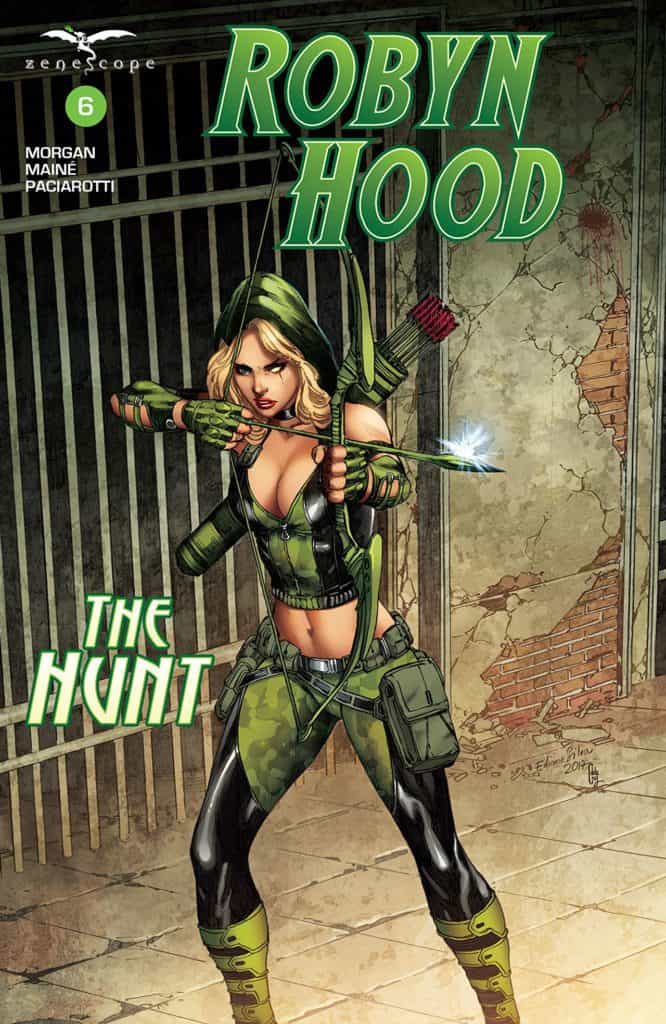 ROBYN HOOD: THE HUNT #6
Writer: LaToya Morgan
Artist: Daniel Mainé
Colorist: Leonardo Paciarotti
Letterer: Taylor Esposito
Cover Artists:
Antonio Bifulco, Netho Diaz, Cris Delara, Anthony Spay
Robyn, has been electrocuted, imprisoned, beaten and nearly killed on numerous occasions during her stay in the other-dimensional prison, The Dungeon. With the hope of an escape home to New York looking less likely with each passing minute, Robyn must pull together every last ounce of strength she has to make one final stand, or risk remaining trapped on this island forever.
VARIANT COVERS
---

PopCultHQ's Comic Book Review:
ROBYN HOOD: THE HUNT #6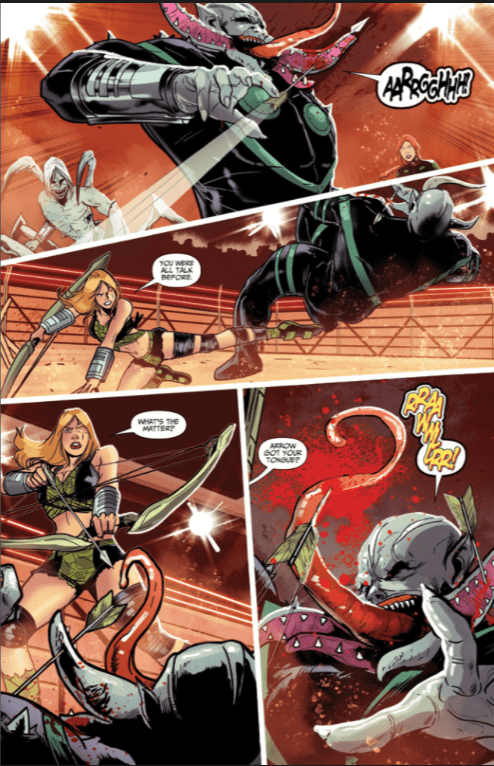 The action begins immediately in this final issue of ROBYN HOOD: THE HUNT. Readers are thrown into battle alongside Locksley as she faces enraged, bloodthirsty enemies in an effort to ultimately escape this hellish prison. But as fans know, it'll take a LOT to hold her down. She is way too smart, too cunning, and too agile to not find a way out of her predicament.
Issue six is filled with epic fighting and chaos all around, which set a great tone as you read along. With action, suspense, and some surprising twists, our lovable archer is showcased nicely to close out the miniseries. And a very curious epilogue which will make you wonder what writer Chuck Dixon has in store when he pens the next adventure for our hero in ROBYN HOOD: THE CURSE. This has been an enjoyable series and a must for any Robyn Hood fan or collector.
Writing:
Writer LaToya Morgan has been solid thoughout this miniseries and issue six was quite possibly her best yet. It always takes some work and intelligent design in wrapping up a miniseries, and Morgan laid out the narrative in a good, healthy pace in the final issue. What I truly enjoyed (and noticed) the most from LaToya's contributions is the delivery and substance of Robyn's internal dialogue. Typically seen in caption boxes, Morgan delves into the hero's heart, draws out true emotion the archer experiences, and words it beautifully. It's that raw emotion LaToya Morgan brings out in this issue, as well as the prior five, that resonates most with me. All Robyn Hood titles are on my pull list at my LCS, so coming from someone who's been a fan of Robyn Locksley for some time, I have mad appreciation for her honoring the staple character at Zenescope. Quite frankly, Morgan goes beyond "honoring" Robyn, she adds some nice depth to the archer that I thoroughly enjoyed and greatly respect.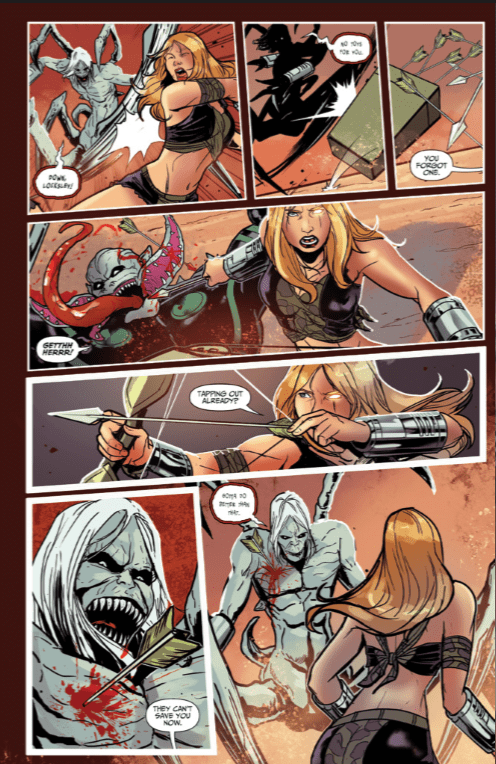 Art:
Artist Daniel Mainé has done an exceptional job on this miniseries and issue six is remarkable! His detail on a number of panels is meticulous and often I caught myself thinking, "Wow, Daniel spends a lot of time on secondary/tertiary characters and backgrounds." But it's that attention to detail, that added effort, which shows the artist's dedication to the source material (and even the franchise) that makes Daniel a terrific choice in illustrating ROBYN HOOD: THE HUNT. Mainé also, as he has throughout the series, excels in his action illustrations. With Robyn being so limber and agile, she's likely to pull off any acrobatic feat. Daniel truly captures each of Locksley's poses and her form to perfection. Very appealing and impressive in showing how gifted the titular character is at Zenescope.
Colorist Leonardo Paciarotti comes through like a champ, giving the final issue some outstanding warmth and energy. His strong, but never overly done, colors compliment Daniel's illustrations tremendously. What I found most impressive was Leonardo's firm grasp on lighting and shading. There are countless times where it's that accentuation that creates another level of pizazz that makes the issue shine (no pun intended). Terrific work from Paciarotti in this issue, as well as the entire series.
Taylor Esposito. What can I say that I haven't espoused about the letterer in any of my previous reviews featuring his work? Taylor continues to show he's on top of his game and knows just the right lettering work required for any given panel or situation. Esposito, as always, is respectful of the other creative team members' contributions with his placement and adds that final layer to bring everything all together for one sharp-looking overall product. Any title is certain to receive high-quality work from this consummate professional and ROBYN HOOD: THE HUNT is a shining example.
PopCultHQ's overall assessment:
ROBYN HOOD: THE HUNT is a fantastic miniseries. It features an engaging lead character, an exciting prison break scenario, and jam-packed with action throughout. In this final feature, the creative team wraps up the series magnificently. Morgan, Mainé, Paciarotti, and Esposito have bought out their very best and delivered a finale that simply shines.
Do you need to be familiar with other Robyn Hood titles to pick up this series? Heck no! This title is scripted and delivered in a way which makes it awesome for anyone to jump right in. And I highly recommend you doing so and see for yourself why Zenescope's titles, and Robyn's in particular, are all about quality: in their storytelling, the look and feel, the creative team's attached, and the experience readers will have.
PopCultHQ's Rating:
5 Out of 5 Stars
ROBYN HOOD: THE HUNT #6 can be purchased now on ComiXology
and available at your local comic shop and online retailers Wednesday, December 27th!
---
Be sure to follow the creative team!
Writer – LaToya Morgan
`
`
Artist – Daniel Mainé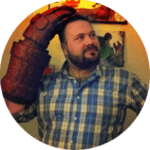 `
`
Colorist – Leonardo Paciarotti
`
`
Letterer – Taylor Esposito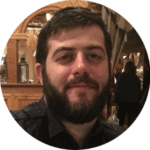 `
`
Publisher – Zenescope Entertainment
`