[Comic Book Review] HELLBOY AND THE B.P.R.D.: 1955 TPB from Dark Horse Comics
PopCultHQ received an advance review copy of HELLBOY AND THE B.P.R.D.: 1955 TPB from Dark Horse Comics. Available on Wednesday, June 6th, the series features writing from Mike Mignola and Chris Roberson, art by Shawn Martinbrough, Brian Churilla, and Paolo Rivera, inks from Joe Rivera, colors by Dave Stewart, and letters from Clem Robins.
Here's PopCultHQ's Spoiler-Free Review of…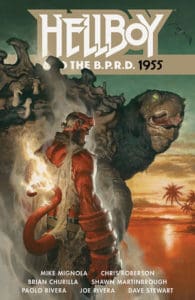 HELLBOY AND THE B.P.R.D.: 1955 TPB
Writers: Mike Mignola, Chris Roberson
Artists: Shawn Martinbrough, Brian Churilla, Paolo Rivera
Inker: Joe Rivera
Colorist: Dave Stewart
Letterer: Clem Robins
Cover Artist: Paolo Rivera
Genre: Horror, Action/Adventure
Publication Date: June 06, 2018
Format: FC, 144 pages; TPB, 7" x 10"
Price: $19.99
Age range: 14
ISBN-10: 1-50670-531-6
ISBN-13: 978-1-50670-531-6
Hellboy encounters unseen predators, strange cases of spontaneous combustion, and a weapon at an Air Force base that is more than it seems.
This volume collects Hellboy And The B.P.R.D.: 1955 Secret Nature, Occult Intelligence #1-#3, Burning Season, the 1955 story from the Hellboy Winter Special, and bonus material!
"A story smoothly presenting characters and problems combined with visuals that create an authentic and fanciful past make this perfect reading."–SciFiPulse
---
PopCultHQ's Comic Book Review:
HELLBOY AND THE B.P.R.D.: 1955 TPB

Writing:
The dynamic duo is back! Mike and Chris are teaming up again. Their mission, getting Hellboy through one heck of an adventure. From magic and mad science to spies and monsters, it's endless excitement for the B.P.R.D. and Hellboy. Thrill at what awaits the big guy around every corner and watch as he grows closer in friendship with certain recurring members of his B.P.R.D. team.
Art:
For this next volume, more artists are brought in. Each of them with amazing skill wedded to Mike and Chris's storytelling. Alone they are masters of their craft, together they are titans, taking on the task of helping to bring to life another chapter in the great narrative of Hellboy and the B.P.R.D.
Joe's ink work is superb. 'Burning Season' really shines out thanks to his work. He has a very special style that emerges throughout. Especially the use of heavy dark inks for things like shadows, be they in caves or from trees. And on one particular page where the plot thickens, the inking really adds to making the art pop.
Dave Stewart is a colorist of all trades. The man has colored for some of the very best in the business. Coloring another volume of Hellboy is no exception. Like with Joe's inking in 'Burning Season,' Dave's mark is all over the book. Some of the very stand-out examples of the colors are pages where there are either lots of characters or heavy magic or fights with spirits. Such sections really show off Dave's ability.
Clem provides lettering for lots of different stories, characters and teams. With Hellboy, Clem's lettering is more than just heroes and villains. It's action words and explosions and moments of grand dramatic excitement. Like some sort of great opera of adventure and saving the world. All carefully and tastefully lettered courtesy of Clem Robins.
PopCultHQ's overall assessment:
For every time another Hellboy trades comes out, each is more spectacular than the former. The year 1955, encapsulated in a book written by two geniuses, with artwork by a collection of bright fellows, with inks, colors and lettering done by great individuals. All in all, it's a great read and worth it!
PopCultHQ's Rating:
5 Out of 5 Stars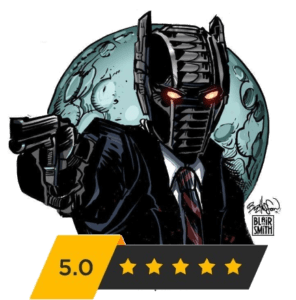 HELLBOY AND THE B.P.R.D.: 1955 TPB can be pre-ordered from the link below
and available at your local comic shop and online retailers Wednesday, June 6th!
---
Be sure to follow the creative team!
Writer – Mike Mignola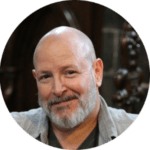 `
`
Writer – Chris Roberson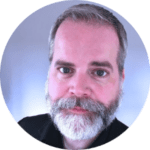 `
`
Artist – Shawn Martinbrough
`
`
Artist – Brian Churilla
`
`
Artist – Paolo Rivera
`
`
Artist – Joe Rivera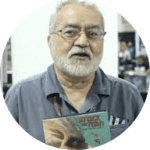 `
`
Colorist – Dave Stewart
`
`
`
`
Letterer – Clem Robins
`
`
Publisher – Dark Horse Comics
`
`
`