PopCultHQ received an advance review copy of AVENGERS #5 from Marvel Comics. Available July 18th, 2018, the creative team for this series features writing from Jason Aaron, art from Ed McGuinness & Paco Medina, inks by Juan Vlasco w/ Mark Morales & Karl Story, colors by David Curiel, and lettering from VC's Cory Petit.
Here's PopCultHQ's review of…
Avengers (2018-) #5
Writer: Jason Aaron
Artists: Ed McGuinness, Paco Medina
Inkers: Juan Vlasco w/ Mark Morales & Karl Story
Colorist: David Curiel
Letterer: Cory Petit
---

PopCultHQ's Comic Book Review:
Avengers #5
With Marvel's Fresh Start initiative, we also ended up with a new Avengers book. This new team comes from the fallout of the Marvel Legacy Avengers: No Surrender arc. This new team is comprised of Captain America, Doctor Strange, Black Panther, Captain Marvel, Thor, She-Hulk, and Ghost Rider.
A little rundown of what has come before, as seen in the Marvel Legacy one-shot some years ago, we learned that there was once an Avengers team as far back as one million B.C. These Avengers fought a war with the Celestials and won. Now the Celestials are coming back, these Dark Celestials have come to Earth to pass judgment on a species they have accidently created.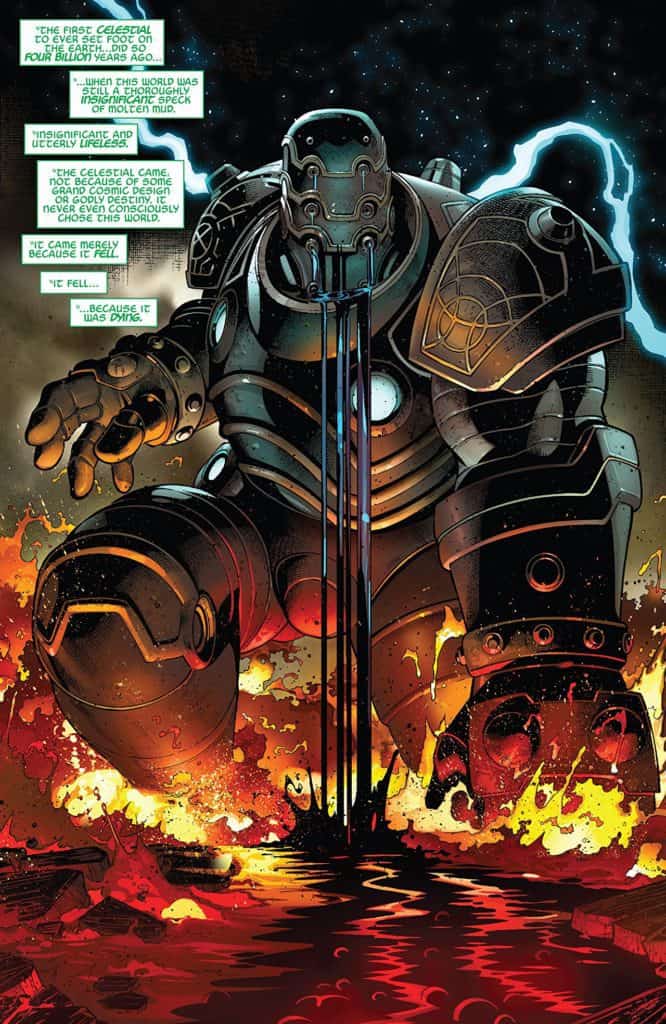 Writing:
The series is written by Jason Aaron, so no shock that it has some Asgardian ties to Odin in the past. The arc is called 'The Secret Origin of the Marvel Universe.' This is where Aaron once again leaves his stamp on a book he is working on. We have Loki explaining the origins of the Marvel Universe to his captive audience of Captain America. That a plague of cosmic insects called the Horde infected a Celestial who fell to a newly-formed Earth and bled into the molten core of the planet. The Celestial's blood mixed with the planet and thus affected the course of human evolution, allowing them to become easily manipulated genetically. As Loki poses the question, on what other planet do you find such a variety of super-powered individuals from Inhumans to mutants and genetically-altered gamma-spawned webspinners? The answer is you don't. As Ghost Rider says, "Whoa. We are God's vomit. Yeah I suppose I can see that."
As Captain America is taunted by Loki and his knowledge of Mankind's origins, the Dark Celestials have returned to Earth and are going to vanquish it in fire. This is where the Avengers come into play. We see the new team face something so dire, it can seem as if this is the final hours of humanity.
As usual, there are some changes to continuity; as with the new would-be origins of the Marvel Universe and understanding why Earth has so many super-powered beings. Also, there is the popular rumor floating around that Tony Stark may be an Eternal since he was able to link with the Uni-Mind. It's through this that Stark is able to devise a plan. Thor and She-Hulk return from a meeting with Odin where they have been given the blood of Ymir. This blood changes them, making them grow and become large versions of themselves. Along with Ghost Rider, who has taken control of a Celestial corpse and turned it into a fiery extension of himself as he did earlier with a tractor and Stark's Celestial Armor, we are given a cliffhanger of an impending battle!
It seems this could be the penultimate issue of the arc, but I don't think so as it is 'To Be Continued' instead of concluded. Either way, it's a fantastic ride! Aaron does what he does best and that is making a reader want to come back for more. I was against his Jane Foster Thor from the start, but as I read it as a continuation of events from Original Sin, I found that Jason Aaron is a man with a plan and that is what he has here, a plan for the Avengers!
Art: 
Paco Medina and Ed McGuinness are utterly amazing! First, we're given a cover by the very talented Mcguinness and then with internal art (pencils) by both Medina and McGuinness. I'm not too sure how their handling of art works, as there are also a series of inkers. Whether they take turns on pages or they both contribute to panels, it doesn't matter. The end result is an amazing cake by two of the modern day wonders of Avengers.
PopCultHQ's overall assessment:
Jason Aaron is a fantastic writer. For myself, it's usually his dialogue which works wonders in his books. He never comes onto a book without a plan. Such as I stated earlier, he took on Thor for various titles and each one built upon the next with a beginning, middle, and an end in which we have not quite reached yet. He also likes to play with past, present and future of his characters. This is apparent as his use of King Thor in his work on Mighty Thor and the use of the Prehistoric Avengers in the flashbacks throughout his current Avengers run.
PopCultHQ's Rating: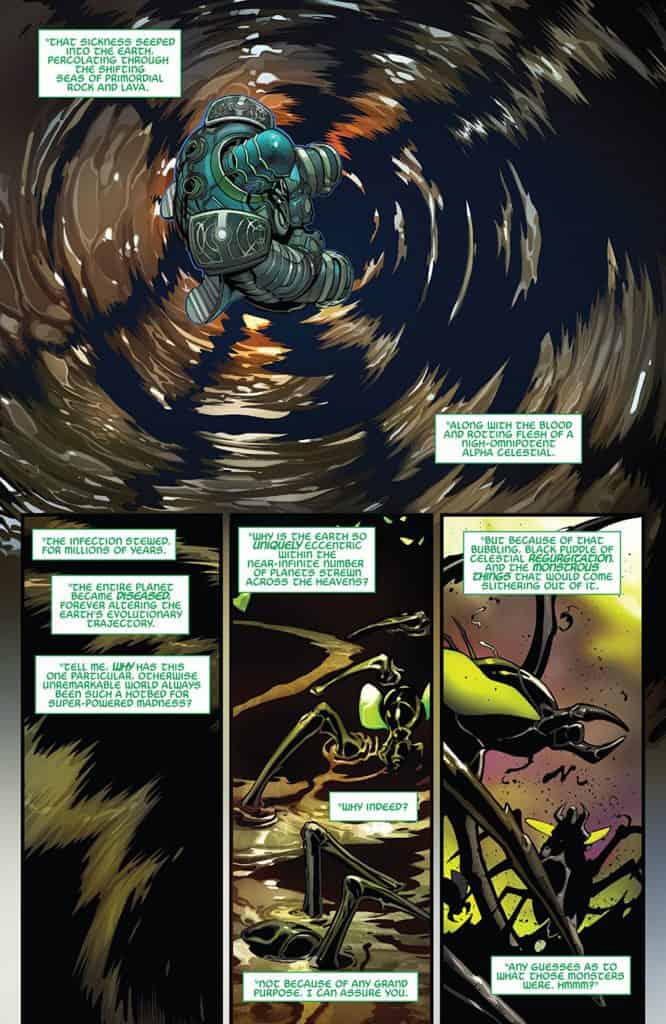 4 out of 5 Stars
This book is action-packed! It's full of giant robots, mischevious Gods, as well as Giant Avengers as if they were made to grow like Robeasts from Voltron. Also, the scene of Ghost Rider turning a simple farm tractor into a flaming tractor as he drives it, and the same as he does with the giant Celestial corpse, well, I can't WAIT for the next issue to come around.
AVENGERS #5 can be purchased on ComiXology and available
at your local comic shop and online retailers on Wednesday, July 18th!
---
Publisher – Marvel Comics
`
`
`
`