IT'S TIME TO BREAK THE CURSE IN "THE HUNDREDTH VOICE"
Dark Horse Books presents The Hundredth Voice, a new middle-grade graphic novel in the vein of dark fantasy master Neil Gaiman. Coming in at over 250 pages, The Hundredth Voice is the first graphic novel by emerging artist Caitlin Like.
Uriel Driscoll was born into a family with an amazing gift—and a terrible curse. While his family members all have superb singing voices, they are doomed to lose their gifts at the height of their success! Invited to the exclusive Aisling Academy, run by his own mysterious grandfather, Uriel finds the curse is the least of his problems: horrible accidents keep befalling the students, ghosts roam the halls, and Uriel isn't sure he can sing in the first place! And if Uriel can't find a way to break his family's curse, he'll have to leave his new school, and his new friends, forever…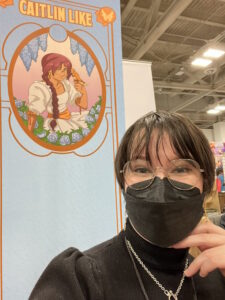 "The Hundredth Voice was written for kids getting into bootleg musical theater and trying to communicate with ghost," said Caitlin. "It's about being an artist, especially the serious resolve that feels like life or death when you're young and told you're gifted- that fear that you're going to run out of time, even when you're still a kid.
"And it's about faeries! And ghosts- that's important, too."
The Hundredth Voice TPB will be available in bookstores October 24, 2023 and in comic shops October 25, 2023. It will retail for $19.99 and is now available for pre-order at Amazon, Barnes & Noble, and your local comic shop and bookstore.
---
About Dark Horse Comics:
Founded in 1986 by Mike Richardson, Dark Horse Comics is an excellent example of how integrity and innovation can broaden a unique storytelling medium and transform a company with humble beginnings into an industry giant. Dark Horse has published the work of creative legends such as Yoshitaka Amano, Margaret Atwood, Brian Michael Bendis, Paul Chadwick, Geof Darrow, Colleen Doran, Will Eisner, Neil Gaiman, Dave Gibbons, Faith Erin Hicks, Kazuo Koike, Matt Kindt, Jeff Lemire, Mike Mignola, Frank Miller, Kentaro Miura, Moebius, Chuck Palahniuk, Wendy Pini, Richard Pini, Eric Powell, Stan Sakai, and Gerard Way. In addition, Dark Horse has a long tradition of establishing new creative talent throughout all of its divisions. The company has set the industry standard for quality licensed comics, graphic novels, collectibles, and art books, including Stranger Things, Avatar: The Last Airbender, The Legend of Korra, Minecraft, The Legend of Zelda, Super Mario, Dragon Age, James Cameron's Avatar, Game of Thrones, Mass Effect, StarCraft, The Witcher, Cyberpunk 2077, and Halo. Today, Dark Horse Comics is one of the world's leading entertainment publishers. In 2022, Dark Horse Media, LLC, parent company of Dark Horse Comics, Dark Horse Entertainment, and Things From Another World retail chain, became part of Embracer Group AB, forming the tenth operative group, strengthening the company's transmedia capabilities.