This Wednesday, February 26th, IDW Publishing is releasing the debut issue of TEENAGE MUTANT NINJA TURTLES: Jennika! Brahm Revel (Guerrillas) returns to reveal more of Jennika's backstory from his acclaimed TMNT Universe tale "What is Ninja?"!
Here's a look at the covers, the storyline, and preview pages for this week's new release from IDW Publishing on New Comic Book Day! #NCBD
IDW PUBLISHING COMICS

New Release for the week of February 26th, 2020
~~~~~~~
TEENAGE MUTANT NINJA TURTLES: Jennika #1 (of 3)
Story: Brahm Revel & Ronda Pattison
Art: Brahm Revel & Jodi Nishijima
Colors: Ronda Pattison
Letters: Brahm Revel & Shawn Lee
Cover Artists:
Cover A: Brahm Revel
Retailer Incentive Cover A: Jodi Nishijima
Retailer Incentive Cover B: Freddie E Williams II
FC • 32 pages • $3.99
Trying to acclimate to life as a mutant, the newest Turtle Jennika embarks on a solo adventure that will force her to come to terms with both her troubled past and conflicted present. Not to mention a brand new villain!
VARIANT COVERS
PREVIEW PAGES
---
Publisher – IDW Publishing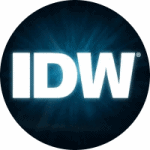 `
`
`
`