This Wednesday, December 4th, IDW Publishing is releasing the second issue of NAPOLEON DYNAMITE!
Here's a look at the covers, the storyline, and preview pages for this week's new release from IDW Publishing on New Comic Book Day! #NCBD
IDW PUBLISHING COMICS

New Release for the week of December 4th, 2019
~~~~~~~
NAPOLEON DYNAMITE #2 (of 4)
Writers: Carlos Guzman-Verdugo, Alejandro Verdugo
Artist: Jorge Monlongo
Letterer: Christa Miesner
Cover Artists:
Sara Richard (Cover A)
Photo (Cover B)
Jorge Monlongo (Retailer Incentive Cover)
FC • 32 pages • $3.99
"IMPEACH PEDRO," PART 2!
Napoleon Dynamite faces a tough challenge: with his best friend accused of rigging the student election, can he prove Pedro's innocence and turn public opinion in their favor? Or will he only make things worse by blaming the mole men for everything?
VARIANT COVERS
PREVIEW PAGES
---
Publisher – IDW Publishing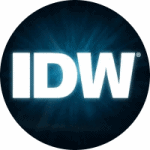 `
`
`
`