This Wednesday, August 14th, IDW Publishing is releasing another fun trade paperback featuring UNCLE SCROOGE!
Here's a look at the cover, the storyline, and preview pages for this week's new release from IDW Publishing on New Comic Book Day! #NCBD
IDW PUBLISHING COMICS

New Release for the week of August 14th, 2019
~~~~~~~
Uncle Scrooge: The Colossal Coin Calamity TPB
Writers:
Pat and Carol McGreal, Frank Jonker, Paul Hoogma,
Simone "Sio" Albrigi, Carlo Chendi, and Maya Astrup
Artists:
Giorgio Cavazzano, Freddy Milton,
Stefano Intini, and Wanda Gattino
Cover Artist:
Stefano Intini
TPB • FC • $12.99 • 112 pages • 6" x 9"
ISBN: 978-1-68405-510-4
If there's money to be made or a fortune to be found, you can bet Uncle Scrooge will be on the scene—with his beleaguered nephew, Donald Duck, in tow! Find out what adventures (or should that be misadventures?!) await in stories including "Mismatched Mentors," "The Colossal Coin Calamity," and "The Case of the Circulating Saucer."
Collects issues #38-40 of IDW's Uncle Scrooge series!
PREVIEW PAGES
Please wait while the flipbook is loading. If this message is displayed for more than few seconds, then please consider upgrading your browser and read the FAQS from the flip book html5 page. The plugin requires modern HTML5 technology to work properly. Thanks for your patience. To navigate click on next and previous arrows.
---
Publisher – IDW Publishing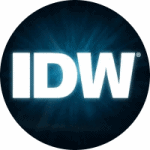 `
`
`
`