This Wednesday, July 31st, IDW Publishing has the second issue of CROW: HACK/SLASH! From writer/artist Tim Seeley (Green Lanterns, Nightwing, Shatterstar), this new title features an all-new Crow unlike any you've read before!
Here's a look at the covers, the storyline, and preview pages for this week's new release from IDW Publishing on New Comic Book Day! #NCBD
IDW PUBLISHING COMICS

New Release for the week of July 31st, 2019
~~~~~~~
CROW: Hack/Slash #2 (of 4)
Writer: Tim Seeley
Artists: Tim Seeley & Jim Terry
Letterer: Neil Uyetake
Cover Artists:
Cover A: Tim Seeley w/ Jim Terry
Retailer Incentive Variant A: Rebekah Isaacs w/ Tamra Bonvillain
Retailer Incentive Variant B: Tim Seeley w/ Jim Terry
FC • 32 pages • $3.99
With Vlad in a coma, Cassie has to side with one of the two Crows to stop the other from getting revenge upon an entire city. But can the legendary killer of undead killers stomach working side by side with the one thing she hates the most?
VARIANT COVERS
PREVIEW PAGES
---
Publisher – IDW Publishing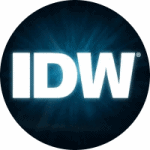 `
`
`
`