PopCultHQ received an advanced review copy of CANTO #2 from IDW Publishing. Available July 31st, 2019, the creative team for this issue features writing from David M. Booher, art from Drew Zucker, colors by Vittorio Astone, and letters by Deron Bennett.
Here's PopCultHQ's Spoiler-Free Review of…
Canto #2 (of 6)
Writer: David M. Booher
Artist: Drew Zucker
Colorist: Vittorio Astone
Letterer: Deron Bennett
Cover Artist:
Cover A: Drew Zucker & Vittorio Astone
Retailer Incentive Variant A: Morgan Beem
FC • 32 pages • $3.99
Lions and tigers and… Malorex, oh my! Canto slips out of captivity only to find a herd of vicious Malorex ready to eat him. Can an unlikely friend help Canto survive long enough to see what lies beyond Arcana's borders?
PopCultHQ's Comic Book Review:
CANTO #2
In issue two, you follow along Canto's journey and the seemingly overwhelming obstacles he faces. A venture into the unknown, away from Arcana, the only place the tin men have ever known. New characters/creatures are introduced, the world is explored, the quest continues.
Writing:
Typically, when a member of the creative team takes a bit of a step back to allow another creator's work to shine, it usually seems to be a colorist, even a letterer. But when the writer steps back, it shows the confidence he has in his illustrator (and in this case co-creator). In a Mark Waid/Alex Ross in KINGDOM COME kinda way, there's a back-and-forth feel at times between David Booher and Drew Zucker. In issue one, David really set the stage, laid the groundwork for his tale. But here in issue two, Drew is given the opportunity to continue David's story but visually.
With a planned six-issue miniseries for CANTO, Booher works harmoniously in tandem with Zucker for a fantastic cadence of written and visual storytelling with each issue brimming with goodness. The pacing set forth by David is smooth and steady, an almost rhythmic feel, that progresses the story nicely. Just like the Circles of Hell faced by Dante, the challenges our protagonist faces intensify. But also like The Divine Comedy, it's a path which will take our hero through Hell, though through perseverance will ultimately lead him to Heaven (in this case, Canto's beloved). I love David Booher's story two issues in and am eager to see what he has planned for Canto and readers alike. It's fun, it's engrossing, it's enjoyable on so many levels. More CANTO, please!
Art: 
With issue two featuring slightly less dialogue than the debut offering, Drew Zucker gets to show off his artistic prowess and boy, does he crush it! He takes the reader along for the ride with Canto as the tin man explores this uncharted territory. Drew creates a seamless flow between panels that not only maintains the pacing of Booher's story, but brings a sense of realism to this toiling journey of our little hero.
As with issue one, Zucker masterfully whisks you away to this breathtaking, fantasy world that he and co-creator Booher have imagined. It's a made-up land, sure, but it's believable, not over-the-top, a world you could truly envision. In a way you accept the world in, say, The Dark Crystal (if that's any help). There's also another double-page spread that is simply an enjoyable sensation for your eyes. From the titular character to supporting players and the scenic backgrounds, Drew's designs throughout would definitely appeal to readers of any age.
Colors:
Colorist Vittorio Astone imbues such an emotional flair to the first two issues of CANTO. Whereas David sets the pacing & scenes and Drew captures the look & feel, Vittorio captures the mood, the ambience felt through his chosen color palette. Whether it is the earthen, lifeless terrain, the crisp and cool hues accentuating the environment, or the drab, lifeless colors of the oft-times hopeless tin men, Astone's work will arouse actual feelings that the story is looking to convey. Kinda next-level, in a way. From hopeless to hopeful, the emotion the reader experiences is accentuated greatly by Vittorio's contributions. He compliments Zucker's art beautifully and I have to admit that I am thoroughly impressed.
Letters:
What can I say about Deron Bennett of AndWorld Design? There's a reason he runs a lettering/design studio. This guy is aces – he has always been and continues to be. Like I mentioned in the art assessment, the issue has a little less dialogue. As such, Deron's contribution to this issue features some strategically chosen and placed sound effects. I also liked the fact that a new character Canto encounters (no spoilers, remember?) has a distinct voice thanks to Deron's use of a change in text color, as well as some interesting & fun connectors between speech bubbles. I typically expect to see large, bold, perhaps shaky letters, implying the creature is evil or ominous. This was a real treat to see instead.
There's also a real attention to detail to Bennett's work that comes through on both this and the prior issue of CANTO. Whether it's the perfectly-chosen styles for the captions on issue one, or the courage heard from the words of our little hero during his issue two travels, Deron is an intelligent and methodical letterer who brings immense talent to the project.
And on a side note, I also think I had heard or seen a while back that the letterer's middle name is Jason. Not sure if that's 100% accurate, but from this reviewer, Jason Bennett, to Deron (Jason) Bennett, that's bonus points for Mr. AndWorld Design from here-on-out. Big ups to you, sir.

In looking at issue two of CANTO in its entirety, as a whole, the word "remarkable" instantly comes to my mind. CANTO is remarkable for a comic book that can truly be embraced by all ages. CANTO is remarkable in the life lessons every person, regardless of age, can either relate to or can learn: facing your fears, overcoming adversity, friendship can come from unexpected places, what it means to love, and many others. CANTO is remarkable in that a little tin man in this fictional, fantasy world can show such tremendous heart for a protagonist who is without one. And if you are familiar with Dante Alighieri's Inferno, the first chapter of his The Divine Comedy, CANTO is EXTREMELY remarkable for the parallels it draws from the cantos delivered by Dante. My hope is that Booher & Zucker have considered two additional miniseries dedicated to the other two chapters: Purgatorio and Paradiso. I would love to see them continue Canto's story mimicking Alighieri's famed work.
The only thing with more heart than Canto, and his tale, is the heart that radiates from the pages, put there by the entire creative team and their love for this little guy. CANTO is not only a huge win for IDW, it's a wondrous gift for the comic book community and its fans. Whereas generations past recalled tales found in books and novels, CANTO is shaping up to be a tale to pass on to future generations. This is the type of comic that we need to see more often.
CANTO #2 can be pre-ordered on ComiXology
and available at your local comic shop and
online retailers Wednesday, July 31st!

Canto #3 (of 6)
Writer: David M. Booher
Artist: Drew Zucker
Colorist: Vittorio Astone
Letterer: Deron Bennett
Cover Artist:
Cover A: Drew Zucker & Vittorio Astone
Retailer Incentive Variant A: Jorge Corona
FC • 32 pages • $3.99
On Sale: Aug 21, 2019
Into the belly of the beast! Canto consults with the Hermit and learns the surprising truth about the slavers. Canto's path is now laid out before him, but is he prepared to face a foe known only as the Shrouded Man?
---
Writer – David M. Booher
`
`
`
`
Artist – Drew Zucker
`
`
`
`
Colorist – Vittorio Astone
`
`
`
`
`
Letterer – Deron Bennett
`
`
`
`
Publisher – IDW Publishing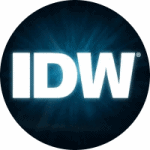 `
`
`
`