This Wednesday, July 3rd, IDW Publishing is releasing another exciting issue of TEENAGE MUTANT NINJA TURTLES!
Here's a look at the covers, the storyline, and preview pages for this week's new release from IDW Publishing on New Comic Book Day! #NCBD
IDW PUBLISHING COMICS

New Release for the week of July 3rd, 2019
~~~~~~~
Teenage Mutant Ninja Turtles #95
Story: Kevin Eastman, Bobby Curnow, Tom Waltz

Script: Tom Waltz
Artist: Dave Wachter
Colorist: Ronda Pattinson
Letterer: Shawn Lee

Cover Artists:
Cover A: Dave Wachter
Cover B: Kevin Eastman w/ Tomi Varga
Retailer Incentive Cover: Ben Bates

FC • 32 pages • $3.99
"City at War" Part 3
The Turtles race against time to save one of their own, but beset by obstacles on all sides—including the Earth Protection Force and the tide of approaching battle between two warring ninja clans—will they be too late?
VARIANT COVERS
PREVIEW PAGES
---
Publisher – IDW Publishing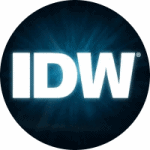 `
`
`
`