This Wednesday, June 12th, IDW Publishing is releasing the penultimate issue of Star Trek: The Q Conflict! Written by Star Trek: TNG: Mirror Broken scribes Scott & David Tipton with art by David Messina, the crews of The Next Generation, The Original Series, Voyager, and Deep Space 9 come together to face their biggest challenge yet!
Here's a look at the covers, the storyline, and preview pages for this week's new release from IDW Publishing on New Comic Book Day! #NCBD
IDW PUBLISHING COMICS
New Release for the week of June 12th, 2019
~~~~~
Star Trek: The Q Conflict #5
Writers: Scott Tipton & David Tipton
Artist: David Messina w/ Carola Borelli
Inker: Elisabetta D'Amico
Colorist: Alessandra Alexakis
Letterer: Neil Uyetake
Cover Artists:
Cover A: David Messina w/ Alessandra Alexakis
Cover B: David Messina w/ Alessandra Alexakis
Retailer Incentive Cover: George Caltsoudas
FC • 32 pages • $3.99
The contest for the ages continues as the Captains race to capture the one exotic creature that Trelane is missing from his intergalactic menagerie—a Borg Queen! But as the Godlike beings revel in the games, the crews are hatching a plan of their own. Don't miss the penultimate issue of the biggest Star Trek crossover of all time!
VARIANT COVERS
PREVIEW PAGES
---
Publisher – IDW Publishing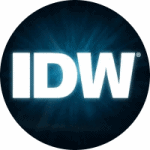 `
`
`
`