PopCultHQ received an advanced review copy of WAR OF THE REALMS #1 from Marvel Comics. Available April 3rd, 2019, the creative team for this issue features writing from Jason Aaron, art from Russell Dauterman, colors from Matthew Wilson, and lettering from VC's Joe Sabino.
Here's PopCultHQ's Spoiler-Free Review of…
WAR OF THE REALMS #1
Writer: Jason Aaron
Artist: Russell Dauterman
Colorist: Matthew Wilson
Letterer: Joe Sabino
Main Cover Artists:
Arthur Adams & Matthew Wilson
THE WORLD AT WAR!

Asgard. Alfheim. Heven. Jotunheim. Muspelheim. Niffleheim. Nidavellir. Svartalfheim. Vanaheim. All of the Ten Realms have fallen to Malekith and his army except one: Midgard. Home to Thor's beloved humans. Home to heroes and gods alike. Now, at last, it burns. And Thor won't even be there to see it. All hell breaks loose in New York City as Malekith and his allies begin their invasion — and the greatest heroes of the Marvel Universe watch as the Earth falls!
Featuring action-packed extras including a Cover Gallery, Script, Inked And Color Pages and Character Designs!
---
PopCultHQ's Comic Book Review:
WAR OF THE REALMS #1
The Dark Elf Malekith's grand scheme comes to fruition and the heroes of the Marvel Universe face the combined threats of his forces on Earth.
Writing:
How does a writer produce so much consistent work at such a high grade of quality? It's not enough Jason Aaron is doing great things on Avengers. Or that Conan the Barbarian has instantly become a must-read title. Despite the hiatus, Southern Bastards continues to floor readers too. But to take the reigns on an event book. To extend a story he's been telling for years into a company-wide event…Jason Aaron is carving out his own legend.
It is familiar ground, having Earth's heroes convene to battle a threat like no other. But there's no fatigue to it under Aaron's pen. The convention of how these things usually play out is tipped over and the contents re-arranged.
There are great character moments from the Thor cast that Aaron has had so much experience with by this stage, but there are also great moments from other characters too, especially Spider-man. In only three pages I was convinced that Marvel needs to add another Spidey title to its swelling ranks and throw it onto the huge workload Aaron is already carrying.
There are shocks, a huge cast that never drowns in its own numbers, turns and twists. Amongst it all, it never feels like it's all front-loaded. As high as this soars, you really do get the sense it's only the beginning.
Art:
The way Michael Turner used to add elegance to the ornate aspects of costumes and interior designs is echoed in the way Russel Dauterman does the same. In an epic where a war rages and destruction reigns, to still make the costume details on Freyja look as attractive and lavish as they do speak to the detail, time, effort, and talent the artist invests in every aspect of his work.
The way that magic and science entwine to form scenes that could sit beside priceless historic paintings is second to none. The way that a single panel of work can convey the very heat of battle, the intensity of the moment, and communicate a character's emotion and intent…that is unmatched in my recent memory.
Dauterman is no stranger to Thor and the mythos of the character. He clearly has more than a fondness for this world that translates onto the page. But his character work, also evidenced in Supurbia, should also be appreciated.
Above all this, it's with the panel layouts and sequential direction and framing that Russel Dauterman has just elevated his own capabilities. Where the story lulls (not that it does a lot) or becomes too familiar, it is rocketed past Asgard by the ingenuity and innovation of what Dauterman is doing on each page.
Colors:
I'm not sure if it's a pain or a pleasure for a colorist to work on a crossover. More characters. Having to make them all blend and mix thematically while also staying visually true to the feel of the story. It must be like working on a team book multiplied by ten. If it was a pain, then Matthew Wilson endures it to produce beauty on the level of a renaissance mural. Blending the fantasy and wonder of the nine realms with the concrete jungle and debris of a New York under siege, the colorist works miracles on the page. The fantasy and mythological aspects of The Wicked + The Divine, as well as previous work on Thor, have Wilson primed to maintain the level of excellence each of the creative team pours into the visuals of War of the Realms.
Letters:
Watch your back Clayton Cowles, Joe Sabino might just be coming for your crown. To say the lettering in this opening salvo is top-notch would be underselling the real glory and effort it has. The Asgardian fonts, the monumental Crash's, this is cinematic scale lettering from a creator I'm constantly underselling as "the Deadpool guy" (seriously he's worked on Deadpool for a ridiculously lengthy run). Perfect placements, unique use of effects, Sabino is taking this on with both hands and leaving his mark on Marvel's latest event,
PopCultHQ's Overall Assessment:
On the strength of the writing and art alone. this earns its score. The concept is nothing new, take away all the trimmings and it's basically Earth's heroes defending from another threat. But by opening with a great battle. at least it starts with the impact a major event should. I'm not invested enough to read all the tie-ins and specials, frankly, just seeing those checklists are starting to make me shudder, but I'll enjoy this as a self-contained event. Good quality is hard to maintain, but this creative team gives the impression that they can constantly level up.
PopCultHQ's Rating: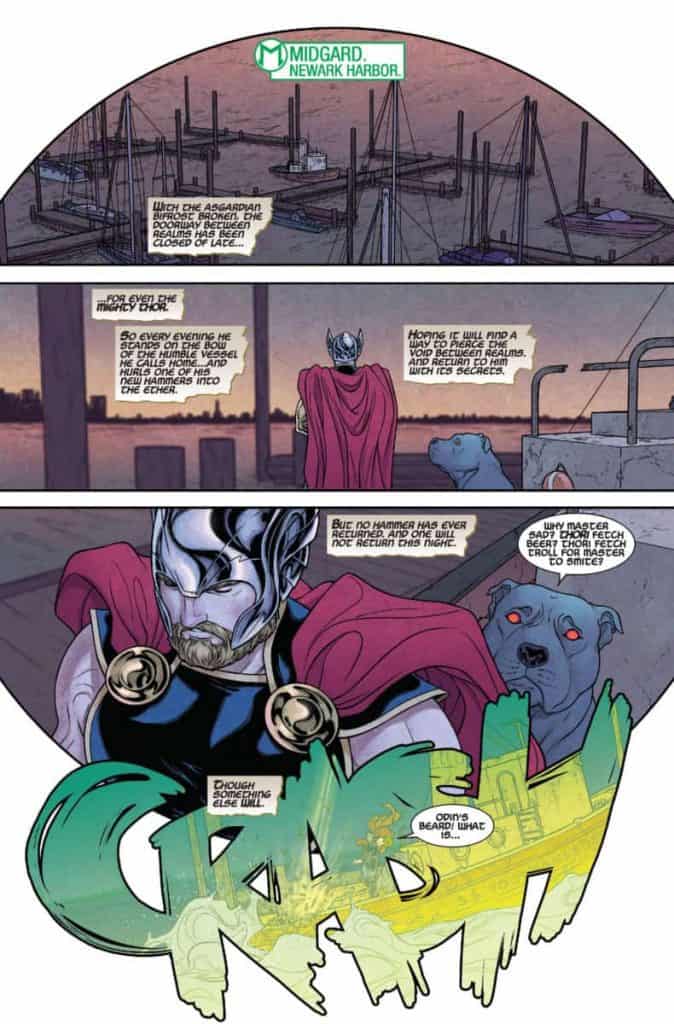 4 out of 5 Stars
WAR OF THE REALMS #1 will be available at your local
comic shop and online retailers Wednesday, April 3rd!
---
Be sure to follow the creative team!