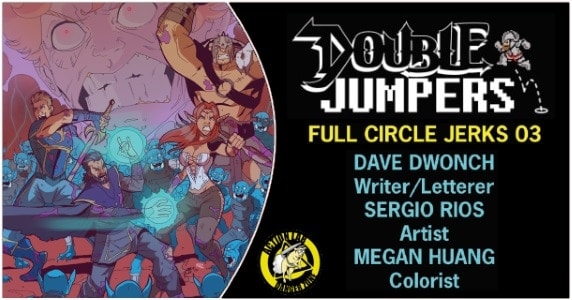 Action Lab: Danger Zone's first series to break into CBR's Top 100 list returns for a double dose of insanity! This Wednesday, March 6th, writer Dave Dwonch (INFINITE SEVEN, PROM OF THE DEAD) teams with artist Sergio Rios (GINGERDEAD MAN MEETS EVIL BONG) and colorist Megan Huang to bring the exciting third issue of the new volume of the hit miniseries DOUBLE JUMPERS!
Here's a look at the covers, storyline and preview pages for this week's new release
from Action Lab: Danger Zone on New Comic Book Day…
ACTION LAB: DANGER ZONE COMICS
IN STORES THIS WEEK
New Release for the week of March 6th, 2019
~~~~~
DOUBLE JUMPERS: FULL CIRCLE JERKS #3
Writer/Letterer:
Dave Dwonch
Artists:
Sergio Rios (art)
Megan Huang (color)
Cover Artists:
Sergio Rios (Cover A)
Daniel J Logan (Cover B)
32 pgs./ M / FC $3.99
The Dungeon Lords find more than they bargained for when they finally track down the video game villain Pilfer in the real world, and things go decidedly worse for Jason and his team within the game. This one will have EVERYONE talking. Don't miss out on the comic event of the minute!
~~~~~
What people are saying about the first volume of Double Jumpers:
"DOUBLE JUMPERS FULL CIRCLE JERKS has a killer premise that is
executed to perfection, and the result is terrific (and hilarious) action."
(TMStash.com)
"So far this arc is off to a raucous good time! With some of the more impressive characterisation and plot/story development Dave and company manage to deliver just the right amount of sarcasm alongside some of the more typical aspects surrounding gamers and game makers."
(Reading with a Flight Ring)
PREVIEW PAGES
---
Publisher – Action Lab Entertainment
`
`
`
`
`


`
`