Officially launching its Kickstarter on Monday, September 10th, ROAD TRIP TO HELL is a new creator-owned series coming from the mind of writer/editor Nicole D'Andria. The script editor, marketing director & submissions editor at Action Lab Entertainment is bringing her own story to life and is utilizing the crowdfunding platform to make ROAD TRIP TO HELL a reality. And with only 24 hours into the campaign, it's already reached nearly 40% of its funding target!
The Comic Maven is teamed with artist Marco Maccagni (Vampblade), colorist Joaquin Pereyra (MediSin), and letterer Justin Birch (Miraculous Adventures of Ladybug & Cat Noir), and the first issue is already complete! That's where you can come in as a backer of the campaign to make printing and fulfillment of rewards a breeze! We've backed it because it is an amazing first issue that not only do we want to see in print format, but we want this to become an ongoing series. Bring us more ROAD TRIP TO HELL!
The Story
This Kickstarter kicks off the ongoing series Road Trip to Hell, a dark comedy filled with action, adventure and the worst the world had to offer. This is the first 24 page issue (22 pages of story + thank you pages) of a three issue first volume.

The story follows Francis, a young man who was born with the ability to be able to see horrible things in a person's future just by touching them. He meets Baphomet, a demon who informs him his father is the devil and he's been destroyed.

And according to his will, Francis has been named the new king of Hell.

Unfortunately for Francis, his life gets a whole lot worse when he finds out everyone in Hell has been freed and if they kill him, they can become the new ruler of Hell.

Francis is in for a hellish nightmare that includes the likes of Adolf Hitler, Attila the Hun, and many more. With the help of his sister Star, who is in remission from cancer, and his literal guardian angel Joan of Arc, Francis needs to survive his trip to hell… hopefully without losing his own soul in the process!
PopCultHQ had the privilege of discussing ROAD TRIP TO HELL with the creator and writer of the series, Nicole D'Andria, to learn more about this unique, captivating, and wildly fun new series destined to make its way into the comic book market. This is a campaign not to be missed and a project PopCultHQ is excited to share with you. It's time to learn about, and get excited for, ROAD TRIP TO HELL #1 – The Devil is in the Detail!
PopCultHQ's Creator Spotlight:
Nicole D'Andria
of ROAD TRIP TO HELL #1
~~~~~
PopCultHQ: Knowing the titles and creators with which you've worked, you've seen some fun storylines and terrific writers. How long have you wanted to toss your hat in the ring as the sole writer of a creator-owned project? What was it that finally motivated you to tell your story?
Nicole D'Andria: For most of my life I've wanted to be a writer. First for novels and then, as I started regularly reviewing comic books and then working in the industry, I knew I wanted to write them. I had a bunch of ideas swirling around, but it actually took a friendly argument with a roommate in college to finally push me to write Road Trip to Hell. I'd had the idea of answering that old nature vs. nurture question if your father was the devil for a while now, but I thought it was pretty much answered by most people that nurture wins out (for the most part) in the end. But then I starting talking about Rosemary's Baby with my roommate, who was baffled by the idea that her baby (who, spoiler alert for a 1968 movie, is the child of the devil), could ever be anything but pure evil. And I really wanted to explore that idea with a character who, really, could go either way on the good or evil spectrum.
PopCultHQ: You've spent a great deal working with, and on, Action Lab Entertainment titles as an editor and a writer. You definitely have the experience and understand the inner workings of the creative and development processes. But what made you decide to take your first solo writing project to Kickstarter?
D'Andria: I'm definitely considering taking this project to Action Lab in the future, but right off the bat I knew I wanted to go through Kickstarter first. I want to be able to have complete creator control on my first book and I'm extremely familiar with Kickstarter in particular. I actually interview Kickstarter creators on a regular basis for a feature I write on Comic Frontline, "Kickstart the Week." Maybe a successful Kickstarter will build interest with publishers in picking up the book, but first and foremost, I want to get the book in the hands of people who I think will enjoy it.
PopCultHQ: You've assembled a fantastic creative team with Maccagni, Pereyra, and Birch. What made this the team to help you bring your story to life in Road Trip to Hell?
D'Andria: While working for Action Lab Entertainment over the past three years (and counting), I've come across so many talented people working in the comic book industry. And after seeing Maccagni's work in Vampblade, Pereyra's work in MediSin, and working with Justin on various Miraculous projects, I was sure they would be the perfect team for the book.
I knew I wanted to incorporate humor in Road Trip to Hell because there's a lot of doom and gloom. Maccagni's art turned out to be the perfect blend of both, with his characters' cartoony expressions really hitting home with the emotion on the panel and his action scenes really packing a punch (both literally and figuratively in some cases). Pereyra's colors perfectly complimented Maccagni's art, making every scene pop; he got exactly what I was going for with some muted colors for the hospital and more vibrant colors for the action scenes. And I've worked with Birch on numerous projects before, so I knew we already worked well together. Plus he always does a great job on everything he letters (he was nominated for a Ringo Award because of it).
PopCultHQ: Let's talk characters. Your protagonist (I assume we can call him that) is Francis Rhoades, a man with psychic abilities that only seems to show the bad things in someone's future. His sister, Star, is battling cancer and just had a mastectomy. What can you share with us about the Rhoades' struggles, his "gift," and the intriguing family tree Rhoades discovers?
D'Andria: Francis and Star have faced so many hardships together in their lives, not even counting Francis' psychic abilities and Star's cancer. They were brought up in a family that was definitely a special kind of Hell in and of itself, and while readers won't get to know the adoptive family history just yet in this volume (you get hints!), it has helped shape who both of them are as people.
The "gift" Francis has acquired since birth has effected every relationship he's ever had… usually not for the better. It's presented numerous opportunities for him to help people or go to a much darker place. He's been battling against his own inner demons long before he found out about his biological family tree, and that discovery just amps up everything Francis and Star have had to deal with a hundredfold.
PopCultHQ: Aside from the characters mentioned above, we're also being revisited by those who have long passed away. We're treated to God's servant Joan of Arc being a guardian angel to Francis, tasked with delivering him safely to the Gates of Hell, as well as notorious evil men from history like Hitler seeking to prevent Rhoades on his journey in order to rule Hell themselves. Oh yeah, and there's the demon Baphomet, deemed the executor of Satan's will. Issue one already makes for a wild ride with the concept and cast of characters. What key players (good or evil) can we expect from Road Trip to Hell?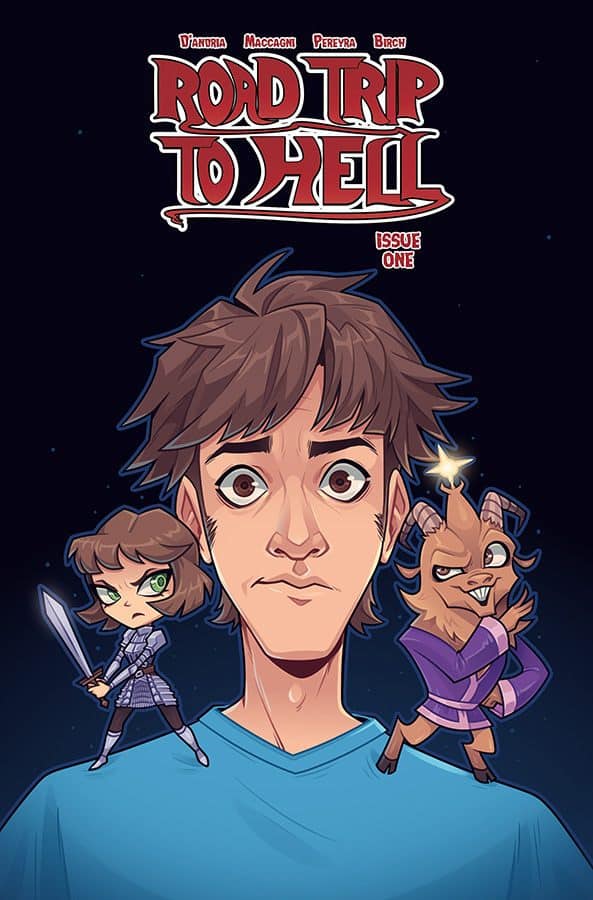 D'Andria: Joan and Baphomet are like the angel and devil sitting on Francis' shoulders (which is why I had Zoe Stanley create a beautiful variant cover exemplifying that). Joan will feature prominently in the series, though Baphomet will be popping in and out with "friendly" advice for Francis.
As for the antagonists in the series, I literally have all of Hell to choose from and I've been spending years researching the most terrible people who have ever died. While there are several well-known historical figures in this first issue, there are many more surprises in store in the rest of the volume. I may not have kept it 100% historically accurate (which may be expected, what with people returning from the dead), but I have a lot of historical tidbits here and there that reflect in some of the characters you'll see hanging around the antagonists in the series. And some will serve surprising purposes.
PopCultHQ: The Kickstarter has a very reasonable and attainable target and quite appealing rewards. On top of that, the first issue is in the books! What is your estimated time of turnaround from the end of the successfully-funded campaign (oh, it's gonna happen!) to delivering rewards to all the backers?
D'Andria: I love your confidence! Give me some of that! 😉
The only thing we have to add to the first issue is a thank you page to our backers, which I'll be adding the week after a successful Kickstarter. Once that's done, I'll send backers their digital reward.
For the physical rewards, my plan is to print through Kraken Print, who have been very communicative with me about their estimated schedule. Once I send all the pages to them, they'll send an electronic proof back to me for final approval and it'll take an estimated 10-12 weeks for them to print and ship it to their warehouse. Then it will take several weeks to ship the books out directly to Kickstarter backers since it'll be close to the holidays. To be safe, since the Kickstarter will be ending in October, I've estimated a February delivery date. It's my hope it'll get to people in the first month of the New Year with a little slice of Hell!
But I'm going to keep an open conversation with Kraken Print, so if there are any changes in the schedule, I can let backers know as quickly as possible.
~~~~~
Special thanks goes out to Nicole for making the time to speak with us at PopCultHQ. Be sure to get on board with ROAD TRIP TO HELL live NOW on Kickstarter! At nearly 40% funded after the first 24 hours, join the 40 backers already supporting this creator-owned project. Let's make ROAD TRIP TO HELL a reality!
---
Follow the ROAD TRIP TO HELL creators online!
Writer – Nicole D'Andria
`
`
`
Artist – Marco Maccagni
Colorist – Joaquin Pereyra
Letterer – Justin Birch