PopCultHQ received an advance review copy of CAPTAIN AMERICA #3 from Marvel Comics. Available September 5th, 2018, the creative team for this series features writing from Ta-Nehisi Coates, art from Leinil Francis Yu, inks by Gerry Alanguilan, colors by Sunny Gho, and lettering from VC's Joe Caramagna.
Here's PopCultHQ's spoiler-free review of…
Captain America (2018) #3
Written by Ta-Nehisi Coates
Art by Leinil Francis Yu
Inks by Gerry Alanguilan
Colors by Sunny Gho
Letters by VC's Joe Caramagna
Main Cover by Alex Ross
WINTER IN AMERICA continues!
Cap and the Black Panther embark on a daring raid into the heart of the Nuke army, while Sharon Carter takes on a secret mission into danger!
---
PopCultHQ's Comic Book Review:
Captain America #3
When Captain America throws his mighty shield. All Nukes who oppose his shield they all must yield. If he's led to a fight and a duel is due, then the red and the white and the blue'll come through. When Captain America throws his mighty shield.
Yes, it's another kick at the can here for the new Captain America series. There's a lot of great intrigue and hair-raising action to move the plot along, plus some surprising revelations. And another classic Marvel team-up takes place too, all of it courtesy of the super team of creatives working on the book.
Writing:
Ta-Nehisi Coates has had some big shoes to fill. The legacy of Captain America and the writers behind his adventures is a powerful one. But by Odin's beard and Jack Kirby's ghost, this man just keeps on producing excellent work. For this third issue, we get some super-sneaky Cap action, a Merry Marvel style team-up with Steve and T'Challa, with General Okoye there as well. Not to mention Sharon Carter doing her secret agent thing. It's safe to say that Coates is moving the story in a direction that will keep providing a smashing new Captain America series.
Art:
Leinil Francis Yu gave pretty awesome art for readers to appreciate in this issue. Very much the sort of stuff people want or even expect from a Captain America comic. Richly detailed, beautifully laid out in a nice panel layout that spreads the art across each page, which gives readers a steady top to bottom or side to side format. And of course, it wouldn't be a top-quality Captain America comic without some vivid action pages. One to pay special note to is on page 15. It's big, it's splashy, it's (in a word) Captain America all the way.
Gerry's inking is supremely superb. It provides the perfect balance and many instances a contrast to Leinil's art and Sunny's colors. A perfect instance of the meshing with Sunny's colors is on page 6, which is a moment of deep cover work for Cap. There is a haunted look in his eyes, which is made all the more moving because of Gerry's ink work.
Colors: 
Sunny is a colorist who really gets that with Captain America comics, there is a lot of colors. The bright hues of Cap's uniform, the colors tied to things like clothes, enemy uniforms, armor, weapons, etc. Even on pages with little things like a hologram, a page with a sunrise or midday sun. Sunny pays attention to all these little details that require a color choice of a specific sort.
Letters:
Joe, oh wow, does Joe do lettering right. One thing that adds a powerful dimension to the book is Joe's lettering. It's as if Cap is speaking out from the pages of the book to the readers. He's filling them in on the things that can't be conveyed through the art or the conversations between himself and other characters. That, right there, is some powerful and awesome lettering to produce that effect.
PopCultHQ's overall assessment:
Cap's hunt for these rouge Nukes is reaching new levels. Having enlisted help from Black Panther and Wakandan allies, there's more to this mission than simply taking down Nuke copies. It's about fighting against foes who would seek to strike at the very soul of the nation. And in taking the fight to this unseen enemy, it promises adventure and excitement that will hold readers fast and not let go.
PopCultHQ's Rating:
5 out of 5 Stars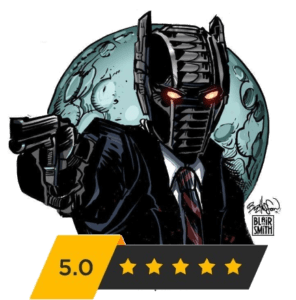 CAPTAIN AMERICA #3 can be purchased on ComiXology and available
at your local comic shop and online retailers on Wednesday, September 5th!
---
Be sure to follow the creative team!
Writer – Ta-Nehisi Coates
`
`
`
`
`
Letterer – Joe Caramagna
`

`
`
`
–
Publisher – Marvel Comics
`
`
`
`