PopCultHQ recently viewed a performance of Lifeline Theatre's staging of Neil Gaiman's novel Neverwhere. Be sure to check out Lifeline Theatre's website and catch a performance of Neverwhere before it closes on August 12th.
Here's PopCultHQ's spoiler-free review of…
…including interviews with cast members Jose Nateras and Samantha Newcomb!
PopCultHQ's Theatrical Review: 
Neverwhere
Neverwhere is the story of Richard Mayhew, a young man in London who through a simple act of kindness finds himself thrust into the world of London Below, a place of magic, wonder and danger. It is through this dark world Richard must travel while unraveling a mystery with new friends, all while trying to find his way home.
Staging/Sets
This play may seem simple at first, as far as staging/sets goes, especially to those who are unfamiliar with the novel. But when the lights go down and the show starts, that all changes. Walls are pulled aside and stairs locked into place, lights dimmed, and sound effects used to bring the vast and madcap world of London Below to life.
It captures lightning in a bottle and sparks the imaginations of the audience in a way that can only be described as pure wonderment. Taking Neil Gaiman's plot and fitting it into a two-hour production that is marathon for its cast and crew, is a massive undertaking and one that is achieved brilliantly.
Cast
The cast does a superb job of taking Gaiman's characters and transporting them off the printed page and onto the Lifeline stage. Every person, from the main players to background figures, is important and stands out; no-one is a wallflower or two-dimensional individual. It is almost as if the playwright, director, and performers sat down with Gaiman himself to bring heroes and villains, ciphers and sinners to life.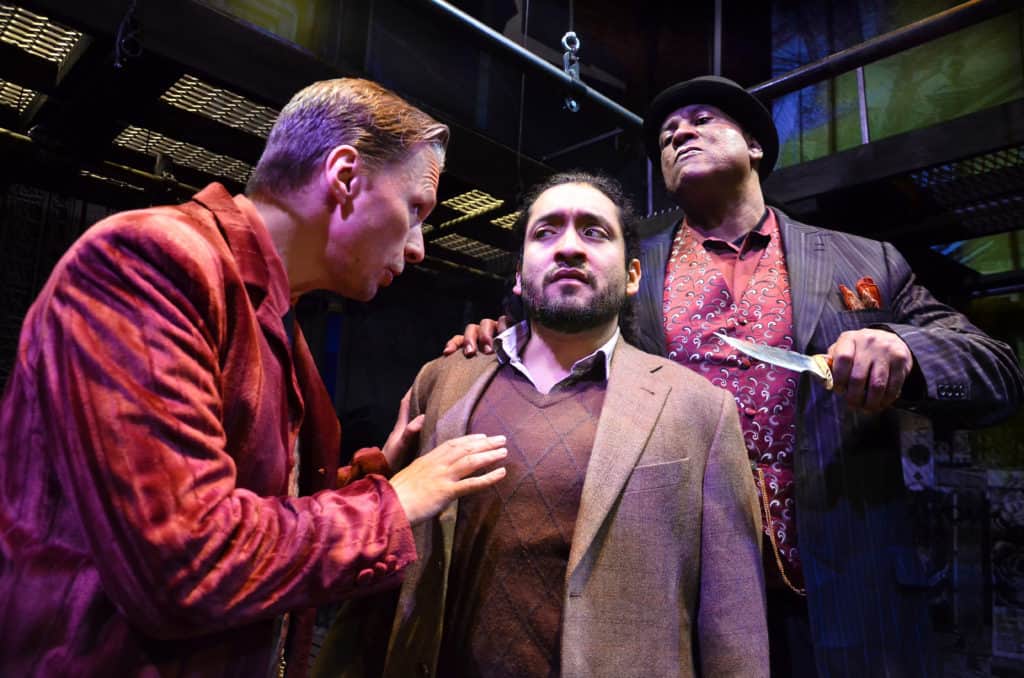 PopCultHQ's Interviews w/Cast Members
Jose Nateras (Richard)

Jose is a Chicago-based actor and writer and is so excited to make his Lifeline debut with such a special production. Recent credits include Two Mile Hollow(First Floor); A Midsummer Night's Dream and I <3 Juliet (Illinois Shakespeare Festival); Picnic (American Theatre Company); Cymbeline (Strawdog); Reprise(Adventure Stage); The Van Gogh Cafe (Filament Theatre), The Grapes of Wrath (The Gift Theatre); and Since I Suppose (Chicago Shakespeare Theatre). He's toured with Montana Shakespeare in the Parks and appeared on NBC's Chicago Fire, as well as in spots for Onion Labs and Radar Studios. He is represented by Gray Talent Group. Love and gratitude to all his amazing family and friends.
PopCultHQ: How does it feel to be a part of the Lifeline production of Neverwhere and be a part of such a really fun, engaging, and gripping performance?
Jose: It feels really great, to be perfectly honest. Lifeline has been a company that I've known about for years and have always wanted to work with, but this is my first opportunity to get a chance to do so. And it's just been really wonderful, honestly. The people there are just so great, so talented, so smart, so passionate about these kinds of projects. And this script in particular. I know Robert Kauzlaric, who wrote the original adaptation, he's the ensemble member there, he also originated the role of Richard. He was part of the process the whole way, and it was just so great to have him in the room and to get a chance to bring such an amazing story to life.
PopCultHQ: It has been 8 years since Lifeline first mounted its production of Neverwhere back in 2010. Now how does it feel to be part of the cast of a show that broke ground and is adapted from such a popular novel?
Jose: It feels, honestly, really great. I mean the original cast holds such a warm place in so many people's hearts. I mean so many people saw that production and still talk about that production to this day. So to kind of get a chance to come at it again with a new cast and a fresh set of eyes has been really wonderful. Some of the great work about this production in particular is it's really taken strides in making the cast extremely diverse and inclusive, which to me is so important especially because when we have these type of classic narratives, genre pieces, and fantasy and such. It's really important to me as an artist and person of color to kind of be able to create opportunities, create some representation, so people who are like me, who are big genre fans and also people of color, that there is room for us in genre and in these sorts of stories and adventures and grand tales.
PopCultHQ: During your time as Richard, in a story about a world that is separate from London Above, have you ever stopped and wished that London Below was real or that you could be a part of that world, or that a part of it could be here in our own reality?
Jose: I mean there's definitely an element that definitely makes me wonder like, "Oh, well what would a place like Chicago Below look like?" You know I've been to London, I've been lucky to spend some time there, I've been to New York and these different places and to kind of really see the way that Neil Gaiman kind of creates this sort of Alice in Wonderland-type feel of a familiar world that is slightly twisted, but that you can slip into if you find the right rabbit hole. It really does make me wonder and curious about the magical 'What If' right, like what if something like that was here and accessible. London Below is obviously a sort of dark and scary place, so in terms of being an ideal vacation spot, maybe not necessarily. But it definitely is an interesting idea about how that might test you as a person. We see Richard go down there one way and kind of surpass all of the expectations he has for himself and other people have for him in terms of how he might exist in that world. So I think that is appealing to me and anybody who kind of might want to be able to be like, "Well, in this dark, twisted, scary version of a familiar world, this below world, how would I do? How would I hold up? Would I be able to make it. What sort of adventures would I find myself on? How successful would I be?" So there's definitely some curiosity there.
PopCultHQ: Are there any particular standout moments either during the show or with the cast that you're okay with sharing?
Jose: One of the great things I've been really, really enjoying about this cast is how well we've all gotten along. I mean not to say that there's always drama backstage but with this production in particular, everybody's just been on the same page so thoroughly right? And with such a big cast, usually actors kind of go off and do their own warm-up thing separately. And group warm-up things isn't usually a thing that happens behind the scenes. But with this group, in particular, we really have been kind of committed to warming up for every performance together. Especially since it is a marathon, right? So before each performance, we'll get together and we do a number of push-ups and a certain duration of planks, just like a physical warm-up exercise, and we do an additional push-up for every performance and every week we do additional time for the plank. So it really has been a kind of very awesome, fun, unique to this experience bonding that the cast gets to do as we sort of prepare to go through the rigors of London Below.
Samantha Newcomb (Door)

Samantha is excited to return to Lifeline Theatre! She was previously seen this season as Phoebe Marlow in Sylvester, for which she was nominated for a Broadway World Award for Best Actress in a play. Other recent credits include Traitor (A Red Orchid Theatre), Once a Belle…? (Tectonic Theater Project), and In the Wake (The Comrades). Samantha holds a B.F.A in Acting from The Theatre School at DePaul University and is represented by Actor's Talent Group.
PopCultHQ: This production marks your return to the Lifeline Theatre. How does it feel to be back?
Samantha: It actually is very exciting. Lifeline Theatre is a really welcoming group of people to work for, so it's really exciting for me to come back, in a new role and a new genre.
PopCultHQ: You mentioned a different genre. How did it feel to be playing a character in a role that is certainly different from traditional theatre genres and productions?
Samantha: That was actually such a new experience for me. To be honest, I was very new and am very new to sci-fi/fantasy genre, in general. I had never read any of Neil Gaiman's pieces before working on this production, so it was like jumping into a whole new world for myself, exploring this world and also exploring the world of the play. So it's really exciting and magical to learn about this world that works differently than mine, but is also not as different as one might think.
PopCultHQ: Is there anything you'll be taking away from Neverwhere and the character of Door after the production is finished?
Samantha: I've really become quite attached to how much of a fighter Door is, and how it is honestly life and death for her, that she will not give up. I think not giving up is a big theme of the story. Richard, as he goes through the Ordeal, he realizes Door needs him, other people need him, he can't just give up. It's a really powerful thing to think about in the story of the play, or in my career in theatre, or in my life and seeking justice in other ways. I think that is pretty powerful and not necessarily assuming that people are as they seem when we first come across them, that people are much stronger, and smarter, and have so much depth to them. There's so much we don't see when we initially come across them, but they can surprise you in a lot of ways.
PopCultHQ: In the world of popular culture, whether it sci-fi/fantasy, or superheroes, what do you see as for women and young girls, characters like Door or Wonder Woman or Gamora or Shuri from Black Panther or even the Black Widow from The Avengers, what of characters like that? How can there be more characters like that for women?
Samantha: They need to be written because they are out there. I was speaking to Aneisa Hicks who plays Hunter in our production, and we were sitting backstage after coming off from a scene and were talking about just how amazing it is, that we just on stage, two women, two women of color, playing these powerful, smart, determined and driven people, individuals, on stage, in this story that do need a man or need that kind of approval or anything to truly be powerful and affect the world around them. I think it's so important, I think its so important that young girls and women are able to see stories like that both in theatre and film, television, to see characters like that, to know that they can be that themselves and that they can tell stories like that as well. So its truly awesome to play a female character like that and I think its so important to write them and to continue to insist upon playing them as well.
PopCultHQ's Overall Assessment 
While the show is coming to its end upon Lifeline's stage, it can be said that everyone who has put their heart and soul into making it a reality, will be leaving a piece of themselves and their hard work with every person who has sat and delighted in the play. For everyone who is a fan of both theatre and Neil Gaiman's body of work, Neverwhere is one summer piece that is not to be missed before its run ends.
5 out of 5 stars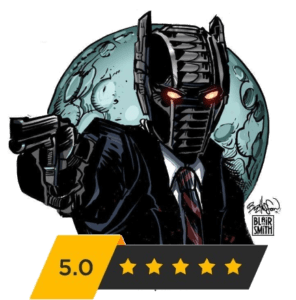 Special thanks to Lifeline Theatre for providing the production photos and information. With special thanks to Jose and Samantha for taking the time to speak with PopCultHQ.
Running May 25th – August 12th, with performances on Thursdays and Fridays at 7:30 PM, Saturdays at 4pm and 8pm, and Sundays at 4pm.
Ticket prices are $40 for regular single tickets, $30 for active and retired military personnel (with ID), $30 for seniors, $20 for students (with ID), $20 for rush tickets (available half-hour before showtime, subject to availability), and $20 for previews. Group rate for 12 or more is available upon request. Tickets may be purchased at the Lifeline Theatre Box Office, 773.761.4477, or by visiting www.lifelinetheatre.com.
The complete cast and production team for Neverwhere includes:
CAST: Guest artists LaQuin Groves (Mr. Vandemar & ensemble), Aneisa Hicks (Hunter & ensemble), Jose Nateras (Richard), Samantha Newcomb (Door), Michaela Petro (Jessica, Anaesthesia & ensemble), Chris Hainsworth (Islington & ensemble), John Henry Roberts (Mr. Croup & ensemble), Matthew Singleton (Marquis de Carabas & ensemble), and Dave Skvarla (Old Bailey, The Earl & ensemble). With understudies Paul Chakrin, Jennifer Cheung, Kim Fukawa, Gary Henderson, Dakota Hughes, and Oly Oxinfry.
PRODUCTION TEAM: Lifeline Theatre ensemble members Aly Renee Amidei (Costume Designer), Alan Donahue (Scenic & Properties Designer), Robert Kauzlaric (Adaptor), and Maren Robinson (Dramaturg); with guest artists Becky Bishop (Stage Manager), Ilesa Duncan (Director), Morgan Gire (Assistant Stage Manager), Andrew Hansen (Original Music & Sound Designer), Lavina Jadhwani (Casting Director), Becca Jeffords (Lighting Designer), Michelle Lopez-Rios (Dialect Coach), Jennifer McClendon (Production Manager), Kyle Mundil Dye (Assistant Stage Manager), Mike Oleon (Puppet Designer), R&D Choreography (Violence Designers), Joe Schermoly (Technical Director), and Michelle Underwood (Projections Designer).
# # #
Now in its 35th season, Lifeline Theatre is driven by a passion for story. Our ensemble process supports writers in the development of literary adaptations and new work, and our theatrical and educational programs foster a lifelong engagement with literature and the arts. A cultural anchor of Rogers Park, we are committed to deepening our connection to an ever-growing family of artists and audiences, both near and far. Lifeline Theatre – Big Stories, Up Close.
Lifeline Theatre's programs are partially supported by Alphawood Foundation; A.R.T League Inc.; Blue Cross & Blue Shield of Illinois; Elizabeth F. Cheney Foundation; Chicago CityArts, a grant from the Chicago Department of Cultural Affairs and Special Events; Gaylord and Dorothy Donnelley Foundation; FGMK LLC; FlexPrint Inc.; Lloyd A. Fry Foundation; The Michael and Mona Heath Fund at The Chicago Community Foundation; The Grover Hermann Foundation; Illinois Arts Council Agency; Illinois Humanities Council; MacArthur Fund for Arts and Culture at Prince; The PAV Grant Fund; The Polk Bros. Foundation; Rogers Park Social; The Saints; S&C Electric Company Fund; The Shubert Foundation; and the annual support of businesses and individuals.
---
Lifeline Theatre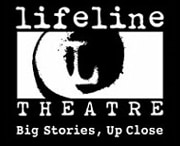 `
`
`
`