PopCultHQ received an advance review copy of X-MEN GOLD #33 from Marvel Comics. Available August 1st, 2018, the creative team for this series features writing from Marc Guggenheim, art from Michele Bandini, colors by Erick Arciniega, and lettering from VC's Cory Petit.
Here's PopCultHQ's review of…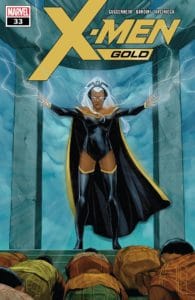 X-MEN GOLD #33
Writer:  Marc Guggenheim
Artist: Michele Bandini
Colorist: Erick Arciniega
Letterer: Cory Petit
Cover Artist: Phil Noto
In Shops: Aug 01, 2018
SRP: $3.99
Rated T+
• Storm returns to the Kenyan village that once worshipped her as a goddess!
• But now, with her Stormcaster hammer, it's true…isn't it?
• The truth about Storm's Asgardian hammer is revealed here!
`
I never truly bought into the current X-Men books. The cancellation of Uncanny X-Men seems like a complete unnecessary move on Marvel's part. I imagine I understand Fantastic Four fans that much better now from my point of view. However, what made me want to talk about this is that it's a completely Storm-focused plot with a surprise twist. It seemed like something worth talking about.
Writing:
Marc Guggenheim who has written various titles for Marvel over the years is also no stranger to the X-Men Universe. What he gives us in this book is a story centered around Storm which deals with religion. In Storm's home village of Uzuri, her villagers are being forced to turn their backs on whatever God they do worhsip and praise a new Lord, Uovu. Even in the dying breath of Storm's mother, Ainet, she refuses to disvow her own daughter whom she reveres as a Goddess (not uncommon for Storm). Ainet dies. However, Ainet's prayers do not go unanswered.
Storm is called to the Wakandan Consulate where she is still treated as a Queen of Wakanda. In a humble display, Storm asks to not be called Queen as she has not been married to T'Challa for some time now, but is informed that the people of Wakanda view royalty as something far beyond marriage. She informed that not only has her mother passed away but that communication with the village broke down, as a sweeping Death Cult has disposed of their former God, which Storm admits was her.
As Storm travels home, we are given the sense she feels as if she has failed her people whom she allowed to revere her as a Goddess. When she arrives home, she finds that most of her countrymen have come to worship under this new God's power. Mentioning that even the name Uovu means 'Evil'. And upon her confrontation with the dark God, between her need and her mother's prayers, an old friend answers the call as Stormcaster appears in Storm's hand! Instantly transforming her into her Goddess of Thunder armor!
What's Stormcaster?
Although Stormcaster has be reunited with Storm more recently in X-Men: Gold #25, the history of the hammer is a bit interesting.
Back in the day, in Uncanny X-Men Annual 9, Loki had created a magical hammer just for Ororo Monroe, Storm of the X-Men. The hammer allowed Storm to turn into a she-Thor-like warrior with all of the Thunder God's powers and even increased her own mutant abilities. Once Storm realized she was being manipulated, she gave up the hammer.
The hammer would return again to help Storm battle Thor. However, Storm used Mjolnir to destroy Stormcaster. Even though destroyed, the hammer recently turned up in the remains of Asgardia and has been reunited with Storm, who has called upon it now.
This confrontation is the cliffhanger topped with the dark God Uovu, showing Storm that her parents are alive and well.
While all this is transpiring, Marc Guggenheim continues the X-Men tradition of drama by showing Rachel Summers and Nightcrawler breaking up. More against Nightcrawler's wishes.
Art: 
Michele Bandini has done much work for Marvel in the way of Captain Marvel and X-Men Gold. His real claim to fame is his in-depth workd for Zenescope Entertainment. His style loans itself well to the X-Men, this would be his fourth issue on X-Men: Gold. While I enjoyed his visuals on Captain Marvel, I am digging his work on X-Men: Gold.
PopCultHQ's overall assessment:
I think this is going to be a deeper story. One where I hope Storm sees the problems with being a careless Goddess. I hope that this story delves deeper into what it's like to be Storm, to be revered like a Goddess.
PopCultHQ's Rating:
3.5 out of 5 Stars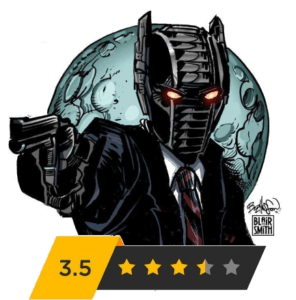 I really enjoyed seeing Stormcaster just come to Storm's hand and her changing between one panel and another. This issue is a great build-up to what should be an amazing issue in the next X-Men: Gold!
X-MEN GOLD #33 can be purchased on ComiXology and available
at your local comic shop and online retailers on Wednesday, August 1st!
---
Writer – Marc Guggenheim
`
`
`
`
Artist – Michele Bandini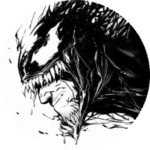 `
`
`
`
`
Colorist – Erick Arciniega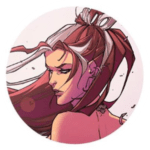 `
`
`
`
`
Letterer – Cory Petit
`
`
`
`
–
Publisher – Marvel Comics
`
`
`
`