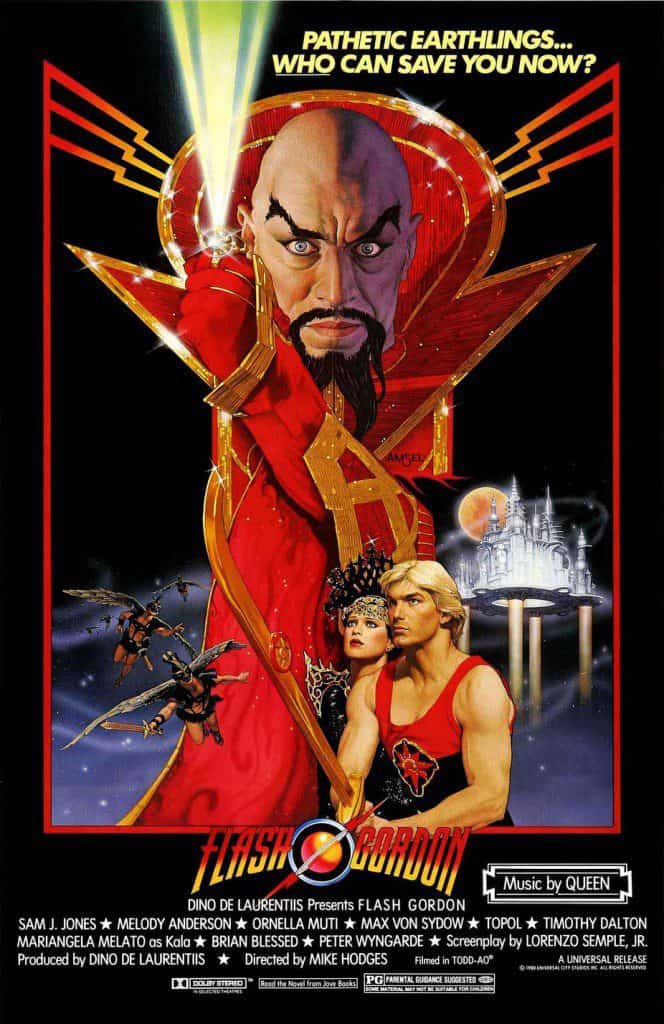 If there was a more summer fun movie to relax with, it'll be a hard time to find one more so than this. Flash Gordon is one the great science-fiction works of the 80's. It personifies so much of the decade: clever cinematography, zany special effects, a power cast, outrageously awesome soundtrack. This work has stood the test of time, critics and as such, is beloved by fans today.
Never before had any movie gone through such a chaotic procedure for acquiring its director. Producer Dino De Laurentiis obtained the film rights for the project years before actual shooting began. In the intermittent years, he approached many greats including Federico Fellini, Nicolas Roeg (who left after creative differences on the first treatment) and Sergio Leone (who felt the script was unfaithful to the original comic strip).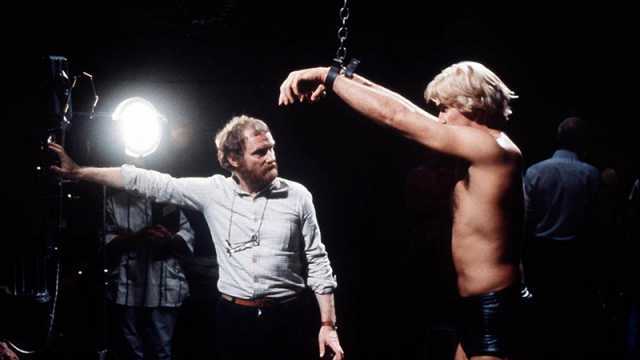 At last, De Laurentiis landed Mike Hodges to direct, with Batman TV series writer Lorenzo Semple Jr. to write the script. Utilizing a camp style similar to Batman, Semple later recalled how negatively this impacted overall production.
Dino wanted to make Flash Gordon humorous," he relates. "At the time, I thought that was a possible way to go, but, in hindsight, I realize it was a terrible mistake. We kept fiddling around with the script, trying to decide whether to be funny or realistic. That was a catastrophic thing to do, with so much money involved.
In spite of the many issues that plagued the overall, many strengths make this a memorable and timeless sci-fi treasure.
First and foremost is the cast. Sam Jones, Melody Anderson, Chaim Topol, Max von Sydow, Ornella Muti, Timothy Dalton, and, of course, Brian Blessed. Each one of them brings the principal characters to life in a way that is both exciting and humorous. From Sam's brave bravado, to Melody's strength, Chaim's brainy wit, Max's menace, and Brian's bombastic and boisterous nature. All of them together, alongside a massive group of extras, give Flash Gordon some of its mighty zest.
Another part of said zest is the soundtrack. It doesn't get much better than having Queen providing music for the movie. What's more, the creative sound and energy, all of it was from Queen being given carte blanche to just go to town.
What will surprise people is the story of how Queen was given the job in the first place. This little excerpt comes from a story done on io9 with a quote from Queen guitarist Brian May.
We saw 20 minutes of the finished film and thought it very good and over the top. We wanted to do something that was a real soundtrack. It's a first in many ways, because a rock group has not done this type of thing before, or else it's been toned down and they've been asked to write mushy background music. Whereas we were given the license to do what we liked, as long as it complimented the picture.
In researching the how's of making Flash Gordon, a gem of Internet wonder was found in an interview done some years ago with Mike Hodges by BFI. So sit back and enjoy hearing a sampling of the story from the man who sat in the big chair.
To see the full AFI interview with Mike Hodges, visit them here: http://www.bfi.org.uk/films-tv-people/54633ba5849d7
For the box office and critical reception, to say that Flash not only killed it, he ran it all the way to the end-zone. Grossing over $20 million in the United States, 14 million pounds in the UK, and an extended release in Italy, the flick served to earn back its budget in a big way.
Many critics lauded and heaped praises at the feature. Most surprising is Roger Ebert's review. Ebert not only appreciated its direction, but its tone, sets, and casting.
Flash Gordon" is played for laughs, and wisely so. It is no more sophisticated than the comic strip it's based on, and that takes the curse off of material that was old before it was born. This is space opera, a genre invented by Edgar Rice Burroughs and Hugo Gernsback and other men of unlimited imagination harnessed to definitely limited skills. It's fun to see it done with energy and love and without the pseudo-meaningful apparatus of the Force and Trekkie Power.
When there's trouble, who will people call? No, not the Ghostbusters, or Batman, or any other costumed hero from a sci-fi or action picture. If it's the malevolent might of Ming the Merciless, only one man can stand alongside his friends and comrades to save the day. And that man is Flash Gordon. While other sci-fi movies of the 80's are either serious or taken as serious, Flash Gordon from the start sets out to tell a story that is engaging and funny.
No matter what people may say, this colossus is a staple of any home media library or collection. There is something for everyone to enjoy, thus why it was chosen as today's Cinema Sunday retrospective. So the next time there's an itch to have some down time and watch a stalwart of the 80's, make it Flash Gordon.