PopCultHQ received an advance review copy of CAPTAIN AMERICA #1 from Marvel Comics. Available July 4th, 2018, the creative team for this series features writing from Ta-Nehisi Coates, art from Leinil Francis Yu, inks by Gerry Alanguilan, colors by Sunny Gho, and lettering from VC's Joe Caramagna.
Here's PopCultHQ's spoiler-free review of…
Captain America (2018) #1
Written by Ta-Nehisi Coates
Art by Leinil Francis Yu
Inks by Gerry Alanguilan
Colors by Sunny Gho
Letters by VC's Joe Caramagna
Main Cover by Alex Ross
PopCultHQ's Comic Book Review:
Captain America #1
Writing:
Ta-Nehisi is stepping up to the plate in a big way. Taking on a character like Captain America, one of Marvel's bedrock figures and highly noted heroes, is huge. And in the wake of Secret Empire, crafting Cap stories that show the true Steve Rogers coming back into his role, is a major hurdle for The First Avenger. Yet Coates takes it in stride, and has set the stage for what is going to be a promising and exciting first story arc.
Art:
Leinil's artwork meshes amazingly with Ta-Nehisi's script. There is a serious edge to it, befitting an out-of-the-gate Captain America #1 story. The design work for Cap, Sharon, the battles and settings, all are rendered beautifully. If this is a taste of what is to come, this reviewer can't wait to see what Leinil comes up with next.
Gerry did a heck of a job inking Leninil's art. The lines for things like the shield, Captain America's uniform, buildings, facial expressions, and of course explosive combat situations, are all top-notch. For what may come up in issue #2 and beyond, Gerry working in concert with Leinil, is going to be nothing less than spectacular.
Sunny Gho's colors…all that can be said is "Wow!" A mixture of bright and dark hues. Application for said hues is easy to distinguish, yet something to make certain note of. Page 10, the first time readers see Cap in action – everything about that moment, not just his uniform and shield, but the whole page, is lit up with color. It's as if Sunny is helping convey that Captain America is back and he's here to stay.
Joe was the right pick to letter the book. There's something about his lettering of things like dialogue and the internal thought boxes. Joe "gets" what power words can have, what they can convey. With the return of Captain America to the Marvel Universe proper, Caramagna serves a super-helping of lettering that spares no expense on putting the story right into readers' minds.
PopCultHQ's overall assessment:
Give a cheer, the 4th of July is here. With it, the return of one of comics' most sterling and patriotic heroes. A man who has fought the good fight since the Golden Age, and will no doubt continue to do so until the day comics fall from grace. Captain America, the first Avenger, is back in action, and up against a dangerous new threat that will test his mettle to the core.
PopCultHQ's Rating:
5 out of 5 Stars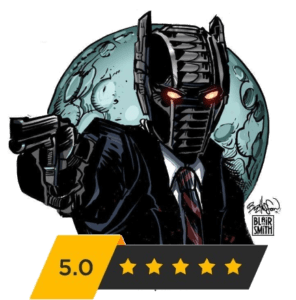 CAPTAIN AMERICA #1 can be purchased on ComiXology and available
at your local comic shop and online retailers on Wednesday, July 4th!
---
Be sure to follow the creative team!
Writer – Ta-Nehisi Coates
`
`
`
`
`
Letterer – Joe Caramagna
`

`
`
`
–
Publisher – Marvel Comics
`
`
`
`