PopCultHQ received a review copy of UNNATURAL #1 from Image Comics. Available July 4th, 2018, the creative team for this series features writing and illustrations by Mirka Andolfo, color assists by Gianluca Papi, and lettering from Fabio Amelia.
Here's PopCultHQ's spoiler-free review of…
In Shops: Jul 04, 2018
SRP: $3.99
SERIES PREMIERE!
Leslie is a simple pig girl. She loves sushi, she's stuck with a job she hates, and she lives under a brutal totalitarian government-one that punishes transgressors for anything deemed "unnatural." Leslie dreams of something different for herself. But those dreams are becoming dangerous…
This Italian hit series by MIRKA ANDOLFO (Wonder Woman, Harley Quinn, DC Comics Bombshells) will transport you into a colorful but terrible world-full of anthropomorphic creatures, but light on personal freedoms-by way of a breathtaking plot that travels between thriller and fantasy, with a hint of sensuality.
---
PopCultHQ's Comic Book Review:
UNNATURAL #1
Clawing its way out of Image's independent press is a story of love and lust. One with characters who are like modern renditions from Disney's Robin Hood. Yet a story that is not unfamiliar to many that have faced challenge, as the definition of relationships has been redefined through the years. As relationships in a society that go outside of norms, some might call… Unnatural.
Writing:
There was a familiar sense while reading this. The phrase that rung out constantly is, "I know these people." Sure enough as the story progressed, I saw a likeness to people I grew up with and spent time around and connected to their difficulties. Those being a society that has requirements to strict rules on pairing and mating. Each animal must find an opposite sex mate of the same species, those are the rules.
The metaphor of "non-traditional" and mixed relationships in this book is something this series seeks to explore. Lead characters are in positions that make them question society's rules. Leslie's goat friend is desperately hiding his homosexual relationship with a handsome pig man and Leslie is having dream trysts with a more wolflike man. There is heavier stuff presented here than some readers may like, but it is shown plainly to normalize that these characters' "unnatural" desires are very human.
Art:
Mirka Andolfo is a wonder; her art has a colorful, sensual charm to it. She uses this to communicate her world and characters too. With effective use of not only line and panel work, but saturation levels to convey mood and tone. This is advanced to such a point that, one could delete the word bubbles entirely and still sum up what is happening throughout.
Effective use of assets and a page is one thing, but this is nothing without compelling character design. Fortunately this is something which is plentiful here. With each character, their animalistic design accentuates their personality. Leslie is a cute and curvy pig, warm and often overly relaxed. Contrasting this, Trish is a nosy mouse, quick society girl, she cares for her roomie but is the responsible one in the household. These are just two of the prime examples we see in twenty pages. Even the background characters look like they have their own book of stories!
One of the biggest draws to this book is its openness to the character's bodies. The artist has obviously studied and applied the human form effectively to these animal characters. When Leslie is lounging in her tub, lusting over her lupine stranger, there is no prudish nature to the art. With a hand that was at home drawing characters from Wonder Woman to Vampirella, the artist is at home with seeing her characters in physically open and vulnerable positions.
PopCultHQ's overall assessment:
While I'm normally a capes and cowls kind of guy, I liked this book. Sure, there were no punches and explosions, but I found myself rooting for the heroes and horrified with the surprise message Leslie gets for her birthday. This book may not be for everyone, but I urge people to try it. I'm definitely going to check out the next issue, as not only the art, but the investigation of societal norms has me gripped.
PopCultHQ's Rating:
5 Out of 5 Stars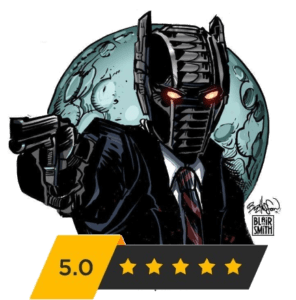 UNNATURAL #1 can be purchased on ComiXology and available
at your local comic shop and online retailers Wednesday, July 4th!
---
Be sure to follow the creative team!
Writer/Artist – Mirka Andolfo
`
`
`
`
Colorist – Gianluca Papi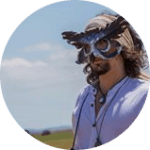 `
`
`
`
`
Letterer – Fabio Amelia
`
`
`
`
`
Publisher – Image Comics
`
`
`