Storm King Rises on C2E2 and the IndieFab Awards
Ghastly and IndieFab award-winning comic publisher Storm King Comics announced their latest coup with John Carpenter's Tales For A HalloweeNight Volume 3 becoming a finalist in Foreword Magazine's 2017 Indie Fab Awards. At the same time, they released a killer C2E2 Exclusive cover for John Carpenter's Tales of Science Fiction: Vortex #6 which hits stores March 28th. Storm King's Halloween themed anthology competed with over two thousand entries in 68 different genres to become an award finalist and volume one of the series won bronze in 2015. Want to check out the book? Hit C2E2 in Chicago at booth #419 to check out the full line of horror and sci-fi products and snag con exclusive comics AND buttons. Creators Sandy King Carpenter and Jaime Carrillo will be on hand for signings. Storm King will also be announcing new developments in the third arch of their horror title John Carpenter's Asylum Saturday at 12:15 at Room S503.
A fan favorite booth promotion continues at C2E2 2018 in Storm King Comics con exclusive buttons. Each $1 button purchase gets you entered into a MYSTERY BOX raffle. 4 buttons to choose from and each MYSTERY BOX includes over $50 of goods, some signed by the creators. ​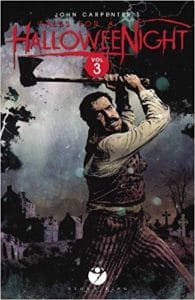 About John Carpenter's Tales for a HalloweeNight Vol. 3:
From John Carpenter, the man who brought you the cult classic horror film Halloween and all of the scares beyond comes even more twisted tales of terror, tricks, and treats. In volume 3 of the award-winning graphic novel series, Carpenter brings together another stellar ensemble of storytellers from the worlds of movies, novels, and comics for another spine-tingling collection of stories that will haunt your dreams at night.
Creators include: John Carpenter, Sandy King, Steve Niles, James Ninness, Joe Harris, David J Schow, Louise Simonson, Duane Swierczynski, Jon Bogdanove, Tim Bradstreet (cover), Richard P Clark, Darick Robertson, James Daly, Jan Duursema,  Amanda Deibert, Kealan Patrick Burke, Cat Staggs, Jaime Carrillo, Trevor Denham, Greg Scott, Steve Hoveke, Luis Garagna, Felipe Sobreiro, Sian Mandrake, Ross Campbell, and Guy Dorian Sr.
About John Carpenter's Tales of Science Fiction: Vortex #6:
Writer: Mike Sizemore
Pencils, Inks: Dave Kennedy
Colors: Pete Kennedy
Letterer: Janice Chiang
Cover Art: Tim Bradstreet
Editor: Sandy King
Having escaped the horrors of the mining asteroid, Jake Dixon and his team find they are not alone. With a creature loose on their ship and one of their own working against them, who will survive? And what will be left of them? ​
---
About Storm King Comics:
Storm King Productions is headed up by writer producer powerhouse Sandy King Carpenter. Storm King focuses on artistic storytelling in all forms. Their flagship comic book title John Carpenter's Asylum has become a global fan favorite. Award winning comic line Storm King Comics is a division of Storm King Productions.