STAN SAKAI'S LEGENDARY "USAGI YOJIMBO" PRESENTS
A PERFECT ENTRY POINT FOR NEW READERS
The Rabbit Ronin Returns in "Usagi Yojimbo: The Hidden" #1
Stan Sakai's iconic series Usagi Yojimbo has been an ongoing epic masterpiece for nearly four decades. And with the rabbit ronin, Miyamoto Usagi's appearance in Nickelodeon's TMNT last summer and the option for his own TV series, now is the perfect time to introduce a new audience to the way of Sakai's anthropomorphic samurai courtesy of Dark Horse Comics!
USAGI YOJIMBO: THE HIDDEN #1
Writer: Stan Sakai
Artist: Stan Sakai
Cover Artist: Stan Sakai
A new story begins here!
Usagi Yojimbo: The Hidden #1 presents a clean entry point for new readers to hop onto this classic series beloved by fans and critics alike. The beginning of this new arc finds Usagi on his way to see Inspector Ishida, a friend who he's already solved several mysteries with. Usagi and Ishida are quickly pulled into a strange new case when they find two corpses mysteriously stripped of all identification—except for a talisman that leads to a startling discovery!
While this new arc is the perfect entry for new readers, longtime fans of the series can rest assured that The Hidden continues right where the original Usagi Yojimbo left off!
Praise for Usagi Yojimbo:
"I think Usagi Yojimbo is one of the most original, innovative, well-executed comic books anywhere to be found. Stan's style of artwork, his crisp incisive writing, and his thoroughly professional pacing, all done in a relaxed and absorbed manner, have provided comics with something so rarely seen in this field—a new literary and artistic approach to illustrated storytelling."
—Stan Lee
"Sakai's Usagi Yojimbo is a genuine treasure, and this issue is no exception. In an ideal world, everyone would read Usagi Yojimbo. This is as good a place as any to start making that happen. Check it out. You'll be pleased you did."
—Comic Book Resources
"Stan Sakai is able to spin a web of emotions with few words… nothing is lost as each sentence has a meaning and purpose towards the larger narrative. The art is equally gorgeously simple… a must read for any comic book fan."
—Graphic Policy
"Long story short, Usagi Yojimbo continues to be the best adventure comic in the world today."
–Newsarama
Usagi Yojimbo: The Hidden #1 (of seven) went on sale March 21, 2018, and is available now at your local comic shop.
---
Be sure to follow the creative team!
Writer/Artist – Stan Sakai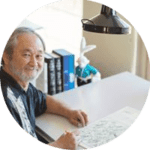 `
`
Publisher – Dark Horse Comics
`
`
`