PopCultHQ received a review copy of PESTILENCE TPB Vol. 1 from AfterShock Comics. Available February 7th, 2018, the creative team for this series features writing from Frank Tieri, art from Oleg Okunev, colors by Rob Schwager, and lettering from Marshall Dillon.
Here's PopCultHQ's spoiler-free review of…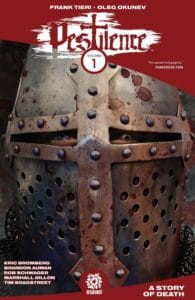 PESTILENCE TPB Vol. 1
Story by Eric Bromberg, Brandon Auman & Frank Tieri
Written by Frank Tieri
Art by Oleg Okunev
Colored by Rob Schwager
Lettered by Marshall Dillon
Cover by Tim Bradstreet
On Sale: February 7th
$17.99 / 144 pages / Color
It is the late 14th Century, and a Great Pestilence—the "Black Death"— is sweeping across Europe, killing over 100 million people. BUT, what if history as we know it was a lie? What if, in reality, this was no straightforward plague, but the FIRST non-recorded Zombie Infestation of man? Ex-Crusader Roderick Helms and his fellow "black ops" agents the Church, Fiat Lux, must seek out the cause of this undead outbreak and vanquish it before mankind ceases to exist!
Written by the master of violence, gore and mayhem, Frank Tieri (Marvel vs Capcom, Wolverine, Deadpool), with spectacular art from illustrator Oleg Okunev, and covers by Eisner Award-nominated artist Tim Bradstreet (The Punisher, Hellblazer)!
---
PopCultHQ's Comic Book Review:
PESTILENCE TPB Vol. 1
Writing:
Frank's script for this first volume is both brilliant and terrifying. Taking the time of knights and the Crusades and wedding it to a world-ending zombie plague straight out of Hollywood. The end result is this book, filled with men of noble valor and faith, who find their world in peril from a threat the likes of which they have never encountered before. Swords, adventure and the living dead await all who crack open this TPB and enjoy Frank's writing.
Art:
The art (courtesy of Oleg) is magnificent. Okunev has done a fine job bringing the world of medieval Europe under siege from zombies to life. Each member of Fiat Lux is rendered in an awesome style that makes each one stand out. As for the zombie hordes, well let's just say they are so disgustingly drawn and hideous to behold, that readers will be looking over the shoulder thanks to Oleg's artwork.
Rob Schwager's coloring truly aids Oleg's art in helping to sell the story. The amount of red and garish greens and other darkened flesh tones to highlight the zombie infection is horribly awesome. Other sterling samples of his trade are things like the color of Geoffrey Anteil's hair and mustache or the dark yellow of Roderick Helm's internal monologues.
Marshall Dillon's lettering on Roderick's internal monologues is just one of the many examples of the level of professional excellence he put into Vol. 1. His lettering for the members of Fiat Lux ties in with the art to make them all stand out in their own respective ways. And the lettering style used for Roderick's internal thoughts (as journal entries), is beautiful to look at and captivating as it helps to move the plot along.

PopCultHQ's overall assessment:
Europe during the 14th century. The Church rules over all and its knights are the military arm of its message. Now throw in some chaos in the form of a zombifying Black Plague. So forth ride the knights of Fiat Lux, the most determined of all the Church's secret assassin group. But can even they defeat a menace that is all around them? All who enjoy adventure, horror and epic tales will appreciate this wonderful first volume.
PopCultHQ's Rating:
5 Out of 5 Stars
PESTILENCE TPB Vol. 1 can be pre-ordered on ComiXology
and at your local comic shop & online retailers Wednesday, February 7th!

---
Be sure to follow the creative team!
Writer – Frank Tieri
`
 `
Artist – Oleg Okunev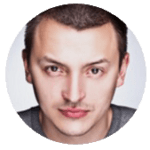 `
`
Colorist – Rob Schwager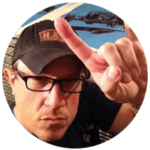 `
 `
Letterer – Marshall Dillon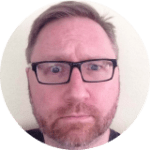 `

`
Publisher – AfterShock Comics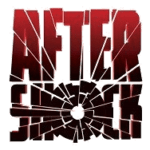 `
`
`