PopCultHQ received an advance review copy of FRANKLIN & GHOST Vol. 2: NO FOX GIVEN from Source Point Press. Available January 15th, the creative team for this series features writing from Garrett Gunn, with art from Nicolas Touris, and lettering by HdE.
Here's PopCultHQ's spoiler-free review of…

FRANKLIN & GHOST Vol. 2: NO FOX GIVEN
Writer: Garrett Gunn
Artist: Nicolas Touris
Letterer: HdE
With a deadly arsenal of Retrieval Bots on their trail, Franklin and Ghost enlist the help of a gorgeous stranger with more in common with them than they can possibly imagine.
A 55-page original graphic novel sequel to The Derogatory Tales of Franklin and Ghost from writer Garrett Gunn (Go West, The Fear Diaries, The Boxmasters), illustrator Nicolas Touris (The Fear Diaries, The Derogatory Tales of Franklin and Ghost), and the fontslinger HdE (Legend Of Oz: The Wicked West, Ursa Minor).
Here's a look at the video for the successully funded Kickstarter campaign!
---
PopCultHQ's Comic Book Review:
FRANKLIN & GHOST Vol. 2: NO FOX GIVEN

A follow-up to The Derogatory Tales of Franklin & Ghost, this second volume furthers the adventures of this otherworldly duo. One of the many highlights for me, which may be overlooked by some, is the format in which Gunn's story is presented. Clocking in at 55 pages, this original graphic novel is quite frankly the only way you want this story to be told and delivered. Single 18-22 page issues would really slow down the momentum of the narrative and likely make delivery a headache for Gunn and his creative team. When reading volume two, you get an overall sense of satisfaction and a tremendous value for your reading experience.
Writing:
I've had the privilege of reading/reviewing Garrett's earlier work and it's pretty frickin' sweet seeing this guy grow with each issue or title, evolving into an accomplished professional comic book writer (instead of just 'some writer guy'). If you're familiar with his other books, you'll notice Gunn has learned things along the way and has applied them in an effort to grow as a writer and continually improve in his field.
Gunn works exceptionally well in this format, allowing him to deliver a hearty helping of progression, further backstories, a bit of humor, and even some fourth wall-breaking (Awesome!) to this OGN. His delivery on each page is fastidious, not allowing things to move too slowly and avoiding rushing the narrative. Even as well learn more about Franklin, Ghost, and Delilah, there's still much more to be answered and explored. Fans will love the potential in this title and the possibilities with Garrett at the helm are endless.
Art:
Nic Touris' illustrations have never looked better and are simply the best look for this series. With his gritty animation style, he compliments Gunn's story to perfection. I love his color palette and he shades like a boss. Very multi-layered artwork and impressive to behold.
What I caught myself doing early on, and throught my entire read-through, was internally reading Franklin's dialogue in the voice of Bradley Cooper as Rocket Raccoon from Marvel's Guardians of the Galaxy films. I couldn't help it! I truly feel the reason is that Nic's artwork brings out that snarkiness seen from the trash panda in both flicks. The close-up on his squinty eyes, the sneer from his mouth, and the gun-toting, ass-kicking you expect to see from Rocket. Whether that was intentional or not, I think it's brilliant! Touris has such great talent to lend such body, depth, and character to Garrett's story. Fantastic work from cover to cover.
HdE is a smart choice for lettering FRANKLIN & GHOST Vol. 2: NO FOX GIVEN. His work flows seemlessly on each page and adds some dynamic flair in a number of places. And his contributions are also a reason Franklin evokes Rocket's voice, nearly as much as Touris' art. The Fontslinger rounds out this trio of creators magnificently and is all aces in this volume.
PopCultHQ's overall assessment:
The work found throughout FRANKLIN & GHOST Vol. 2: NO FOX GIVEN is top-notch quality on all levels. Possibly Gunn's best work so far, Touris shows he's on top of his game, and HdE's years of experience showcase beautifully. I'm excited to see F&G live on (I hear volume three's script is done…ssshh!) and thrilled to see it find a home at Source Point Press.
If you want an intriguing narrative, adult-stye humor scattered throughout, engaging and enjoyable characters, and a trio of creators who have put out their best work to-date, FRANKLIN & GHOST Vol. 2: NO FOX GIVEN will satisfy all of the above…and then some. Source Point Press has a winner with this title and is a spectacular book to launch in the new year for them. FRANKLIN & GHOST Vol. 2: NO FOX GIVEN is an early "must-have" for 2018. This one belongs on every collector and comic fan's bookshelf!
PopCultHQ's Rating:
5 Out of 5 Stars
FRANKLIN & GHOST Vol. 2: NO FOX GIVEN can be purchased digitally,
as well as pre-order physical copies on Monday, January 15th from Source Point Press!
---
Be sure to follow the creative team!
Writer – Garrett Gunn
`
`
Artist – Nicolas Touris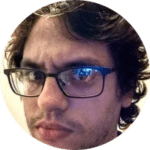 `
`
Letterer – HdE
`
`
Publisher – Source Point Press