PopCultHQ received a review copy of THE OTHER SIDE: Special Edition HC from Image Comics. Available August 30th, 2017, the creative team for this series features writing from Jason Aaron, art from Cameron Stewart, colors by Dave McCaig, and lettering from Pat Brosseau.
Here's PopCultHQ's spoiler-free review of…
THE OTHER SIDE: Special Edition HC

Writer: Jason Aaron
Artist: Cameron Stewart
Colorist: Dave McCaig
Letterer: Pat Brosseau
In Shops: August 30th, 2017
SRP: $19.99
THE OTHER SIDE SPECIAL EDITION is a hardcover collection of the Eisner-Award nominated miniseries that started it all for writer JASON AARON (SOUTHERN BASTARDS, THE GODDAMNED, Scalped)! With amazingly visceral artwork from CAMERON STEWART (MOTOR CRUSH, Fight Club 2) and vivid colors from DAVE McCAIG (American Vampire), THE OTHER SIDE tells an unforgettable Vietnam War story from the point of view of two young soldiers on both sides of the conflict. THE OTHER SIDE SPECIAL EDITION will not only showcase this powerful war story but also include loads of extra materials straight from the files of both writer and artist. CAMERON STEWART was so committed to this project that he traveled to Vietnam to do preliminary research, and this collection will feature pictures, drawings, and journal entries from that trip. Collects THE OTHER SIDE #1-5
---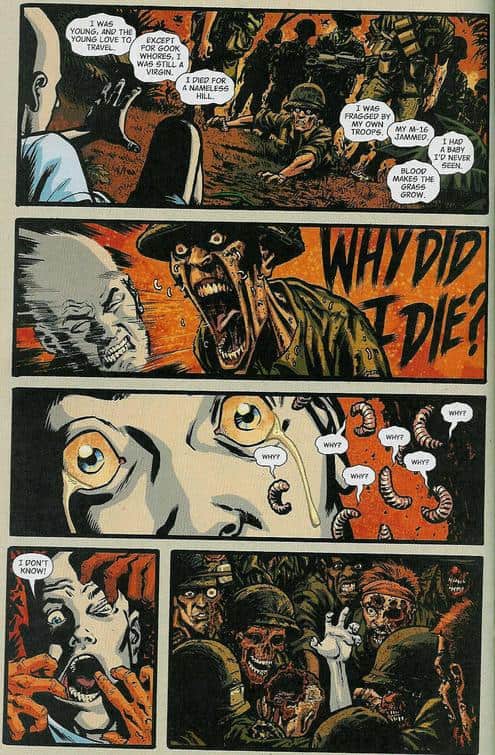 PopCultHQ's Comic Book Review:
THE OTHER SIDE: Special Edition HC
Writing:
Jason Aaron's writing is like something ripped from the mind of Stanley Kubrick. Or rather in this case, from the mind of his cousin Gus Hasford, who wrote the novel 'The Short-Timers' that would be turned into Kubrick's 1987 classic 'Full Metal Jacket' . Like Hasford and Kubrick, this script takes a straight dive into the horrors of the Vietnam war, but from both sides of the conflict. It's full of profanity, but there is also deep insightfulness as well; the internal dialogue of the US Marine and the North Vietnamese solider will make readers stop and ask questions about themselves, about the Vietnam War and about the nature of war itself, as well as the nature of man.
Art:
Cameron Stewart's artwork, plainly put, it's not for the faint of heart. It is violent, it is gory. It represents on paper all the bad of the Vietnam War, the disease that threatened soldier's lives, the constant threat of death by bullet or bomb or booby trap. His art with Jason Aaron's script is like something out of an old EC horror comic and any of the more violent war comics of the 60's, 70's or 80's. In short, it's a nightmare ride through the Vietnam War and once readers get off, they will find themselves shaken by it.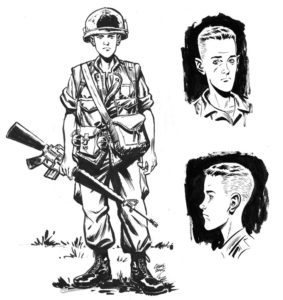 Dave McCaig's colors are brilliantly and carefully chosen to flesh out and bring Stewart's art to its full, violent glory. He has truly tapped into the mindset of all manner of colors to take this Vietnam War comic and help give it substance, give it life.
Pat Brosseau's lettering was absolutely awesome. There's a certain philosophical undertone to the lettering he does for the internal thoughts of the Marine and North Vietnam soldier, the kind of philosophy that comes from troops on the field of war. That's not to mention the dialogue spouted from the various secondary figures in the comic, they all weave together as a part of this fictional telling of the life of soldiers during Vietnam.
PopCultHQ's overall assessment:
This is a very compelling graphic novel about the Vietnam War. It is not to be read by underage readers; it is full of violence, profanity and graphic images. That being said, it's a very excellent graphic novel that puts a fresh perspective one of the more devastating conflicts that happened during the 20th century that still has repercussions felt into the 21st. There is a lot to be gained from reading this book, and it's going to pull the scales from the eyes for a lot of people who have only seen footage or read accounts about the war.
PopCultHQ's Rating: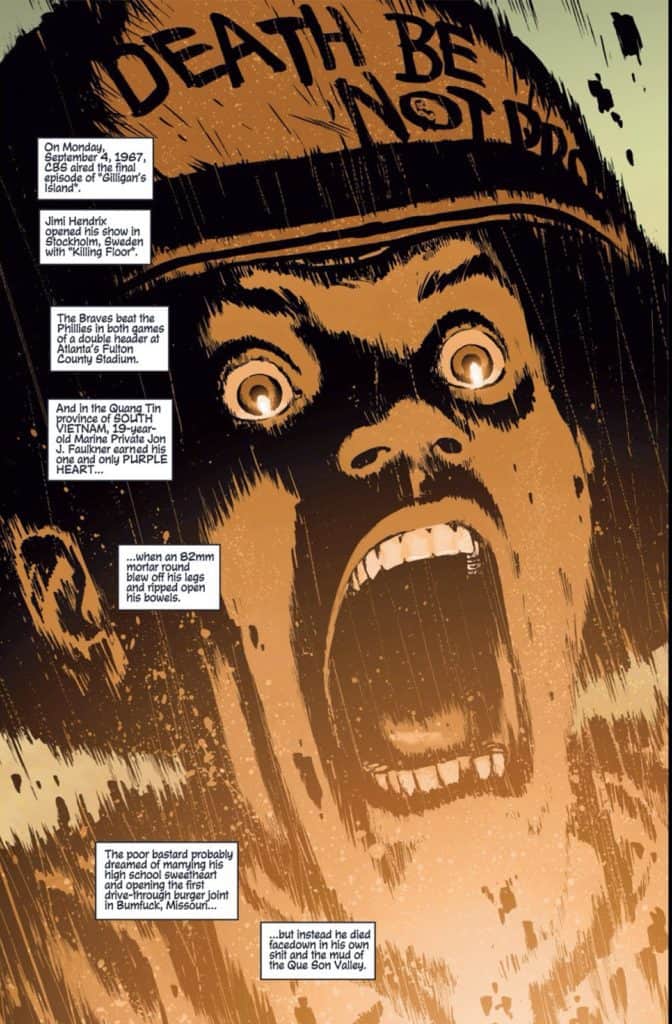 5 Out of 5 Stars
THE OTHER SIDE: Special Edition HC can be purchased on ComiXology
and available at your local comic shop and online retailers now!
---
Be sure to follow the creative team!
Writer – Jason Aaron
`
`
Artist – Cameron Stewart
`
`
Colorist – Dave McCaig
`
`
Letterer – Pat Brosseau
`
`
Publisher – Image Comics