Amerikarate Volume One: Suck My Kick
A black belt in over-the-top martial arts, action, and comedy!
Are you ready for the book with more martial arts than a Saturday night kick-fight with Bruce Lee and Chuck Norris? Then you're ready for Amerikarate, the irreverent shot to the sweet spot of 80's action comedy karate with it's first volume collection coming this July from Action Lab: Danger Zone. If you love Rambo, Commando, or Dirty Dancing, then you have great taste and should dive into the ongoing adventures of karate-masters Sam Kickwell and Cynthia Weaver! Illustrated by Bob's Burgers and Future Worm character designer Devin Roth!
Previews Staff Picks says Amerikarate is what would happen if "Team America World Police and Footloose had a hilarious, high-action, low-brow comic-baby!"
128 pgs./ M / FC
$14.99 
AmeriKarate is the story of Sam, a war hero who wants to lead a normal life, but is thrust into protecting America from an evil ninja invasion. When he meets a fellow karate fanatic in the form of CIA agent Cynthia Weaver, the chemistry can be cut with a katana! Will they be able to overthrow the megalomaniacal super-ninja, Neon – or will their sparks ignite a karate-fire that will consume them both?! Collects issues #1-4 of the hit series!
~~~~~
Don't waste your money on another karate-less book when Amerikarate is absolutely overflowing with high-kicking karate action! You'll walk away cheering, after crying laughing, before screaming "I love it!", while you soak in the amazing '80s-style action and beautiful animation-quality artwork.
Writer Brockton McKinney comments, "We wrote the '80s action flick we always wanted to see as kids!"
The first volume for this modern masterpiece of high kicking and side-splitting is open for pre-order now via all finer comic book and karate magazine sellers, and a new issue is in stores every month!
What people are saying about Amerikarate:
"It hearkens back to a time in our youth when we were more innocent. When reading a comic book felt like a getaway in which you could immerse yourself into this world and just revel in that happiness." (PopCultHQ)
"Three issues in and Amerikarate shows no signs of slowing down. It grabs your attention,
smacks the hell out of it, and leaves it shouting 'Thank you sir, may I have another?!' " (Rogues Portal)
"If you're a fan of 80s cheese, gag a minute writing,
and high energy action then you owe it to yourself to pick this issue up." (The Broken Infinite)
Amerikarate Volume 1: Suck My Kick will be released on

July 19th, 2017

.
Get a small taste of the action with these preview pages:
---
Be sure to follow the creative team!
Writer – Brockton McKinney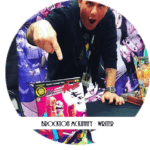 Writer – Corey Kalman
Artist – Devin Roth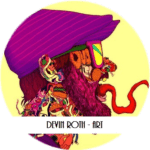 Publisher – Action Lab: Danger Zone
*** info courtesy of Action Lab: Danger Zone