PopCultHQ received a review copy of JACKPOT! #5 from AfterShock Comics. Hitting retailers this past New Comic Book Day (NCBD), Wednesday, April 26th, the creative team for the penultimate issue of the series features writing from Ray Fawkes, interior art by Georges Duarte, colors from Stefani Rennee, lettering by Comicraft, and covers from series cover artist Brian Stelfreeze and a digital exclusive from Mike Zagari.
---
If you'd like to get up to speed,
check out PopCultHQ's reviews of prior issues of JACKPOT!
No worries, all reviews are spoiler-free:
PopCultHQ's Comic Book Review – "Jackpot!" #1 from AfterShock Comics (On sale 4/13/16)
PopCultHQ Comic Book Review: Jackpot #2 from AfterShock Comics
PopCultHQ Comic Book Review: "Jackpot" #3 from AfterShock Comics
PopCultHQ Comic Book Review: 'JACKPOT!' #4 from AfterShock Comics
---
JACKPOT! #5
Available: April 26th, 2017
This is it! The secret history of the world! The end of an era! Bloodshed and backstabbing!
And the ascension of a new God. Everything's going to turn out for the best, right?
It's OCEAN'S 11 and THE MATRIX rolled together into one tasty comic package called JACKPOT!
From CONSTANTINE and JUSTICE LEAGUE DARK writer
and Eisner, Harvey, and three-time Shuster Award nominee, Ray Fawkes!
---

PopCultHQ's Comic Book Review:
JACKPOT! #5
"Six Seconds"
The God of Time. The God of Distance. The God of Chaos. The God of Light. The God of Possibility. All five have witnessed the evolution of the world and played a part in its outcome. But it's Dominque Vasko, the de facto leader of the Jackpot crew of con artists, who has broken the calculus code and transcended them all. Unable to determine how she solved the mystery of code, something that has eluded them for eons, these Gods fear their immortality is threatened as Dominique is now instilled with a power greater than any of them could even comprehend. Their only hope of containing her is to isolate her in a torus, a seemingly inescapable realm which if punctured or turned inside out creates another torus. Is this gift Dominque commands, and the omnipotence she now possesses, enough to contain her? Will it prevent her from changing and manipulating time and space at her will thus jeopardizing their roles in the universe?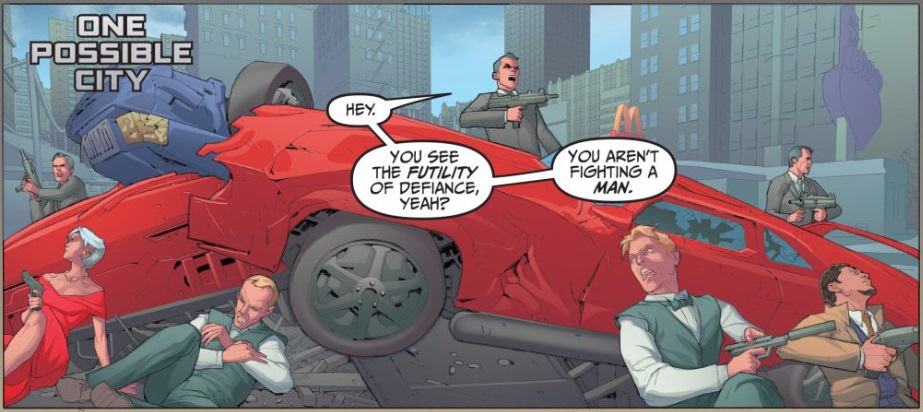 Meanwhile, Tam, Felicia, and Forrest continue to face the onslaught of the multiple Agent Smith-like beings and begin to understand the dynamic of this altered reality and Vasko's role. So how do you stop the assault of seemingly endless individuals? Play to your strengths…use your tact and guile, and con them.
Each of these characters assembled for the con job beginning in issue one have such distinct, yet complimentary, personalities. I love the comedic injections from Forrest Rhodes, the methodical savvy of Tam Malawi, and Dominique Vasko is just an excitingly multi-layered character.
Writing:
What writer Ray Fawkes has done in JACKPOT!, which may vary from work of his most people are familiar (except his recent UNDERWINTER, wow!), has allowed him to be wildly creative and expressive all while delivering a compelling and gripping narrative. Though some publishers can be restrictive or confining as to how loose he can perform, with AfterShock Comics he's granted the opportunity to put his complete talent and vivid imaginative on full display without restrictions.
His incorporation of physics, and topology in particular, put this writer's intelligence prominently on every page. Ray has shown time and again, and most notably in JACKPOT!, that there's no end to his imagination. It's creative genius on display and commands respect in its awe. To be honest, I wasn't very familiar with Fawkes' work prior to 2015, and since researching and checking out a lot of his published work, I have to say that it's JACKPOT! that has me enamored with his writing and his intellect. He's an asset to AfterShock and I hope there are plans to either revisit this series down the road or possibly bring another story to the label.
Art:
Artist Georges Duarte has truly captured this mind-warping, dimension-altering world Fawkes has created. Frankly, attempting to translate this story pictorially should be a daunting task and one I'm sure many artists may struggle in fully realizing Fawkes' vision. But Duarte has got it down and is an asset in making the fantastic plausible. Whereas The Matrix had a top-notch special effects team and a massive budget to realize their vision, Georges has produced a similar reality visually in the comic book medium. An impressive feat, to say the least. Looking forward to his work in the final issue and has certainly impressed me with his talent.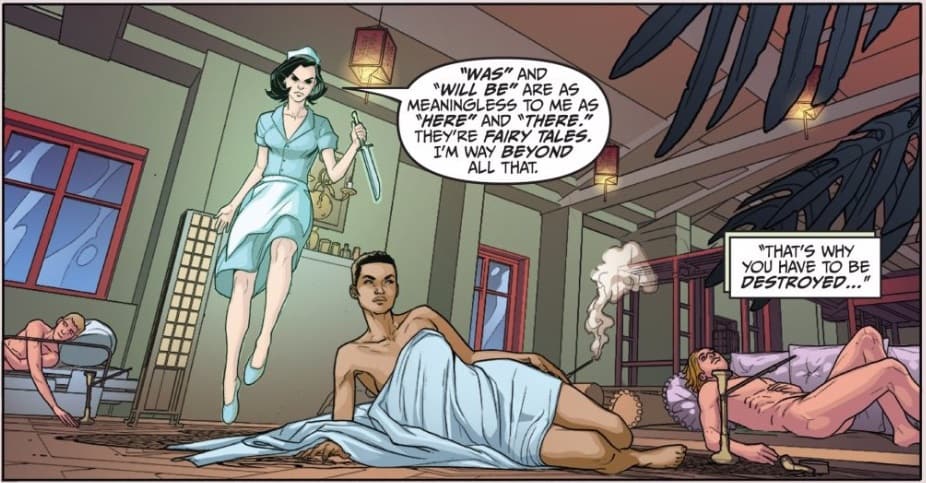 Colors:
I love what colorist Stefani Rennee brings to JACKPOT! Nothing fancy or overly done because it's not needed in this series. He has terrific usage of secondary colors to establish much of the tone of the issue, and his colors are never a distraction or excessive. What really stands out with Rennee's contributions is also with these alternate realities and realms. The matted haze in panels indicating this otherworldly component, in many instances provide a textured quality that makes for great visuals. There are a handful of scenes with artwork denoting intensity in the background (whether of shock and awe or of the nature of the story within the panel) and it's Stefani's color choices and blending which add yet another layer to this well-groomed project.
One other thing worth pointing out is how the colorist adds seemingly simple and subtle shading in most of the colors throughout. Often you'll find shading used in abundance, but its minimal use here allows for the art to be showcased and the solid colors to just pop. I feel if the shading was more prevalent than it is, it would detract from the general feel to this title. These are sharp masterminds, the illustrations have always been clean and sometimes sleek. Stefani gets that and restrains from unnecessary concealment or overshadowing.
Letters:
Comicraft continues to deliver impressive lettering. You'll find smart placement and remarkable sound effects throughout the issue, not unlike what's been used in the entire series. The language of the calculus would seem challenging to convey, but Comicraft has come through in these past two issues with a unique approach to this unusual and intricate language.
Covers:
Cover artist Brian Stelfreeze has been the icing for this already sweet series. Each issue so far truly represents that Rat Pack feel with clean, sharp, and trichromatic covers that embody the heist component and the savoir-faire of the characters. Had the opportunity to meet Brian at this year's ECCC, getting him to sign my issue one (along with Fawkes), and while many would come to his table to speak on Black Panther or other recent and current projects, I whipped out my tablet, opened my digital issue four of JACKPOT!, and scrolled to the end and showed him the cover for this issue (#5). I mentioned how I've been anticipating this cover and his eyes got wide. I'm guessing not many approach him for his work on this series, which is a shame because Stelfreeze's covers for JACKPOT! show off another layer to this incredible talent. Definitely a defining, immediately recognizable creation by the artist.
I also have to say that I'm glad JACKPOT! was one of the seven titles from AfterShock receiving the exclusive digital connecting variants at comiXology. Mike Zagari features both Tam and Dominique on the cover and they make for a fantastic addition to the "Last Supper" table, if you will. Snag that up quick, along with the other connecting digital variants, because you only have until May 11th! Got mine already 😉
PopCultHQ's overall assessment:
Knowing this series is about to end saddens me a little, but it has been an impressive spectacle of creative talent since the first issue. There's a reason that Ray Fawkes has several nominations to his credit from some of the most prestigious awards in the comic book industry. JACKPOT! has taken the best aspects of films like The Matrix and Ocean's Eleven (both versions), dashed with some sci-fi/fantasy, and incorporated physics and topology to create a series which has A Beautiful Mind appeal to it. The creative team assembled for JACKPOT! work together superbly. Just as the team of cons assembled in the series, this group are the right choices at every level.
Though it may be premature for an announcement of a collected volume of the what will be six issues, I certainly hope the plan is to release one. This series is prime for a trade paperback and I feel would be enjoyed even more by many readers and they'll also gain a greater appreciation for the creative team individually and collectively. And though I'm not aware if Fawkes has more of this fascinating story to tell, there's definitely potential for a second story arc. Plus, this will allow for the writer to showcase his insanely creative mind. That just benefits everyone. And given the storytelling so far, and the way issue five ends, the stage is set for an explosive and possible dimension-shattering finale.
PopCultHQ's Rating: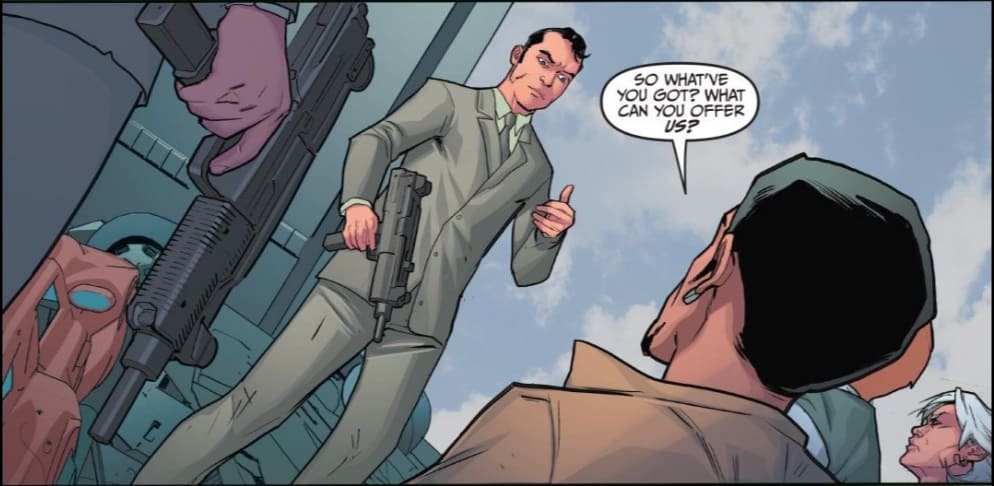 5 out of 5 Stars


You can also purchase all previous issues, including variants,
from the AfterShock Store!
---
UP NEXT:
JACKPOT! #6
FINAL ISSUE! Even when they win all the power in the universe, this team can't resist gunning for more… even if that means pointing the guns at each other. The final issue of JACKPOT! brings the story to a mind-blowing close!
SRP: $3.99
---
 Be sure to follow the creative team!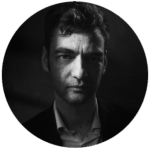 Writer/Artist – Ray Fawkes
`
`
`
–
 Artist – Georges Duarte
`
`
`
–
Colorist – Stefani Rennee
–
Lettering – Comicraft
–
Cover Artist – Brian Stelfreeze 
–
Publisher – AfterShock Comics
T H E ~ C R E A T I V E ~ R E V O L U T I O N ~ S T A R T S ~ H E R E !