Blood Blister #1 sold out! What can you do now?
Didn't AfterShock Comics just make a similar announcement regarding a different title? Well if you're experiencing some déjà vu, you shouldn't be all too surprised. The AfterShock family is growing by leaps and bounds and their titles are sending tremors across the globe. The latest to burst onto the scene (eww) is BLOOD BLISTER #1. The new series from writer Phil Hester (Shipwreck) and Tony Harris (Ex Machina) has seen all of its first print copies squeezed out of retailers. So since you can't pop into an LCS and find one (unless you're extremely lucky), how can you get your hands on this premiere issue? Fortunately, AfterShock Comics and the creators have you covered!
<PopCultHQ's Spoiler-Free Comic Book Review: 'BLOOD BLISTER' #1 from AfterShock Comics>
Phil Hester, writer of BLOOD BLISTER, had a special message to share
regarding the February 1st debut issue selling out…
Tony Harris, artist of BLOOD BLISTER, wanted to share a similar message,
but delivered in true Tony Harris fashion…

For Fans

:
-Tell your retailers to stock more AFTERSHOCK comics so you'll never miss another issue!
-There will be a second printing of BLOOD BLISTER #1 -just share this item code with your local retailer: DEC168772
-Can't wait for the physical second printing? You can buy it digitally HERE!
-Act NOW for issues #2 & #3 of BLOOD BLISTER either at your local retailer or digitally before they sell-out too!
-Need to find a local comic retailer? Visit this link.
For Retailers:

-There will be an EXCLUSIVE variant cover edition of BLOOD BLISTER #1 at the upcoming ComicsPRO Summit.
-As mentioned for the fans, there will be a second printing of BLOOD BLISTER #1 – item code: DEC168772
-Let Diamond know ASAP if you still need issue #2; order code: DEC161182
-Make sure to get your order in for issue #3; order code: JAN171221
---
Opening a jarring window on to a world of horror from the writer of The Coffin, Firebreather and Deathstroke and the Eisner Award-winning artist of Ex Machina and Starman.
Welcome to the True Dark Side.
Blood Blister #1
Writer: Phil Hester
Pencils: Tony Harris
Inks: Eric Layton
Colors: Guy Major
Letters: Dave Sharpe
Cover: Tony Harris
Sin is a joke to Brandon Hull. Morality a crutch for the weak, laws mere tools to be abused. But when the corruption he scoffed at begins to manifest on his once-perfect body, Hull finds himself cast into a hidden world of unspeakable horror from which there is no escape. How can you be saved when the evil possessing you is your own soul?
---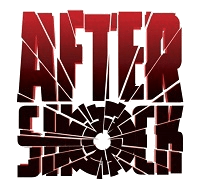 ABOUT AFTERSHOCK COMICS– Launched in April 2015, AfterShock Comics is a comic book company that combines the creative edge of an independent comic book publisher with the strengths and experience of a traditional powerhouse. In addition to Editor-in-Chief Mike Marts, AfterShock's executive team includes: Chief Creative Officer/Publisher Joe Pruett; President Lee Kramer, a film/TV production and development executive who has worked with some of the biggest names in Hollywood; CEO Jon Kramer, an entertainment entrepreneur with extensive worldwide production and distribution experience, Senior VP Digital-Creative, Mike Zagari, oversees the AfterShock innovative and immersive story-driven digital experiences, Senior VP of Investor Relations Jawad Qureshi an experienced Silicon Valley entrepreneur and investor as well as an award-winning filmmaker, Publishing Operations Manager, Stephan Nilson, Retailer/Fan Relations Manager, Lisa Wu, and Publishing Assistant, Ashley Wyatt.

*** info courtesy of AfterShock Comics
***preview pages courtesy of CBR.com