Available this New Comic Book Day, Wednesday, February 8th is the latest issue of ALTERS. Pressure continues to mount as Charlie struggles with being the face and the voice of all Alters. Will Chalice take on the role knowing it could very well make her, and her family, a target? Find out Wednesday as AfterShock Comics releases the next chapter in Chalice's journey!
~~~~~~~
Alters #4
Writer: Paul Jenkins
Art: Leila Leiz
Colors: Tamra Bonvillain
Letters: Ryane Hill
Cover: Brian Stelfreeze
Cover Price: $3.99
CHAPTER 4: The Rising Tide-As she juggles difficulties in her home and public lives, Charlie Young must now decide whether or not to take on her most important role so far: as a spokesman for the Gateway Army, and Alters everywhere! When in costume as Chalice, she is quickly becoming an icon. However, this makes her a target for the demented super-Alter known as Matter Man. Charlie's new responsibilities as Chalice may act to unite a nervous populace struggling to come to terms with alteration? but they are going to put Charlie and her family firmly in the crosshairs! From the writer of Wolverine: Origin, Sentry, and Hellblazer.
PREVIEW PAGES
Make sure you pick up your copy of ALTERS #4 on February 8th at your favorite comic book store or online retailer and you can pre-order from ComiXology Now!
To see more from each of the creators, follow them online!
PAUL JENKINS
LEILA LEIZ
TAMRA BONVILLAIN
RYANE HILL

BRIAN STELFREEZE
---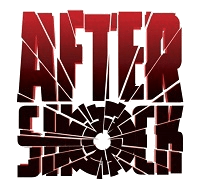 ABOUT AFTERSHOCK COMICS – Launched in April 2015, AfterShock Comics is a comic book company that combines the creative edge of an independent comic book publisher with the strengths and experience of a traditional powerhouse. In addition to Editor-in-Chief Mike Marts, AfterShock's executive team includes: Chief Creative Officer/Publisher Joe Pruett; President Lee Kramer, a film/TV production and development executive who has worked with some of the biggest names in Hollywood; CEO Jon Kramer, an entertainment entrepreneur with extensive worldwide production and distribution experience, Senior VP Digital-Creative, Mike Zagari, oversees the AfterShock innovative and immersive story-driven digital experiences, Senior VP of Investor Relations Jawad Qureshi an experienced Silicon Valley entrepreneur and investor as well as an award-winning filmmaker, Publishing Operations Manager, Stephan Nilson, and Social Media Coordinator, Lisa Wu.
T H E ~ C R E A T I V E ~ R E V O L U T I O N ~ S T A R T S ~ H E R E !
*** info and images courtesy of AfterShock Comics